Works-in-Progress Seminar Series Presents...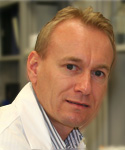 Eric Lazartigues, Ph.D.
Professor
Department of Pharmacology
"ACE2 in neurogenic hypertension: A translational story"
Thursday, October 12, 2017 
CSRB 563 | 10:30AM – 12:00 PM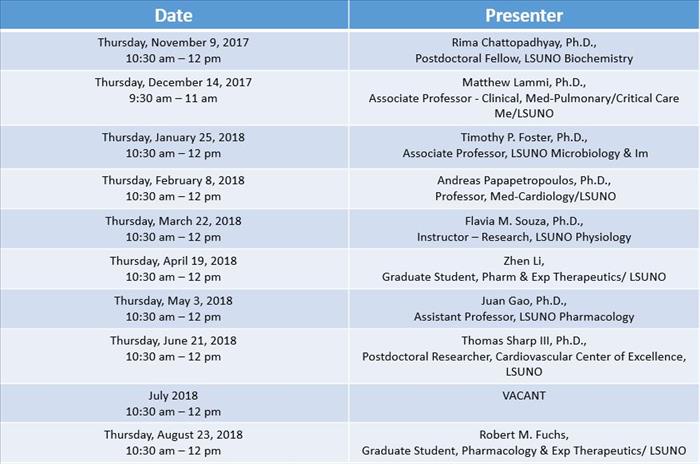 ---


Introducing the Cardiovascular Works-in-Progress Series
NIH COBRE "Mentoring in Cardiovascular Biology" & LSU Cardiovascular Center of Excellence
                The NIH COBRE "Mentoring in Cardiovascular Biology" and the LSUHSC Cardiovascular Center of Excellence are pleased to announce a new Works-in-Progress Series (WiPS). The series will provide a forum for brief, informal presentations relating to ongoing pre-publication research including, but not limited to recently initiated research projects, ongoing PhD thesis experimentation, draft manuscripts, responses to reviewers post submission and grants in preparation. Presentations could also address novel theoretical concepts and how to test them experimentally, or specific technical challenges in biological measurements. The purpose of the Cardiovascular WiPS is to provide an interactive environment for brainstorming to benefit both presenters, as well as participants; feedback, questions and lively debates are particularly encouraged.  
The Works-in-Progress Seminar Series is open to all members of the LSUHSC academic faculty, staff, post-doctoral fellows and students.  The WiPS meetings will take place on a monthly basis for the first three months, and bi-monthly thereafter. WiPS will be held in CSRB Room 420 with refreshments provided for attendants.
We look forward to creating an open and stimulating forum of exchange for the LSU Health community, with the most current research and development initiatives in the fields of cardiovascular physiology and science, clinical cardiology, and cardiovascular pharmacology.  Dr. Andreas Papapetropoulos in the CV Center will be the Director of the new Cardiovascular WiPS.  Please contact him directly via email at apapa1@lsuhsc.edu to volunteer as a presenter or to suggest others that might want to present.          
Daniel Kapusta, Ph.D.                                                                             David J. Lefer, Ph.D.
Director, NIH COBRE                                                                                Director, Cardiovascular Center of Excellence                                                                                                                                                                                                                                                                                                                                                                                                                                                                                                                                                                                                                                                  
To volunteer as a presenter or to suggest others to present, contact Andreas Papapetropoulos, Ph.D. apapa1@lsuhsc.edu