Neuroscience Center Spotlight
 Dr. Bazan signs his novel "Una Vida: A Fable of Music and the Mind"
 at LSU  Bookstore on April 24, 2012  
10th Annual Fatty Acids in Cell Signaling (FACS) Meeting
Docosahexaenoic Acid in Translational Medicine
Program

Chancellor Award Lecture in Neuroscience and Medicine
Dr. Philip C. Calder
Omega-3 Fatty Acids and Inflammation: New Mechanisms Emerge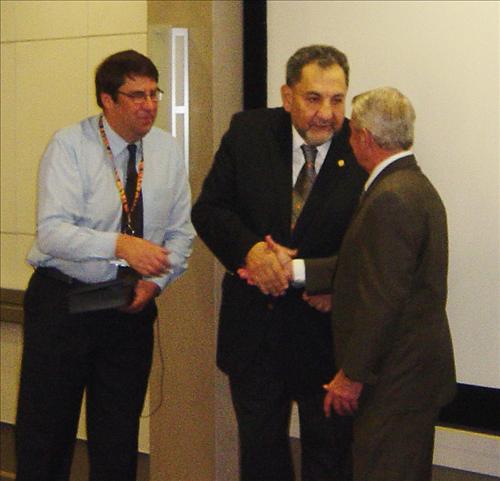 Dr. Philip C. Calder receiving the Chancellor Award from
Dr. Nicolas G. Bazan and Dr. Larry H. Hollier

Dr. Nicolas Bazan presenting the Special Lifetime Achievement Award
to Dr. Stanley Rapport
 

Dr. Nicolas Bazan presenting the Special Lecture Award
to Dr. J. Thomas Brenna
 

Dr. Nicolas Bazan presenting the Special Lecture Award
to Dr. Charles N. Serhan
 

Dr. Nicolas Bazan presenting the Special Lecture Award
to Dr. Shelia Innis
 
 
Dr. Stephen Cunnane presenting his Special Award
lecture to close out the conference  The Oxygen Revolution
Video link with Dr. Harch and Dr. Bazan discussing Hyberbaric Oxygen Therapy for Neuronal Injury 
Dr. Walter J. Lukiw, LSU Neuroscience Center, recently interviewed by
Genetic Engineering and Biotechnology News magazine, discusses his lab's
recent work on micro RNA (miRNA) and its therapeutic potential in treating neurodegenerative disease
http://www.genengnews.com/gen-articles/mirna-closes-in-on-therapeutic-potential/4008/ 
Feb 15, 2012 (Vol. 32, No. 4)  
Relative Comparisons of Call Parameters Enable Auditory Grouping in Frogs
Hamilton E. Farris, Michael J. Ryan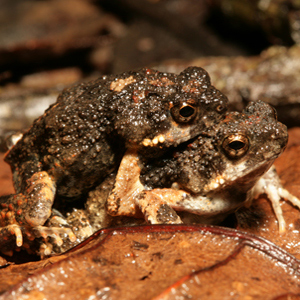 Male túngara frogs produce overlapping mating calls, which poses  a challenge for the female frog to group and  assign multiple auditory signals to the correct source.  Farris and Ryan shows that, like humans, the female  frogs compare and group signals using the smallest relative difference in call parameters.
02 Aug; Nat. Commun. 2:410  doi: 10.1038/ncomms1417 (2011)
Special Study Section Members

Carmen Canavier, Ph.D.
NIH - Biophysics of Neural Systems (BPNS), Center for Scientific Review (CSR) Study Section - permanent member
Chu Chen, Ph.D.
NIH - National Institute on Drug Abuse Special Emphasis Panel (NIDA) - ZDA1 JXR-D (06)
Ludmila S. Belayev, M.D., Ph.D.
NIH - Brain Injury and Neurovascular Pathologies Study Section, Center for Scientific Review Study Section (CSR)  2011 
Nicolas G. Bazan, M.D., Ph.D.
NIH - Biology and Diseases of the Posterior (BDP), Center for Scientific Review (CSR) Study Section  - permanent member

Invited Lectures and Awards -
Haydee E.P. Bazan, Ph.D.

"Corneal Nerve Damage, Repair and Regeneration in Experimental Surgery."  Reparto di oftalmologia, Italia  Università degli Studi di Catania (September 12)
 
Lecture and Co-Chair – "Lipoxin A4 Inhibits Platelet-Activating Factor-Induced Corneal Injury and Inflammatory Response." Bioactive Lipids in Cancer, Inflammation, and Related Diseases. Seattle, Washington. (September 18-21)
Nicolas G. Bazan, M.D., Ph.D.
Opening lecture – "The Challenge of Civilization: How to Protect the Mind", Hirnliga and Goethe-University Symposium. Alzheimer's disease: New perspectives on therapeutic targets and pathways". Frankfurt, Germany (August 25-27).
 
Invited lecture – "Synaptic and Extrasynaptic NMDA Receptors Regulate Homeostatic Signaling in Neurodegeneration", Deutsches Zentrum für Neurodegenerative Erkrankungen (DZNE) and Max Planck Institute (MPI) Conference on Ageing and Neurodegeneration. Bergisch Gladback, Germany (September 1-4).
 
Special award as "Guest of Honour" presented by Mayor of Torre di Ruggiero of the Ruggiero il Normanno City, Catanzaro, Italy. (September 7) Dr. N. Bazan will receive the "Alkmeon International Prize," in recognition for his discovery of DHA neuroprotection signaling.  Previous recipients of this award include:
Prof. Solomon Snyder, John Hopkins Medical School – 2011;
Prof. Rita Levi Montalcini, Rome, Nobel Laureate – 2003;
Prof. Arvid Carlsson, Göteborg, Nobel Laureate – 2001;
Sir John Eccles, Oxford, Nobel Laureate – 1994;
Sir John Vane, London, Nobel Laureate – 1996.
The event is sponsored by University of Rome tor Vergata, European School for the Assessment of New Medicines, (September 8)
 
Award for Outstanding Research on Neuroprotection, University of Catania, Presented by Magnifico Rettore (President) Catania, Italy. (September 12)
 
Invited lecture – "Novel omega-3 fatty acid derived mediators sustain synaptic circuits and neuronal survival in experimental epilepsy and stroke."  Bioactive Lipids in Cancer, Inflammation, and Related Diseases. Seattle, Washington. (September 18-21)
 
Invited lecture – "Significance of Survival Signaling in Retinal Degenerations", Oklahoma Vision Research Center Dedication Symposium, Oklahoma City, OK (September 29-30).
 
Invited lecture – "Synaptic and Extrasynaptic NMDA Receptors Regulate Homeostatic Signaling in Neurodegeneration", Excitotoxicity and Neuroprotection Spring School, Department of Biochemistry, ICBS, Universidad Federal do Rio Grande do Sul (UFRGS) Porto Alegre, Brazil (October 2-8).
 
Chair, Nanosymposium Session 426, Neuroprotective Agents and Mechanisms. Neuroscience 2011 and present talk "Docosahexaenoic Acid in Combination with Aspirin Enhances Neuroprotection in the Postischemic Brain" Society for Neuroscience, Washington, D.C. (November 14).
 
Invited Speaker, "Neuroprotection", Lipid Signaling Symposium, Biogen Idec. Boston, Massachusetts (November 28)