Student Activities
Beyond the structured training program, our students also benefit from their participation in departmental and university activities. These activities serve to enrich students' academic and intellectual environment.
The following activities are solely initiated and ran by the graduate students:
Journal Club
Graduate students meet once a month informally to discuss a paper presented by one of the students. Each student is expected to take a turn in choosing a paper and leading the group in a discussion pointing out the strengths and weaknesses of the paper. The purpose of this exercise is to help students interpret figures and date, express themselves orally, and to get to know each other in an environment outside of the classroom or the laboratory. 
Every student presents once each academic year.  This is overseen by Drs Catalin, Filipeanu, and Eric Lazartigues who are currently the Seminar Series Coordinators.  
The students established an annual Colloquium and invite  a nationally recognized scientist. In addition to a lecture by the invite, the students present their work (oral and posters) and interact with the guest intimately, ending the visit with a reception dinner.
The Colloquium has also featured:
Marina Picciotto, Ph.D. of Yale University
Andrew R. Marks, M.D.,of Columbia University College of Physicians and Surgeons, NY,
Lakshmi Devi, Ph.D. of Mount Sinai University.
Mark Knuepfer, Ph.D. of St. Louis Unversity School of Medicine.
Michael Nader, Ph.D. of Wake Forest University School of Medicine. 
Dr. Bryan Roth , University of North Carolina at Chapel Hill
 
---
In addition to the student-initiated activities, our graduate students also participate in other programs that benefit not only themselves, but their local community, too.
Habitat for Humanity
During the Experimental Biology Conference, the ASPET Division for Behavioral Pharmacology has arranged a volunteer work day in New Orleans. On April 17, 2009, the Friday immediately before our annual meeting begins, busses from LSU Health Sciences Center - New Orleans will pick volunteers up around 7:30 am and take them to the Habitat for Humanity work site, in the Musician Village.  LSU Health Sciences Center will also provide lunch.  Habitat for Humanity will provide tools, work gloves, etc. Busses will bring volunteers back around 5:00 pm.  Several members of ASPET Council will be part of the work team.  If you are interest in volunteering, contact the Pharmacology Department, 568-4740.  
Participation in the Science Partnership Program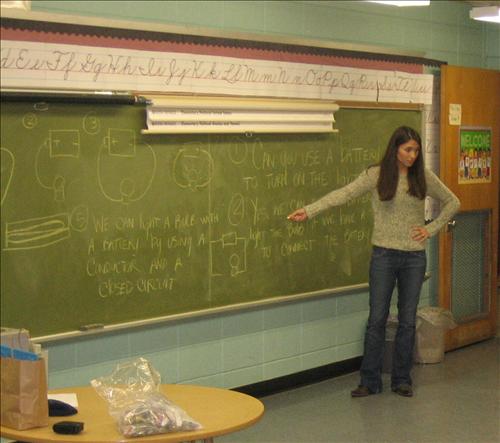 The School of Graduate Studies and the students participate in a Science Partnership Program with the area Elementary Schools. The purpose of this initiative is to assist in the governmental, nationwide implementation of math and science educational reform. Graduate students work in the classrooms, assist with school science fairs, incorporate science games into the curriculum, help students and teachers prepare for the science for the science portion of the LEAP exam, and assist students with their projects for the district science fairs. In addition, graduate students organize a field trip for fourth graders to visit the research centers here at LSUHSC.
The Department of Pharmacology has a seminar series each year. The program includes presentations by visiting scientists as well as faculty, post doctoral fellows and graduate students from LSUHSC. Graduate students are expected to attend all seminars and are required to present at least one seminar each year.
Currently there are two Research  "Research Day" programs: the School of Graduate Studies Research Day and the Neuroscience Research Retreat, at which all graduate students are invited to present their studies using oral or poster style formats. Best presentations are awarded, and our students are consistently among the winners at these activities.
Congratulations to the following winners:
Oral Presentations
1st- Anasheh Halabi
2nd- Monica Ertel
3rd- Daniel Edwards
Poster Presentations
1st- Ji Won Park
2nd- Felix Nau, Jr.
3rd- Kun Qian
Postdoctoral Researchers
1st- Juan Gao
2nd- Abhilash Ponnath
3rd- Gin C. Chuang
 Campus-Wide Seminar Series
All basic science departments have a similar series and the announcements are electronically disseminated. Also, the Centers of Excellence have separate seminar series. These Centers include the Cardiovascular, Neuroscience, Cancer, Genetic, Alcohol and Drug-Abuse.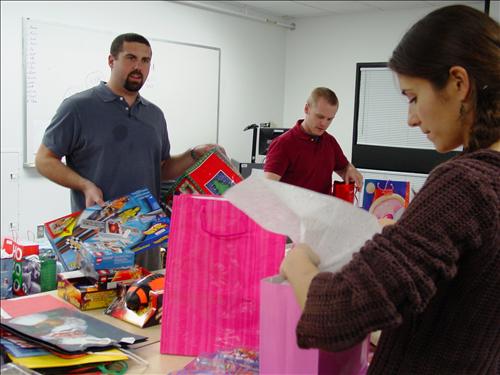 Students prepare Christmas gifts that were donated to a local elementary school.