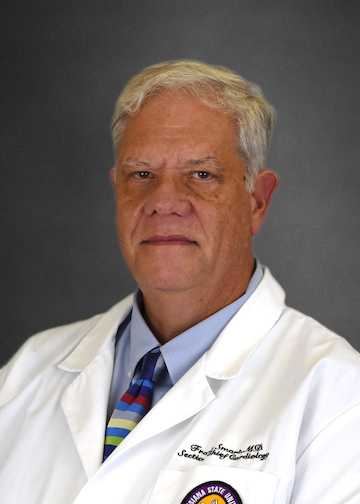 FACULTY
Frank Smart
Title 1
Title 3
Med-Cardiology
Academic Office:
LSUHSC School of Medicine
533 Bolivar Street, Box CSRB 3-42
New Orleans, LA 70112
Clinical Office:
LSU Metairie Primary Clinic, Cardiology Clinic
3601 Houma Blvd.
Metairie, LA 70006
Bio
---
Dr. Smart is a specialist in heart failure, cardiomyopathy, cardiac transplantation and mechanical circulatory support. He is also certified in and practices general cardiology with a focus on genetic cardiac diseases. His clinical interests are in unusual and difficult to diagnose heart failure conditions, particularly infiltrative cardiomyopathy, sarcoidosis, and hypertrophic cardiomyopathy. He has over 30 years of experience in academic cardiology with academic positions at the Icahn School of Medicine Mount Sinai, New York, NY; Baylor College of Medicine, Houston, TX; Tulane University School of Medicine, New Orleans, LA; and The LSU School of Medicine. He is a past governor of the Louisiana Chapter of The American College of Cardiology (ACC), served on the Board of Governors of The ACC and continues to serve on multiple ACC national committees. Dr. Smart is also a member of the prestigious Association of University Cardiologists.
Dr. Smart has published over 150 peer reviewed papers in Cardiology and has lectured frequently on the topics of heart failure and mechanical circulatory support nationally and internationally. He has been involved in clinical research having served as principal investigator or co-principal investigator in over 80 clinical trials funded by the National Institute of Health and the pharmaceutical and device industry. He has also worked directly in the biopharmaceutical industry in drug design, testing, and regulatory presentation for novel agents to treat congestive heart failure. His current research is in new drug development and the use of artificial intelligence and computer modeling to help diagnose and characterize heart failure and pulmonary hypertension.
Dr. Smart is a clinical educator and has served as chief of the section of cardiology at LSU for 10 years. During his career he has had the privilege to serve as an educator and mentor to hundreds of cardiologists and clinical researchers.
Education
---
Undergraduate:
1974-1975
Tulane University School of Arts & Sciences
New Orleans, Louisiana
1978 - B.S. in Zoology
Southeastern University
Hammond, Louisiana

Medical:
1981-1985 - M.D.
Louisiana State University School of Medicine
New Orleans, Louisiana

Internship:
1985 - 1986 - Internal Medicine
Ochsner Clinic Foundation

Residency:
1986 - 1988 - Internal Medicine
Ochsner Clinic Foundation

Fellowship:
1988- 1991 - Cardiovascular Disease and Cardiac Transplantation
Baylor College of Medicine
Waco, Texas

Fellowship:
1991 - Vascular Biology
Baylor College of Medicine, Department of Pharmacology
Waco, Texas
Other:
1997 - HealthCare Policy Program
Harvard Kennedy School
Cambridge, Massachusettes
Affiliated Hospitals & Clinics
---
University Medical Center
University Medical Center, Heart Failure Clinic
Touro Infirmary
East Jefferson General Hospital
Ochsner Kenner Medical Center
Children's Hospital New Orleans
LSU Health Network St. Charles Multispecialty Clinic

LSU Health Network Metairie Primary Clinic
---
Publications
---
1. Elbaz-Greener G, Rozen G, Carasso S, Kusniec F, Marai I, Sud M, Strauss B, Smart FW, Planer D, Amir O. The Relationship Between Body Mass Index and In-Hospital Mortality in the Contemporary Era of an Acute Myocardial Infarction Management. Vasc Health Risk Manag. 2021;17:551-559
https://doi.org/10.2147/VHRM.S315248
2. Haemodynamic-guided management of heart failure (GUIDE-HF): a randomised controlled trial. JoAnn Lindenfeld, Michael R Zile, Akshay S Desai, Kunjan Bhatt, Anique Ducharme, Douglas Horstmanshof, Selim R Krim, Alan Maisel, Mandeep R Mehra, Sara Paul, Samuel F Sears, Andrew J Sauer, Frank Smart, Marcel Zughaib, Paige Castaneda, Jean Kelly, Nessa Johnson, Poornima Sood, Greg Ginn, John Henderson, Philip B Adamson, Maria Rosa Costanzo
Lancet Aug 27,2021;398: 991-1001 DOI: 10.1016/S0140-6736(21)01754-2
3. Azad R Bhuiyan *, Marinelle Payton, Amal K. Mitra, Sophia S Leggett, Jihua Xu, Paul B Tchounwou, Frank Smart; Progression of Metabolic Syndrome Component along with Depression Symptoms and High Sensitivity C-Reactive Protein: The Bogalusa Heart Study. Int J Environ Res Public Health 2021 May 9;18(9):5010. doi: 10.3390/ijerph18095010
4. Greene SJ, Velazquez EJ, Anstrom KJ, Eisenstein EL, Sapp S, Morgan S, Harding T, Sachdev V, Ketema F, Kim DY, Desvigne-Nickens P, Pitt B, Mentz RJ; TRANSFORM-HF Investigators. Pragmatic Design of Randomized Clinical Trials for Heart Failure: Rationale and Design of the TRANSFORM-HF Trial. JACC Heart Fail. 2021 Mar 10:S2213-1779(21)00061-5. doi: 10.1016/j.jchf.2021.01.013. Epub ahead of print. PMID: 33714745
5. Morales A, Kinnamon DD, Jordan E, et al. Variant Interpretation for Dilated Cardiomyopathy: Refinement of the American College of Medical Genetics and Genomics/ClinGen Guidelines for the DCM Precision Medicine Study. Circ Genom Precis Med. 2020;13(2):e002480. doi:10.1161/CIRCGEN.119.002480
6. Avaneesh Jakkoju, MD, Rakesh Jakkoju, MD, Vishnupriya Kuchana, MD, Pedro R. Cox-Alomar, MD, Frank W. Smart, MD, and D. Luke Glancy, MD.; Sudden cardiac arrest as the initial presentation for left ventricular noncompaction cardiomyopathy. Proc (Bayl Univ Med Cent). 2019 Oct; 32(4): 564–566. Published online 2019 Jul 31. doi: 10.1080/08998280.2019.162778
7. Metra M, Teerlink JR, Cotter G, et al. Effects of Serelaxin in Patients with Acute Heart Failure. N Engl J Med. 2019;381(8):716‐726. doi:10.1056/NEJMoa1801291
8. Koroma IB, Javadi D, Hann K, Harries AD, Smart F, Samba T.; Non-communicable diseases in the Western Area District, Sierra Leone, following the Ebola outbreak; 2019 June 6; 8:795. Doi: 10.12688/f1000research.18563.1
9. Lindenfeld J, Abraham WT, Maisel A, Zile M, Smart F, Costanzo MR, Mehra MR,
Ducharme A, Sears SF, Desai AS, Paul S, Sood P, Johnson N, Ginn G, Adamson PB. Hemodynamic-GUIDEd management of Heart Failure (GUIDE-HF). Am Heart J. 2019 May 3;214:18-27. Doi: 10.1016/j.ahj.2019.04.014
10. Smart FW. Gerald Sanders Berenson, 1922-2018. Eur Heart J. 2019 Feb 7;40(6):507. Doi: 10.1093/eurheartj/ehy887
11. Hanna ED, Smart FW, Hanna Deschamps E. Mechanisms of Discrepancy Between Pulmonary Artery Wedge Pressure and Left Ventricular End-Diastolic Pressure in Heart Failure With Preserved Ejection Fraction. JACC Heart Fail. 2018 Mar;6(3):267-269. Doi:10.1016/j.jchf.2017.11.009
12. Polhemus,D,Trivedi,R,Gao,J,Zhen,L,Scarborugh,A,Goodchild,T,Varner,K,Xia,H,
Smart,F, Kapusta,D, Lefer,D. Renal Sympathetic Denervation Protects the Failing Heart Via Inhibition of Neprilysin Activity in the Kidney; JACC vol.70 (17), 2017,Oct24 Doi: http://dx.doi.org/10.1016/j.jacc.2017.08.056
13. Smart, FW Unusual Cardiomyopathies: Some May Be More Usual Than Previously Thought and Simply Underdiagnosed; Cardiovascular Innovations and Applications, 2015 Nov, Vol1, No.1;29-36; https://doi.org/10.15212/CVIA.2015.0006
14. Hanna EB, Smart FW. Letter by Hanna and Smart Regarding Article, "Clinical Diagnosis of Pulmonary Hypertension". Circulation. 2015 Sep 1;132(9):e133.


Research
---
Title: Alteration in HF
Sponsor: Baylor College of Medicine
Dates: 1989-1991
Title: Digitalis in HF
Sponsor: Veterans Administration
Dates: 1990 - 1992
Title: Mycophenolate Mofetil In Cardiac Transplant
Sponsor: Roche
Dates: 1992-1995
Title: Rapamycin for acute Cardiac rejection
Sponsor: Novartis
Dates: 1993-1995
Title: UVAR Photopheresis in Cardiac rejection
Sponsor: Johnson & Johnson
Dates: 1994-1996
Title: Vesnarinone in HF
Sponsor: Otsuka
Dates: 1994-1997
Title: Cardiac STEM Cell Transplant in large animal
Sponsor: Brown Foundation
Dates: 1993-2000
Title: OPC-18790 in HF
Sponsor: Otsuka
Dates: 1994-1996
Title: Praise
Sponsor: Pfizer
Dates: 1996-1997
Title: In Heart Transplant
Sponsor: Novartis
Dates: 1994 - 1997
Title: Neoral vs Sandimune
Sponsor: Novartis
Dates: 1994 - 1999
Title: Celsior Organ preservation
Sponsor: NIH Baylor and USC
Dates: 1997 - 1999
Title: RABD 253
Sponsor: Novartis
Dates: 1999 - 2001
Title: Insync ICD
Sponsor: Medtronic
Dates: 2000 - 2003
Title: Predict
Sponsor: Cardiodynamics
Dates: 2000 - 2002
Title: Companion
Sponsor: Medtronic
Dates: 2001 - 2003
Title: Compass-HF
Sponsor: Medtronic
Dates: 2003-2005
Title: Neoral and Certican in Heart Transplant
Sponsor: Novartis
Dates: 2004 - 2006
Title: Acclaim
Sponsor: Vasogen
Dates: 2003 - 2005
Title: IV PST 2744
Sponsor: Sigma Tau
Dates: 2004 - 2006
Title: Everest
Sponsor: Otsuka
Dates: 2005 - 2006
Title: Reduce-HF
Sponsor: Medtronic
Dates: 2006 - 2011
Title: Protect II
Sponsor: Abiomed
Dates: 2007 - 2011
Title: Noga-XP
Sponsor: Wide Med Inc
Dates: 2007 - 2009
Title: MARVEL
Sponsor: Medtronic
Dates: 2006 - 2011
Title: Peerless-HF
Sponsor: Paracor Medical
Dates: 2007 - 2010
Title: ESP
Sponsor: Thoratec-Inc
Dates: 2007 - 2011
Title: Tensor- Tip
Sponsor: Cnoga Medical
Dates: 2010 - 2011
Title: Corvalen-HF
Sponsor: Corvalen
Dates: 2010 - 2011
Title: Laptop
Sponsor: St. Jude Medical
Dates: 7/2013 - 2/3/16
Title: Gloria
Sponsor: Boehringer-Ingelheim
Dates: 11/2012-11/2017
Title: Parachute
Sponsor: CardioKinetix
Dates: 12/2012-10/2017
Title: AFSymp Questionnaire
Sponsor: United BioSource
Dates: 6/2013 - 3/2014
Title: Euclid
Sponsor: AstraZeneca Pharmaceuticals
Dates: 11/2012 - 12/2013
Title: Arts-HF
Sponsor: Bayer Health Care
Dates: 8/2013 - 8/2014
Title: Pitch-HF
Sponsor: NHLBI (NIH)
Dates: 12/2013 - 2/2014
Title: Socrates-Reduced
Sponsor: Bayer Health Care
Dates: 6/2014 - 12/2015
Title: Socrates-Preserved
Sponsor: Bayer Health Care
Dates: 5/2013 - 1/2016
Title: Relax AHF 2
Sponsor: Novartis
Dates: 11/2014-5-2017
Title: Report-HF
Sponsor: Novartis
Dates: 07/2015-10/2018
Title: Paragon-HF
Sponsor: Novartis
Dates: 11/2015-9/2016
Title: Finesse
Sponsor: Bayer
Dates: 7/2014-11/2016
Title: LINQ-HF
Sponsor: Medtronic
Dates: 9/2016-2/2019
Title: Vitality
Sponsor: Bayer
Dates: 10/2018-3/2019
Title: Transform
Sponsor: Duke CRI
Dates: 8/2017-06/2021
Title: Ionis ION-682884
Sponsor: Ionis Pharma
Dates: 8/2020-052021
Title: Galactic-HF
Sponsor: Amgen
Dates: 2/2017-12/2020
Title: Dilated Cardiomyopathy
Sponsor: NIH-OSU
Dates: 3/2017-
Title: Emperor
Sponsor: Boehringer
Dates: 7/2018-
Title: Partner-3
Sponsor: Edwards
Dates: 6/2018-
Title: Guide-HF
Sponsor: Abbott
Dates: 8/2018-
Title: PHDEV
Sponsor: Analytics4Life
Dates: 8/2020-
Title: Anthem-HFrHP
Sponsor: Livanova