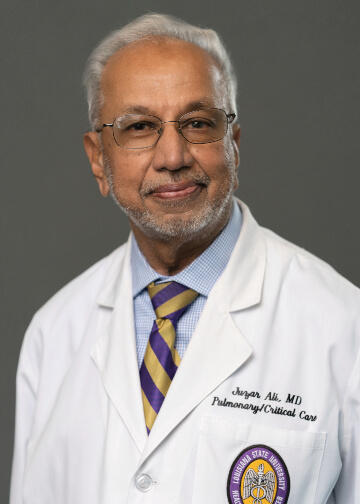 FACULTY
Juzar Ali
PROFESSOR - CLINICAL SPECIALIS
Med-Pulmonary/Critical Care Me
Academic Office:
LSUHSC School of Medicine
1901 Perdido Street, Suite 3201 MEB
New Orleans, LA 70112
Clinical Office:
University Medical Center
2000 Canal St,
New Orleans, LA 70112
504-702-5700, phone
504-702-5728, fax
Bio
---
Dr. Juzar Ali, Professor of Medicine at LSU, is an academic clinician, clinical educator and researcher in the
section of Pulmonary Critical Care at LSU Health Sciences Center (LSUHSC), New Orleans and has also
worked in health and hospital administration as CMO & CEO through his tenure. He has practice experience
in Pakistan, India, Kenya, Unites States and Turkey and has worked nationally and internationally in the field of
tuberculosis and has developed programs that contribute to the education of medical students, trainees, allied
health professionals, and the community. His clinical, academic, and research interests include the diagnosis and management of tuberculous and non-tuberculous mycobacterial disease and related co-morbidities in
pulmonary medicine specially Bronchiectasis. He has participated in various multicenter studies and trials of
tuberculosis and Non-TB Mycobacteria and has co-authored a textbook, Pulmonary Pathophysiology, a
symptom-based clinical and pathophysiologic review of lung diseases. He has also developed a Chest Radiology PRE-TEST series for medical students and residents. A CDC TB Champion , Dr. Ali is a recipient of numerous teaching awards at LSUHSC , School of Medicine over the last two decades. He is also the Spirit of Charity Awardee for 2022. This award is for his academic, patient care , research , teaching and administrative services in the Charity Hospital system over the last 40 years . He has been consistently recognized as a member of the Best Doctors in America, and is a Fulbright Scholar Teaching Grant and Alumni awardee and Fulbright Senior Scholar Awardee twice with academic tenures in Turkey and India. He has also been a Visiting Faculty to Vietnam under the US-Vietnam Education Fund Program funded by US Congress. Currently his focus is on developing a Mycobacterial Diseases Mentoring, Training & Research program in the section at LSU and creating a NTM-Bronchiectasis /Mycobacterial diseases clinical and cell bank repository/registry and data base in collaboration with other basic science departments at LSUHSC, national and regional centers. Please refer to CV and detailed data of past and current clinical, administrative and leadership roles is also available through the named websites.
The Collaborative Network & Partnership
LSUHSC Non-TB Mycobacterial (NTM) - Bronchiectasis (BE) Center
Education
---
Undergraduate:
HSC, Pre-Medical
D.J. Govt. Science College
Karachi, Pakistan

Medical:
M.B, B.S.
Dow Medical College/Civil Hospital,
Karachi, Pakistan
Residency:
Internal Medicine
Tulane University program at Touro and MCLNO/Charity
New Orleans, Louisiana

Fellowship:
Pulmonary Diseases
Tulane University and MCLNO
New Orleans, Louisiana
Board Certified in Internal Medicine and Pulmonary Disease
Affiliated Hospitals & Clinics
---
University Medical Center

ELD- NTM Bronchiectasis Program Clinic

Wetmore Tuberculosis Clinic

Wetmore Primary Care Program

Baton Rouge

Tuberculosis

Clinic Program
Villa Felicina

Tuberculosis

Unit
---
Publications
---
Peer Reviewed
Ali J. Legionnaires Disease in Pakistan; Asian Medical News, Vol 4, No 9 May 1 – 14, 1987.
Ali J, et al Acute and Chronic Legionnaires Disease and Co-existent Tuberculosis – A trial of Erythromycin; Current Medical Research and Opinion, Vol II, No 8, 1989.
Ali J, et al Respiratory Symptoms due to Branhamella Catarrhalis and Other Neisseria Species Infections – Response to erythromycin Therapy, Clinical Therapeutics, Vol II, No 5, 1989.
Ali J et al Legionella Pneumonia – Laboratory Diagnosis in Developing Countries like Pakistan: J. P. M. A., September 1989.
Hamedani P, Ali J. The Safety and Efficacy of Clarithromycin in patients with Legionnaires Pneumonia; Chest 1991: 100; 1503-06.
Afsar S, Ali J. Primary Pulmonary Amebiasis: Unusual Case of Pulmonary Consolidation, Journal of Pakistan Medical Association (JPMA) 1992:2; 245-46.
Ali J. Current Problems in the Management of TB; Mediguide to Infectious Disease 1993: Vol 13, Issue 5.
Ali J. Hemothorax and Hyperkalemia Pulmonary and Critical Care Pearls, Chest 1994: Vol 106; 4:1235.
Abstract SAFCR Southern Meeting: Safety and Feasibility of Combined Aerosolized and Subcutaneous Interferon as Adjuvant Therapy for MAI Pulmonary Infection in Non-HIV Infected Host, published in AM Respir Dis 1994.
Ali J. Tuberculosis Update, Infectious Disease Society of Pakistan Journal Summer 1995.
Ali J. Nosocomial Pneumonia, Infectious Disease Society of Pakistan Journal Summer 1995.
Ali J. Hepatotoxicity and TB Treatment, Post Grad Med 1996:99:217-36.
Ali J. Helm EG. TEACH Program, Tuberculosis Education Aimed at Community Health: A Preliminary Report of a Model Educational Program, Minority Health Today, July Aug 2000: Volume 1 #5 Pgs. 44-47.
Falchook G, Gaffga C, Eve S, Ali J. TB Screening, Referral & Treatment in Inner City Homeless Shelter in Orleans Parish, Journal of Louisiana State Medical Society Aug 2000 Vol 152 398-404.
Daoud B, Moncada R, Ali J. Lung Mas in a Smoker, Chest, March 2001 Vol 119 947-49.
American Lung Association Asthma Clinical Research Centers: Co-Primary through the Ernest N. Morial Asthma Allergy and Respiratory Disease Center, New Orleans, LSU Health Sciences Center. The Safety of inactivated Influenza Vaccine in Adults and Children with Asthma, New England Journal of Medicine. Vol 345, #21. Nov 22, 2001 Pgs 1529-1536
Zea A, Culotta K, Ali J Et al. Alterations in T Cell Signal Transduction Proteins in Patients with TB. Federation of American Societies for Experimental Biology, 2002
Ali J, Immunotherapy and Mycobacterial Disease with Focus on Interferon Gamma: Is it Viable Therapeutic Approach or a Mirage? Infectious Diseases Journal of Pakistan Vol 12 (1) Jan-Mar 2003
Ali J, X-ray Images in Infectious Disease, Infectious Disease Journal of Pakistan Vol 12, # 4, 5, 6
Mason C, Ali J. Immunity against Mycobacteria, Seminars in Respiratory And CC Medicine 2004, Volume 25 #1, 53-61
Chitty S, Ali J. Mycobacterium Avium Complex Pulmonary Disease in Immuno-competent Patients, Southern Medical Journal Vol 98, #6 June 2005
Zea A, Culotta K, Ali J, et al Decreased Expression of CD3ζ and a Nuclear Tran-scription Factor κB in Patients with Pulmonary Tuberculosis: Potential Mechanisms and Reversibility with Treatment. Journal of Infectious Diseases 2006:194 (Nov) 1385-1393
Ramirez M, Ali J. Use of Mefloquin in Multidrug Resistant Mycobacterium Avium Complex Pulmonary Disease in an HIV Negative Patient. Current Therapeutic Research Vol 68, #6 Nov/Dec 2007
Ramirez J, Mason C, Ali J. MAC-PD Management and Treatment Options in HIV Negative Patients. Journal of Louisiana State Medical Society Vol 160 Sep/Oct 2008
Beverly J, Ali J. Treatment Adherence of the Latently Infected Tuberculosis Population (post-Katrina) at Wetmore TB Clinic, New Orleans, USA. International Journal of Tuberculosis & Lung Disease Volume 12, #10, Oct 2008, 1134-1138
Ali J. JCIM Pulmonary & Infectious Disease Section: Board Review Overview and Focus on Mycobacteria Other Than TB (NTM) 2009 (updated 2014)
Neuman JA, Sesions BA, Ali J, Rigby PG. La Physician Population Trends: Will Increase in Supply Meet Demand? Journal of Louisiana State Medical Society 2012
Shah S, Ali, Juzar, Bhatt, S, Rao, B Grassroots Primary Care and TB Control in India: US-Fulbright-Nehru Scholar Program Experience, US Respiratory and Pulmonary Diseases Journal Sept 2017
Frontini M, Mae I, Ali J Characteristics of HIV/Latent TB Co-Infected Patients with Data of T-Spot TB Testing and Review of Practice Pattern in an HIV Outpatient Clinic in New Orleans Journal of TB and Therapeutics Submitted Sept 2017 published 2017.Vol2(1) 108
Lapinel, N. C.; Jolley, S. E.; Ali, J.; Welsh, D. A.Prevalence of Non-Tuberculous Mycobacteria in HIV Infected Patients Admitted to Hospital with Pneumonia, International Journal of TB and Lung Disease, Volume 23, Number 4, 1 April 2019, pp. 491-497(7)
Jessie J Guidry, Lauren Davis, Arnold H. Zea, Juzar Ali, Nicole Lapinel Detection and Differentiation of Mycobacterium avium complex Species Using Proteomic Based Discovery: LSU Pilot Proof of Principle Study
Colin Swenson, Nicole C. Lapinel, Juzar Ali; Clinical Management of Respiratory Adverse Events Associated with Amikacin Liposome Inhalation Suspension (ALIS): Results from a Patient Survey, Division of Pulmonary, Allergy, Critical Care, and Sleep Medicine, Emory University, Atlanta, Georgia, USA; Section of Pulmonary/Critical Care Medicine & Allergy/Immunology, Louisiana State University Health Sciences Center, New Orleans, Louisiana, 2020
76215 Implementation of Proteomics as a Diagnostic tool for Nontuberculous mycobacteria (NTM) Infection Lapinel et al Senior author: Juzar Ali) March 2021 Journal of Clinical and Translational Science 5(s1):1-2
Ali J. A multidisciplinary approach to the management of nontuberculous mycobacterial lung disease: a clinical perspective. Expert Rev Respir Med. 2021 Feb 23:1-11. doi: 10.1080/17476348.2021.1887734. Epub ahead of print. PMID: 33593217.
A tale of two images: From Mycobacterium Avium Complrex Lung Disease (MAC-LD) to Mycobacterium Avium Complex-Pleural Disease Varkey MR, Kohal Tania, Barua A, Lapinel N, Ali JResp.Med Case Reports Vol 33 2021 101410 https://dpoi.org/10.1016/j-rmcr.2021.101410
NTM Infection: Neglected Disease in Bangla Desh and time for increased awareness Barua A, Ali JTouchime.org EMID: dc905e73f0765463
ATS Poster Resp Symptoms and Health Perception Improvement rapidly in patients treated for Pulm MAC Disease Henkle et al (J ALI as part of the MAC 2x3 investigation PICORI trial
https://actascientific.com/ASMS-Article-Inpress.php Recurrent TB in Louisiana : case report
Non-peer Reviewed
Ali J. Current Problems in the Management of TB; Mediguide to Infectious Disease 1993: Vol 13, Issue 5
Ali J Synopsis of TEACH Program, CDC Notes 1999
Ali J The Many Faces of Tuberculosis Control and the Challenges Faced Business Briefings: Reference Section US Respiratory Care/Touch Briefings 2005
Ali J Awareness of Issues Pertaining to TB Control During and After Period of Catastrophic Events: Touch Briefing Journals 2006
Ali, J COVID-19 Era With or Without Lockdown – Tuberculosis Control Measures Through Tuberculosis Program Clinics Must Go On: Touch Respiratory 2020, https://www.touchrespiratory.com/insight/covid-19-era-with-or-without-lockdown-tuberculosis-control-measures-through-tuberculosis-program-clinics-must-go-on/
Research
---
1. NTM-BE Biorepository Redcap Database
2. Wetmore Showerhead Project
3. Wetmore TB Clinic Primary Care Project
4. Compassionate Access Research Eligible (CARE ) Program
5. NTM-BE National COPD Registry
6. A 7-Star Comprehenive Multi-disciplinary Patient Care, Education, and Clinical Research Program
7. Homeless Shelters & HCH Program
8. International & National Observership & Shadowing Program
9. Tulane Students Homeless Shelter TB Programs
10. Clinical Navigation Program
11. NTM- Bronchiectasis Program
Current Trials:
-Nontuberculous Mycobacterium Clinical Database & Biospecimen Bank
-Bronchiectasis Research Registry
2v3-Multicenter randomized pragmatic clinical trial comparing two-versus three-antibiotic therapy for pulmonary Mycobacterium avium complex disease
-PARATEK-A Phase 2, double-Blind, Randomized, parallel-Group, Placebo-Controlled, Multi-Center Study to Evaluate the Efficacy, Safety, and Tolerability of oral Omadacycline in Adult Subjects with Nontuberculous Mycobacterial (NTM) Pulmonary Disease Caused by Mycobacterium abscessus Complex (MABc)
-EBO-301-A Phase 2/3, Randomized, Double-blind, Placebo-controlled, Multicenter, prospective Study to Assess the Efficacy, Safety, and Pharmacokinetics of orally Administered Epetraborole in Patients with Treatment-refractory Mycobacterium avium Complex Lund Disease (MACrO2)
-RENOVION-A Phase 2a, randomized, double-blind, placebo-controlled study to evaluate the safety and efficacy of ARINA-1 administered twice daily by nebulizer in adult participants with non-cystic fibrosis bronchiectasis (NCFBE) with excess mucus and cough
-ASPEN-A Phase 3, Randomized, Double-Blind, Placebo-Controlled Study to Assess the Efficacy, Safety, and Tolerability of Brensocatib Administered Once Daily for 52 Weeks in Subjects with Non-Cystic Fibrosis Bronchiectasis-
-ENCORE-A Randomized, Double-Blind, Placebo-Controlled, Active Comparator, Multicenter Study to Evaluate the Efficacy and Safety of an Amikacin Liposome Inhalation Suspension (ALIS)-Based Regimen in Adult Subjects with newly Diagnosed Nontuberculous Mycobacterial (NTM) Lung Infection Caused by Mycobacterium avium Complex (MAC)
-MAC-CLOFAZIMINE-001 Clofazimine in the treatment of pulmonary Mycobacterium avium complex (MAC) disease
-Post trial Access (PTA) Program for Brensocatib (WILLOW and ASPEN)
-Multiple Patient Program for Lamprene (clofazimine) for the treatment of Non-Tuberculous Mycobacterial (NTM) Infections
Completed trials:
-ARISE-A randomized, Double-Blind, Placebo-Controlled, Active Comparator, Multicenter Study to Validate Patient-Reported outcome Instruments in Adult Subjects with Newly Diagnosed Nontuberculous Mycobacterial (NTM) Lund Infection Caused by Mycobacterium avium Complex (MAC)
-WILLOW- A Randomized, Double-Blind, Placebo-Controlled, Parallel-Group, Multi-Center Study to Assess the Efficacy, Safety and Tolerability, and Pharmacokinetics of INS1007 Administered Once Daily for 24 Weeks in Subjects with Non-Cystic Fibrosis Bronchiectasis
-INS 212-A Randomized, Open-Label, Multicenter Study of Liposomal Amikacin for Inhalation (LAI) in Adult patients with Nontuberculous Mycobacterial (NTM) Lung Infections caused by Mycobacterium avium complex (AMC) that are refractory to treatment
-INS 312-An Open-Label Safety Extension Study to a Multicenter Study of Liposomal Amikacin for Inhalation (LAI) in Adult Patients with Nontuberculous Mycobacterial (NTM) Lung Infections caused by Mycobacterium avium complex (MAC) that are refractory to treatment