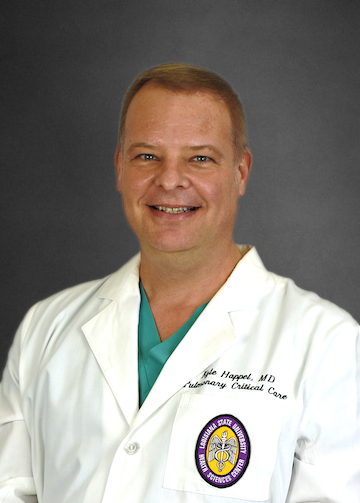 FACULTY
Kyle Happel
CHIEF OF MEDICAL SERVICE AREA
Med-Pulmonary/Critical Care Me
Academic Office:
LSUHSC School of Medicine
1901 Perdido Street, Suite 3205
New Orleans, LA 70112
Clinical Office:
University Medical Center
2000 Canal St
New Orleans, LA 70112
Bio
---
Dr. Happel joined the faculty at LSU in 2004. He is currently the Interim Chief of Pulmonary/Critical Care & Allergy/Immunology. His clinical research focus is asthma and COPD with focuses on airway inflammatory mechanisms. He is active in clinical and translational projects involving novel therapeutics for airway disease.
Education
---
Undergraduate:
1993 - B.S. in Biochemistry
Louisiana State University
Baton Rouge, Louisiana

Medical:
1997 - M.D.
LSU School of Medicine
New Orleans, Louisiana

Residency:
Internal Medicine
Vanderbilt University Medical Center
Nashville, Tennesse

Fellowship:
Pulmonary and Critical Care
Louisiana State University School of Medicine
New Orleans, Louisiana
Affiliated Hospitals & Clinics
---
LSU Healthcare Network Clinic
University Medical Center & Clinic
Ochsner Baptist Medical Center
Ochsner Kenner Medical Center
---
Publications
---
1. Happel KI, Lockhart EA, Mason CM, Porretta E, Keoshkerian E, Odden AR, Nelson S, Ramsay AJ, Pulmonary interleukin-23 gene delivery increases local T-cell immunity and controls growth of Mycobacterium tuberculosis in the lungs, Infection and Immunity Sep;73(9):5782-8, 2005.

2. Thiele GM, Mandrekar P, Zakhari S, Hoek J, Cook RT, Ray NB, Happel KI, Kolls JK, Kovacs EJ, Szab G, RSA 2004: combined basic research satellite symposium-mechanisms of alcohol-mediated organ and tissue damage: inflammation and immunity and alcohol and mitochondrial metabolism: at the crossroads of life and death session one: alcohol, cellular and organ damage, Alcohol Clin Exp Res Sep;29(9):1735-43, 2005.

3. Happel KI, Dubin PJ, Zheng M, Ghilardi N, Lockhart C, Quinton LJ, Odden AR, Shellito JE, Bagby GJ, Nelson S, Kolls JK, Divergent roles of IL-23 and IL-12 in host defense against Klebsiella pneumoniae, J Exp Med Sep 19;202(6):761-9, 2005.
4. Dixon AE, Castro M, Cohen RI, Gerald LB, Holbrook JT, Irvin CG, Mahapatra S, Peters SP, Rayapudi S, Sugar EA, Wise RA for the American Lung Association Asthma Clinical Research Centers*. Efficacy of nasal mometasone for the treatment of chronic sinonasal disease in patients with inadequately controlled asthma. J Allergy Clin Immunol. 2015; 135(3): 701-709. (*Includes Happel Kl.)
5. Smith LJ, Kalhan R, Wise RA, Sugar EA, Lima JI, Irvin CG, Dozar AJ, Holbrook JT; American Lung Association Asthma Clinical Research Centers*. Effect of a soy isoflavone supplement on lung function and clinical outcomes in patients with poorly controlled asthma: A randomized clinical trial. JAMA. 2015; 313(20): 2033-2043. (*Includes Happel Kl.)
6. Lammi MR, Ghonim MA, Pyakurel K, Naura AS, lbba SV, Davis CJ, Okpechi SC, Happel Kl, deBoisblanc BP, Shellito J, Boulares AH. Treatment with intranasal iloprost reduces disease manifestations in a murine model of previously established COPD. Am] Physiol Lung Cell Mo/Physiol. 2016; 310(7): 630-638.
7. Holbrook JT, Sugar EA, Brown RH, Drye LT, Irvin CG, Schwartz AR, Tepper RS, Wise RA, Yasin RZ, Busk MF on behalf of the American Lung Association Airways Clinical Research Centers*. Effect of continuous positive airway pressure on airway reactivity in asthma: A randomized, sham-controlled clinical trial. Ann Am Thorac Soc. 2016; 13(11 ): 1940-1950. (*Includes Happel KI.)
8. Rogers L, Sugar EA, Blake K, Castro.M, Dimango E, Hanania NA, Happel KI, Peters SP, Reibman J, Saams J, Teague WG, Wise RA, Holbrook JT. Step-down therapy for asthma well controlled on inhaled corticosteroid and long-acting beta-agonist: A randomized clinical trial. J Allergy Clin Immunol Pract. 2018; 6(2): 633-643.
9. Baker AM, Holbrook JT, Yohannes AM, Eakin MN, Sugar EA, Henderson RJ, Casper AS, Kaminsky DA, Rea AL, Mathews AM, Que LG, Ramsdell JW, Gerald LB, Wise RA, Hanania NA on behalf of the American Lung Association Airways Clinical Research Centers*. Test performance characteristics of the AIR, GAD-7, and HADS anxiety-screening questionnaires for anxiety in chronic obstructive pulmonary disease. Ann Am Thorac Soc. 2018; 15(8): 926-934. (*Includes Happel Kl.)
10. Cahill LM, Fisher KA, Robinson WT, Beiter KJ, Zabaleta J, Tseng TS, Kepper MM, Skizi, MK, Griffiths LA, Uddo RB, Pelligrino NE, Maronge JM, Happel KI, Scribner R, Sothern MS. Asthma status moderates the relationship between neighborhood disadvantage and obesity in African American adolescent females. Obes Sci Pract. 2019 Oct 23; 5(6): 564-569.
11. Self WH, Semler MW, Leither LM, Casey JD, Angus DC, Brower RG, Chang SY, Collins SP, ... Thompson BT, Brown SM for the National Heart, Lung, and Blood Institute PET AL Clinical Trials Network*. Effect of Hydroxychloroquine on Clinical Status at 14 Days in Hospitalized Patients With COVID-19: A Randomized Clinical Trial.JAMA. 2020 Dec 1: 324 (21): 2165-2176. (*Includes Happel KI.)
12. Janz DR, Mackey S, Patel N, Saccoccia BP, St Romain M, Busack B, Lee H, Phan L, Vaughn J, Feinswog D, Chan R, Auerbach L, Sausen N, Grace J, Sackey M, Das A, Gordon AO, Schwehm J, McGoey R, Happel KI, Kantrow SP. Critically Ill Adults with COVID-19 in New Orleans and Care with an Evidence-based Protocol. Chest. 2021 Jan 1: 159 (1): 196-204.
13. Wise RA, Holbrook JT, Brown RH, Criner GJ, Dransfield MT, He J, Henderson RJ, Kaminsky DA, Kaner RJ, Lazarus SC, Make BJ, Que LG on behalf of the American Lung Association Airways Clinical Research Centers*. Clinical Trial of Losartan for Pulmonary Emphysema: Pulmonary Trials Cooperative LEEP Trial. Am J Respir Crit Care Med. 2022 June 1. Online ahead of print doi: 10/1164/rccm/202201-0206OC. (*Includes Happel KI.)