Contact Us
Office of Medical Education
2020 Gravier Street
Suite 602
New Orleans, LA 70112
Phone: 504-568-4006
Fax: 504-599-1453
Graduate Medical Education
GME Orientation Welcomes 250 New LSU House Officers
On Monday, June 24, 2013, the staff of the Graduate Medical Education office welcomed the 250 incoming house officers for the 2013-2014 academic year. New residents and fellows enjoyed a full day of introductions to institutional policies and services. Satellite orientation sessions were conducted for residents in Baton Rouge-based programs.
A series of presentations about issues directly impacting the safety and efficiency patient care was presented to the new trainees. Dr. Peter DeBlieux, Associate Medical Director at the Interim LSU Public Hospital (ILH), addressed the residents' new responsibility for facilitating learning for medical students and others. Dr. Bonnie Desselle, director of the pediatric residency program, spoke about teamwork being critical in residency training and why effective transitions in care are central to patient safety.
The GME office also coordinates with ILH to ensure new residents and fellows receive Pelican training prior to beginning clinical work at the hospital. Over the course of three days, nearly all of the residents rotating at ILH throughout the year received EHR training. This level of coordination ensures a full complement of house staff is ready to work at ILH on July 1.
All residents and fellows received a Clinical Learning Environment Review (CLER) pocket reference card. It lists important phone numbers, staff contacts, and resources available to patients. The card also details how house staff can report adverse events at ILH through hospital drives or Pelican. Finally, the card describes basic quality improvement methodologies used at ILH. This card will allow house officers, as well as hospital staff, to have a greater awareness of hospital policies that make up the clinical learning environment at ILH.
LSU Residents Recognized at Interim LSU Public Hospital Awards Luncheon
The Interim LSU Public Hospital hosted its annual Intern and Resident of the Year Luncheon at the Windsor Court Hotel on June 7, 2013. Each year the hospital accepts nominations for interns and residents of the year from each department. Candidates should demonstrate dedication to the care of patients, an interest in teaching students and other residents and an interest in research. Members of the ILH executive and credentials committee selected the award winners in their May meeting.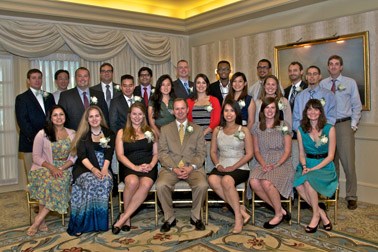 LSU Residents Recognized at Interim LSU Public Hospital Awards Luncheon
Guests in attendance were welcomed by Dr. Janis Letourneau, President, ILH Medical Staff and Dr. Juzar Ali, ILH Medical Director. Certificates were presented to all of the LSU nominees.
The Office of Graduate Medical Education would like to congratulate and recognize Dr. Shi "Marie" Tan, Department of Psychiatry, for receiving the 2012-2013 LSU Intern of the Year Award and Dr. Erik Soine, Department of Dermatology, as the 2012-2013 LSU Resident of the Year Award.
We would also like to recognize and congratulate all of the LSU nominees for Intern and Resident of the Year.
LSU Resident of the Year Erik J. Soine, MD Dermatology
Dr. Erik Soine has been chosen as LSU Resident of the Year for ILH. Dr. Soine has been a model for academic excellence, demonstrated through teaching, scholarly activity and research. He has served as an instructor for the introduction to clinical medicine to teach second year medical students the fundamentals of the physical exam as well as lectures to Internal Medicine residents for core lecture series. He has been published a variety of journals including the Journal of the Louisiana State Medical Society, Journal of the American Academy of Dermatology and the American Journal of the Medical Sciences. Dr. Soine has championed the missions of ILH and is a great asset to the residency program. He is frequently sought out for advice by residents and faculty. His supervisory staff always ranks him as outstanding in regard to integrity, responsiveness, professionalism, communication and respect. Most importantly his patients love him. He truly is a model of the qualities of the LSU Resident of the Year at ILH.
LSU Intern of the Year
Shi "Marie" Tan, MD Psychiatry
Dr. Marie Tan was selected as LSU Intern of the Year for ILH. Dr. Tan's colleagues remarked she "is energetic and personable with a great sense of humor." Dr. Tan has received praise from her supervisors in Psychiatry, Medicine and Neurology.
In August 2012, Dr. Tan evacuated with patients during Hurricane Isaac and provided needed support for patients and families with her positive energy and calming demeanor.
Dr. Tan is a great example of our best trainees and we are proud to recognize her "LSU Intern of the Year at Interim LSU Hospital."
LSU Nominees for Resident of the Year

Kate Brown, MD Medicine/Pediatrics

Joaquin S. Maury Ochoa, MD Neurology

Caroline R. Alquist, MD PhD, Pathology

Matthew J. Delfino, Jr., MD, MBA Family Medicine

Kristopher C. Sirmon, MD Orthopaedic Surgery

Joe Young Park, MD Radiology

Jacques Francois Ancelet, MD Emergency Medicine

Amanda Lemoine Alleyn, MD Obstetrics & Gynecology

Ha Vu, DO Psychiatry

Carrie Caruthers, MD Internal Medicine

LSU Nominees for Intern of the Year:

Rachel Coleman-Pierron, MD Internal Medicine

Michael Arcuri, MD Family Medicine

Traci Iwamoto, MD Obstetrics & Gynecology

Amir Abdul-Jabbar, MD Orthopaedic Surgery

Anthony DiGiorgio, DO Neurosurgery

Michael Barton, MD Emergency Medicine

Amanpreet Dulai, MD Medicine/Pediatrics
Enhancing Quality Improvement for Patients (EQuIP) / Patient Safety
QI Reference Tools Available for Faculty and Residents
In a complex and changing landscape, information sharing is critical but increasingly difficult to achieve. To facilitate information sharing, the Interim LSU Hospital (ILH) and the EQuIP office have been working on a number of different ways to inform house officers about resources available to them and their patients at ILH to improve quality care and ensure patient safety. Residents and program staff recently received a pocket card that lists key contact information, basic quality improvement methods used at ILH, and hospital resources available to staff and patients. Many of these resources promote the health and safety of staff and patients alike, while others can help residents meet the needs of their patient population. These pocket cards will also be distributed to ILH personnel. To receive copies of the pocket card, contact Vicki Harkin (vharki@lsuhsc.edu). A read-only copy is available here.

In the next few weeks, an ILH FAQ on QI/PS will also be made available to ILH staff and house officers. These FAQs will offer more details about the clinical learning leadership, environment and processes at ILH. For example, the FAQs will detail exactly how feedback is given to any physician, staff member, resident or fellow who turns in an incident or safety report. They will also list specific areas of clinical quality and patient safety where ILH is working to improve. These FAQs will be an up-to-date resource for programs, residents and ILH personnel alike to help coordinate efforts and share information across the hospital.

As the new academic year gets underway, the EQuIP office is once again coordinating efforts to get residents and fellows involved in QI and patient safety projects and initiatives. Please do not hesitate to contact Dr. Zee Ali or Ms. Vicki Harkin for more information or to share an idea. Please visit the EQuIP website at our website and check out the modules under the "For Programs" header. Feedback is always welcome!

Check out more information on EQuIP at our website. For more information, contact Dr. Zee Ali (mali@lsuhsc.edu) or Vicki Harkin (vharki@lsuhsc.edu or (504) 568-2593).
Mark Your Calendars
July 18 - GMEC Meeting – Conference Room 7 at 1:00PM
August 15 - GMEC Meeting – Conference Room 7 at 1:00PM
August 15 – CORE Meeting – LEC Room 632 at 2:00PM
September 19 - GMEC Meeting – Conference Room 7 at 1:00PM
Undergraduate Medical Education
UME Welcomes 202 New Students to Campus
The Office of Undergraduate Medical Education welcomes 202 first-year students to campus on August 7th. As we begin a new academic year, the House Mentoring program enters the second year and continues to grow. The basic science House Faculty will be more active in the SPM 200 course with teaching students how to critically evaluate published medical literature. The clinical House Faculty will also have increased interaction with their mentees in the ICM 200 course, which teaches physical diagnosis skills. Other goals for the House Mentoring program for this academic year include developing a community service project and increasing opportunities for mentoring and networking.
Curriculum Renewal Project to Release New Curriculum Goals in Fall
The ongoing curriculum renewal project continues to take a comprehensive look at the curriculum. The Curriculum Renewal Committee began meeting in July, and new curriculum goals should be proposed to the faculty this fall. The Office of Medical Education began cataloging the interdisciplinary courses (SPM 100, SPM 200, and Critical Concepts) in the New Innovations curriculum database this spring and is now working with all courses and clerkships to enter their course data. Content will be uploaded to the AAMC Curriculum Inventory Portal by November 2013. After the upload is complete, we will be able to compare many aspects of our curriculum to regional and national norms for medical education. Comparison of our content and pedagogy to national norms will help to guide our comprehensive curriculum review.
Office of Medical Education, Research and Development
OMERAD & Academy Updates
Implementation activities for the 2012-13 projects funded by the LA Health Works Commission/LA Board of Regents have been completed and final project reports have been submitted. These projects reflected outstanding team efforts that included the following LSU faculty and staff: Mr. Daryl Lofaso, Dr. Vadym Rusnak, Dr. Paul Thien, Dr. Costa Dimitriades, Dr. Jeffrey Surcouf, and Dr. Stacey Holman. In this year's project, a total of 117 health professionals participated in needs-based, point-of-care, inter-professional team training, for a total of 234 participant contact hours. Positive impact and improvements at these hospital sites have already been observed and reported. Follow-up program evaluation will occur in the coming months.

Also part of the simulation project was a Neonatal-Perinatal Fellow research project by Dr. Amy Zeringue that focused on simulation-based neonatal resuscitation training for interns and included observations of interns in live cesarean section deliveries to examine transfer of learning from training to actual practice. Dr. Zeringue's fellowship research project was supported by Drs. Brian Barkemeyer, Jeffrey Surcouf, and Sheila Chauvin who also served as members of her committee.

For the simulation faculty development project, Mr. Lofaso and Drs. Rusnak and Surcouf collaborated with Dr. Chauvin to develop and deliver the first of three phases of development for this statewide program. In addition, a number of faculty members at the School of Nursing at University of Louisiana at Lafayette and a team of faculty at the LSUHealth-Shreveport participated and were trained as regional teams that delivered the new statewide simulation faculty development program in those regions. A total of 343 health professions education faculty members from across Louisiana registered for the program and 211 of these individuals completed all four modules in the full-day program. The program was offered once at LSUHealthNewOrleans, once at LSUHealthShreveport, and twice at ULL.

Both projects were overwhelming successes. Dr. Chauvin presented the results of these projects to the La HWC on July 11 and will present to the Simulation Medical Training and Education Council of LA on July 31. Current efforts are focused on the preparation of manuscripts and other scholarly projects to be submitted for peer-reviewed publication. Dr. Chauvin and collaborators are optimistic that funding will be available for 2013-14 and are already working on new proposals to build upon their work. Much activity is also occurring in the LSUHSC Academy for the Advancement of Educational Scholarship, as OMERAD has been engaged extensively in a variety of program activities.

Faculty are reminded that the 2013 Back to Basics Summer Teaching Institute will occur Tuesday, July 30. All faculty members are invited to participate. A second Call for Proposals for the Educational Enhancement Grants program was issued and proposals are due July 12. Peer review of proposals will commence immediately, and awards from this round of review will be announced in August.

The Academy's 2013 Educational Scholarship Day and Fall Symposium will occur Wednesday, October 9. All LSU Health faculty are welcome and encouraged to participate in the day's activities. A Call for Proposals for ESD presentations has been disseminated, and proposals are due Friday, August 9. All LSUHealth faculty members are encouraged to submit proposals for oral abstract, poster, and demonstration presentations that reflect teaching and educational innovations, examples excellence, and educational scholarship. Full details for the upcoming faculty development programs, EEG grants, and ESD presentation opportunities are available from the Academy website at www.learningcenter.lsuhsc.edu/academy. Individuals may also contact the OMERAD at omerad@lsuhsc.edu or by calling 504-568-2140 for answers to questions and additional details.

The Academy website can be found by clicking here. Inquiries, comments, and suggestions are welcome via email to omerad@lsuhsc.edu or by calling 504-568-2140.
Continuing Medical Education
CME Updates
LSU CME Activities Are Easy To Find
Earning required CME credit may be easier than you think as a faculty member at LSU School of Medicine. CME credit can be earned at nearly 30 LSU CME certified activities each month with most activities being held on campus. A list of all activities can be found on the CME website or by clicking here.

If you have questions about your CME credit, please call 568-2000 or email cme@lsuhsc.edu
Certified CME Adds Value to Physician Learning
For many physicians, Continuing Medical Education (CME) is merely a requirement for licensure fulfilled by attending a certain number of lectures per year. However, over the past decade the mission and scope of CME in academic institutions and medical practices has evolved to address current and emerging public health concerns through direct engagement with physicians and their daily practice. Accredited CME insures that an activity is independent, scientifically valid, and directly links to practice-based needs relevant to physicians' needs to improve their medical knowledge and practice skills.

Every activity certified for CME credit begins with an academic leader who works closely with the CME office to establish the educational needs and objectives of the activity. This Activity Medical Director (AMD) plays a number of crucial roles: Identifying the professional practice gaps in knowledge and skills that he or she believes can be addressed through educational intervention, selecting an appropriate educational format and choosing faculty who are best qualified to deliver content that will inspire practice changes in the learners who make up the target audience for the activity.

Scott E. Delacroix Jr., MD, Assistant Professor of Urology and Director of Urologic Oncology sought CME certification for his monthly conference last year, "Making the extra effort to get the monthly Multidisciplinary GU Oncology Conference certified for CME helped me formalize the structure of the conference and learning experience. Attendees know it's non-promotional and educationally sound," he remarked. The leadership of the Activity Medical Director is important in that it keeps a CME activity closely connected with the medical professionals it is designed to educate. It is this proactive leadership, in conjunction with input from accredited CME professionals, which makes CME best suited to the ongoing professional development of physicians.

CME certification of an educational activity should be viewed not just as an indicator of eligibility to fulfill a licensure requirement, but as a system of quality measures that produce scientifically valid, practice-relevant, and bias-free learning experiences.
Mark your Calendar
Orthopaedics for Primary Care Physicians: Diagnosis and Office Treatment Workshop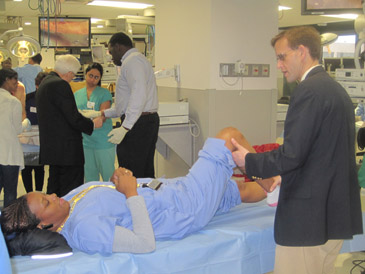 LSU faculty teach attendees to perform exams using model patients

LSU Department of Orthopaedics presents a one-day course for primary care physicians and medical professionals to increase their medical knowledge, diagnostic skills and treatment options for common orthopaedic injuries. The course is scheduled for Saturday, September 14, 2013 at the Learning Center 2020 Gravier St. Ste. 602.

The course includes morning lectures followed by a hands-on workshop in the afternoon with lab stations for physical exam techniques, splinting, injections and ultrasound on cadaveric specimens.

Upon completion of this activity, participants should be better able to:
Properly and effectively administer injections to patients when indicated.
Recognize the criteria for and expand treatments given by primary care specialists.
Perform accurate physical examinations and diagnostic tests according to current practice guidelines.
For more information or to register for the course, visit http://www.regonline.com/lsuorthoprimary.

The Louisiana  State University School of Medicine-New Orleans designates this live activity for a maximum of 6 AMA PRA Category 1 Credit(s)™.  Physicians should claim only the credit commensurate with the extent of their participation in the activity
Course Faculty:

Vinod Dasa, MD, Course Director
Assistant Professor
LSU School of Medicine-Orthopaedic Surgery

Leslie Skaketkoo, MD
Assistant Professor
LSU School of Medicine-Medicine,Rheumatology

Peter Krause, MD
Associate Professor
LSU School of Medicine-Orthopaedic Surgery

Paul DiMartino, MD
Assistant Professor
LSU School of Medicine-Orthopaedic Surgery

Michael Hartman, MD
Assistant Professor
LSU School of Medicine-Orthopaedic Surgery

Harold Stokes, MD
Professor
LSU School of Medicine-Orthopaedic Surgery

William Sherman, MD
Assistant Professor
LSU School of Medicine-Orthopaedic Surgery

Christopher Marrero, MD
Assistant Professor
LSU School of Medicine-Orthopaedic Surgery

Olivia Lee, MD
Assistant Professor
LSU School of Medicine-Orthopaedic Surgery

Raman Danrad, MD
Assistant Professor
LSU School of Medicine-Radiology
FOR REGISTRATION AND MORE INFORMATION, PLEASE VISIT:
WWW.REGONLINE.COM/LSUORTHOPRIMARY
Learning Center
Simulation
Learning Center Earns Reaccreditation through 2016 from American College of Surgeons

The American College of Surgeons Accreditation Review Committee Members met June 4-5, 2013 to make accreditation decisions and LSU Health – New Orleans School of Medicine Learning Center was awarded reaccreditation for three years as a Comprehensive Education Institute. The School of Medicine Learning Center has held the distinction of a comprehensive accredited education institute since July 2007.
The decision was made following a comprehensive evaluation of our Learning Center, which included review of the application submitted, as well as a review of the site surveyor's report, and careful deliberation by the American College of Surgeons Accreditation Review Committee. Our site visitor wrote the following comments about the Learning Center in his final report;
"The LSU Health – New Orleans School of Medicine Learning Center is a well-established member of the Consortium and is fortunate to have a state-of-the-art facility with strong support, ample funding, and a dedicated and experienced staff and leadership. Literally rising from the flood waters of Hurricane Katrina, this purpose built facility and their staff are re-defining what it is to be a comprehensive educational center. This center presented a well-written application and demonstrated through both their application and their onsite visit that they are "firing on all cylinders." This center is clearly in the top tier of our family of AEIs and has enviable support and resources that allows it to meet its mission. It is recommended that this AEI be fully reaccredited and commended for the many best practices it embodies."
Congratulations to our Learning Center and staff members for this successful endeavor and continued national recognition!