Graduate Medical Education
Accreditation
ACGME's John Potts, III, MD from the ACGME Discusses Changes to Residency and Fellowship Programs at LSU SOM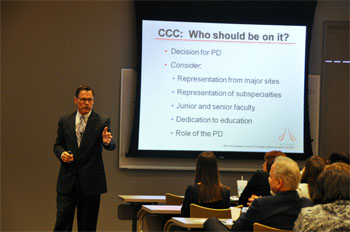 Dr. Potts speaks to the LSU faculty and staff on March 7, 2013.
LSUHSC Graduate Medical Education (GME) office hosted John Potts, III, MD, Senior Vice President for Surgical Accreditation from the Accreditation Council of Graduate Medical Education (ACGME) on March 7 for the annual GME retreat. Dr. Potts' visit was especially timely as the GME office begins using the ACGME's the Next Accreditation System (NAS) for all accredited residency and fellowship programs. Department chairs, program directors, faculty, coordinators and residents had several opportunities to meet with Dr. Potts throughout the day to address changes to the ACGME accreditation system.
The afternoon retreat focused on the NAS and the essential elements of the new system: Clinical Learning Environment Reviews (CLER visits); Annual Program Reviews (APR); Clinical Competency Committees (CCC); and the Milestones. This alphabet soup of changes in accreditation is based on a continuous model for accreditation reviews, while replacing the traditional program-biopsy model. Other key changes include moving from a maximum 5-year accreditation cycle format to a yearly review with self-study Visits every ten years.
This new model provides the ACGME Residency Review Committees an opportunity to annually review a training program and provide frequent and necessary feedback for change and improvement. Dr. Potts reminded the audience that the CLER visits are a time for national evaluation teams to assess the major participating hospitals' clinical environment and the residents and faculty's engagement in patient safety and quality improvement activities. The CLER program emphasizes GME involvement in these hospital initiatives and is essential to our goal of providing safe and effective patient care.
Dr. Potts reviewed the ACGME's requirement for training programs to establish a Clinical Competency Committee (CCC) to assess and report residents' progress in the Milestones. Written by national committees with membership drawn from the RRC's and specialty boards, the Milestones provide a framework for the assessment of the development of residents in key dimensions of the elements of physician competency in a specialty or subspecialty area. Residency programs are grouped by specialty into Phase I or Phase II. Phase I Milestones reporting will begin December 2013 for Pediatrics, Neurological Surgery, Orthopaedic Surgery, Radiology, Emergency Medicine, and Urology. Phase II specialty Milestones are still in review format and programs will begin reporting data in December 2014.
These are exciting changes occurring in the GME national arena. We at LSU are committed to working with our programs in this transition by providing leadership and ample opportunities for faculty development as we embark on this journey together.
Enhancing Quality Improvement for Patients (EQuIP) / Patient Safety
First LSU-SOM  Quality Improvement Forum to be Held on May 14
Over the last academic year, more than 500 LSUHSC house officers have become involved in quality improvement and patient safety (QI/PS) activities.  The Enhancing Quality Improvement for Patients (EQuIP) program in the Graduate Medical Education (GME) office integrates graduate medical education leaders, residents and fellows, faculty, and quality management personnel at various clinical training sites in a comprehensive curriculum on quality improvement and patient safety. 
Prompted by the ACGME's Next Accreditation System and the upcoming Clinical Learning Environment Review visits, EQuIP's primary impetus has been to educate and involve trainees in improvement efforts.  Recently, a new online multimedia curriculum teaching the principles of systems improvement, service excellence, and professionalism was rolled out.  House officers also participate in hospital QI/PS committees, program-based projects and initiatives, or a combination of the two to satisfy accreditation requirements.  Programs have the flexibility to implement EQuIP in the most clinically-relevant way for their trainees.
Currently, residents are working on a variety of projects.  Some of these include improving screening rates and patient education for secondhand smoke exposure, high blood pressure, and high obesity; case-based educational materials on professionalism; improving provider treatment of heart failure to reduce unnecessary admissions and improve throughput to outpatient clinic; and improving transitions in care for pediatric diabetic patients—to name but a few of the ongoing projects. 
In time, we hope that EQuIP will be the start of a fully comprehensive curriculum on quality and safety across the medical education continuum –for faculty, house officers, and students.
The EQuIP office is planning a Quality Improvement Forum on Tuesday, May 14, 2013, at the Student Learning Center in New Orleans.  This forum will allow residents and fellows to present the substance of their efforts thus far.  Additionally, more training sites will be integrated into the EQuIP program in the coming months. 
Check out more information on EQuIP at our website. For more information, contact Dr. Zee Ali (mali@lsuhsc.edu) or Vicki Harkin (vharki@lsuhsc.edu or (504) 568-2593).
Mark Your Calendars
April 4- "Implementing the ACGME Milestones Into Residency Training" EKL, at 1 p.m.(Baton Rouge, LA)
April 16 – GME Coordinator Meeting – LEC Room 632 at 10am
April 18 - GMEC Meeting – Conference Room 7 at 1pm
May 14 – Quality Improvement Forum-LEC Room 632
May 16 - GME Coordinator Meeting – LEC Room 632 at 10am
Undergraduate Medical Education
Updates
UME- Taking a Comprehensive Look at Our Curriculum
The Office of Undergraduate Medical Education (UME) recently began a comprehensive curriculum review to assess the structure and teaching methods that we currently use in our four-year undergraduate curriculum. The multistep process of obtaining faculty and student input began in November 2012. A survey was sent to all faculty and students to get their opinions and suggestions on current teaching methods, course offerings, and curriculum structure. A series of focus groups for faculty and students was held to gain feedback on topics including assessment methods, vertical and longitudinal integration, technology use, curriculum strengths and weaknesses, and clinical and basic science integration. The Dean's Steering Committee will meet in the coming weeks to continue the comprehensive curriculum review process.
The UME office has also recently started using a new curriculum database. Although the project is only in the beginning stages, the curriculum database will allow faculty and staff to see how and where topics are taught throughout the curriculum. The Liason Committee on Medical Education (LCME) now requires all accredited schools maintain an up-to-date comprehensive database, and LSU will use the New Innovations software to house their curriculum database. The Office of Medical Education has worked with New Innovations to develop and beta test their curriculum database software, and we are one of the first schools to use the new product. Course directors are beginning to load data into the curriculum database, and we hope to have all courses uploaded by September. At that time it will function as a part of the AAMC Curriculum Inventory Portal (CIP). The CIP, the database replacing CurrMIT, will function as a standardized database of assessment and instructional methods for all LCME-accredited schools.
Office of Medical Education, Research and Development
OMERAD Updates
New Statewide Simulation Faculty Development Program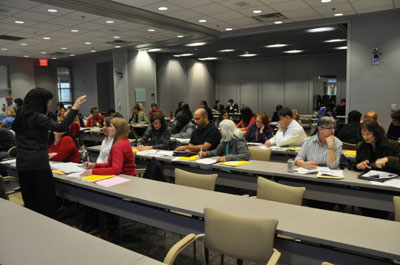 Faculty attending a recent Faculty Development Workshop
A Statewide Simulation Faculty Development program has been created to support and educate health professions faculty members' development and use of simulation resources and methods in the State of Louisiana. Sheila Chauvin, PhD, MEd, OMERAD Director and Founding Chair of the Simulation Medical Training and Education Council of Louisiana (SMTEC-LA), is leading this effort with funding support from the Louisiana Health Works Commission and the Board of Regents. This year is the first phase of a three-year development and statewide roll-out project. The project was also strongly endorsed by the SMTEC-LA. "Our goal is to develop a statewide network of health professions faculty members who use simulation in teaching, learning, and assessment based on sound principles and evidence-based practices in curriculum development, instructional design, assessment and evaluation, simulation scenario/case design, and effective debriefing, coaching, and feedback strategies," said Dr. Chauvin.
Future sessions to be developed over the next two years will add opportunities to build on fundamental abilities, enhance education knowledge and skills, and facilitate intra- and inter-institutional collaboration and scholarly work. In addition, the project includes the initial development of a central website to share information and resources and to facilitate networking and collaboration among health professions education faculty statewide. When asked about the importance and potential of this new statewide faculty development program, Dr. Chauvin responded, "Investing in the ongoing professional development of Louisiana's health professions educators is one way that we can maximize the precious resources and expertise and facilitate excellence and scholarship in simulation-based training and education." At its completion, the faculty development program will include twelve sessions, with four sessions at each of three levels: fundamental, enhancement, and scholarship. In addition to program and curriculum development, teams of trained faculty facilitators for each of the sessions are being established in three locations of the state (New Orleans, Shreveport, and Lafayette) to facilitate access and ongoing, regional, and statewide implementation.
For this year's initial implementation, registrations quickly filled to capacity, with waiting lists for all three sites. The first session was held at the LSU SOM in the Isidore Cohn, Jr. Learning Center on February 27. Over 65 people attended the all-day session and feedback was extremely positive. Regarding the faculty response to this new program, Dr. Chauvin commented, "This faculty development program was pursued based on results of our statewide needs assessment of simulation-based training in Louisiana's health professions colleges/schools. We knew this was a high-priority training need, but the interest and response from faculty has been far above what any of us expected."
Dr. Chauvin added that while the initial four sessions are being offered as a full-day program this year, flexibility has been built into overall program design. For example, the program can also be offered in the future as a series of single sessions or a subset of sessions to fit schedules or address needs of a particular group of faculty within a region or in a specific program/college/school. Establishing trained faculty facilitators for each of the sessions in multiple locations of the state facilitates access and responsiveness to these needs.
Point-Of-Care Simulation-Based Training Expands In 2012-13
Additional funding from the Louisiana Health Works Commission (LA HWC) and the Louisiana Board of Regents (BOR)) in 2012-13 facilitated continued and expanded efforts to develop and conduct simulation-based inter-professional team-based training at the point-of-care at hospitals in the greater metropolitan New Orleans area and at specific rural, critical access hospitals in the southeast Louisiana region. Expanded from a prior project in 2011-12 and also funded by the LA HWC and BOR, this year's program is expanding the level of involvement with specific hospitals and developing a model for sustainable partnership and inclusion of simulation-based POC continuing education. Dr. Sheila Chauvin, Principal Investigator and Project Director, is working with a team of faculty and staff at LSU SOM who are experienced with simulation-based training and education. Such training conducted with existing teams of healthcare providers in their own patient care settings is designed based on needs assessment conducted with site-based stakeholders. In addition to introducing Louisiana health care teams to this new technology and gauging feasibility and receptivity, program evaluation efforts are also examining participants' reactions, impact on intentions to change practice, and actual changes and outcomes. Already, improvements have been observed and reported at participating sites and positive patient outcomes have been reported as a result of participation in training. In addition to refining POC training approaches and developing a sustainable model for this type of continuing education, the project team is also exploring ways in which other technologies might also increase interaction among LSU faculty and health care providers at participating hospital sites (e.g., use of video conference and distance-based debriefing) and minimize the costs of providing site-specific and site-based training.
For more information, visit http://www.medschool.lsuhsc.edu/Medical_Education/omerad.aspx
Academy for Advancement of Educational Scholarship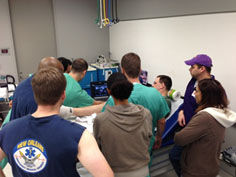 At LSUHSC, technology is used in teaching, learning, and assessment of students, residents, and faculty learning activities.
Academy Spring Symposium Focuses on Technology
The Academy's Spring Symposium was held March 13 in the Learning Center and continued the focus on educational technologies that were initiated at the Fall Symposium. The morning faculty development activities included an overview of technology resources and support at LSU Health New Orleans by Mr. Ken Boe of our campus-wide information technology division. The overview session was followed by a series of breakout sessions presented by LSUHSC faculty who are using various examples of technology in teaching, learning, and assessment (e.g., Moodle, Second Life, Wimba, and MediaSite). One other interesting breakout session featured a local development of The Chunker that developed from a previous Academy Educational Enhancement Grant-supported project and inspiration from this year's Fall Symposium.

Faculty attending the various breakout sessions had opportunities to see demonstrations of the technology uses and talk with the faculty presenters about their actual uses and experiences, and how they have facilitated and overcome challenges with incorporating new technologies to enhance educational activities.

After an opportunity to visit with and meet new colleagues during a lunch buffet, symposium participants were provided an engaging plenary presentation by Kevin Souza, MS, Assistant Dean for Medical Education at the University of California-San Francisco School of Medicine. Mr. Souza shared with participants how the roles of leadership, strategy, and scholarship have facilitated the extraordinary advances in educational technology that have occurred at his school over the past decade. Following the plenary presentation, Mr. Souza led an interactive and hands-on faculty development workshop in which faculty participants learned how to apply Design Thinking concepts and processes to define and develop educational technology innovations that are responsive to user needs.

For more information about the Academy, its programs and offerings, benefits of membership and how to become a member, please visit the Academy website at a http://www.medschool.lsuhsc.edu/Medical_Education/Academy/omerad-academy.aspx Membership application may be submitted at any time during the year. For other information and to request individual or small group consultation, please call 504-568-2140 or email omerad@lsuhsc.edu.

The next campus faculty development program open to all LSU faculty members will be third annual Back-to-Basics Summer Teaching Institute on Tuesday, July 30. Details about this full-day program will be forthcoming. In the meantime, please be sure to save the date and mark your calendars. Plans are already underway to offer CME and CNE credit to eligible participants.

Please call Kelly Nester 568-2140 or email at omerad@lsuhsc.edu. For more information about the Academy please visit http://www.medschool.lsuhsc.edu/Medical_Education/Academy/omerad-academy.aspx
Continuing Medical Education
CME Updates
ACCESS YOUR CME TRANSCRIPT ONLINE
If you have attended LSUSOM CME events in the past 3 years, you are able to access your CME transcript online.    Beginning in 2012, the CME office began distributing electronic CME and participation certificates to LSU Health New employees.   At the conclusion of the CME activity, learners are sent an email with instructions to access their certificates.   By simply logging into an LSU Health New Orleans computer and navigating to the School of Medicine and Continuing Medical Education on the website, learners can access their transcript pages and print certificates for any LSU CME activity.The transcripts will be available on the site for a minimum of 6 years.

If you have questions about your CME credit, please call 568-2000 or email cme@lsuhsc.edu
Mark your Calendar
LSU Department of Orthopaedic Surgery Diabetic Foot Conference-April 12-13, 2013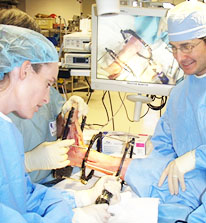 Attendees at 2011 course held in the SOM's Center for Advanced Practice
This two-day conference features one day of didactic lectures discussing the latest in non-surgical and surgical management advances in limb-saving treatments for at-risk patients.  The  optional second day features a skills lab at LSU School of Medicine's Center for Advanced Practice and provides learners an opportunity to practice the new surgical techniques using cadaveric specimens.
This course is designed for physicians, podiatrists, nurses, allied health professionals and other health care providers whose scope or potential scope of practice includes management of foot issues for patients with diabetes.
The Louisiana  State University School of Medicine-New Orleans designated this live activity for a maximum of 14 AMA PRA Category 1 Credit(s)™.  Physicians should claim only the credit commensurate with the extent of their participation in the activity
FACULTY:

Course Chair:
J. Monroe Laborde, MD
Clinical Assistant Professor
LSU School of Medicine
Orthopaedic Surgery
New Orleans, LA

Stephen Barrett, DPM, FACFAS
Adjunct Professor
Midwestern School of Podiatric Medicine
Thunderbird Internal Medicine
Phoenix, AZ

Robert Frykberg, DPM, MPH
Chief of Podiatry
Phoenix VA Health Care System
Phoenix, AZ

Terrence Philbin, DO
Director of Foot & Ankle Surgery
Doctor's Hospital
Westerville, OH

Raoul P. Rodriguez, MD
Ray J. Haddad Professor and Chairman
Orthopaedic Surgery
Tulane University School of Medicine
New Orleans, LA
FOR REGISTRATION AND MORE INFORMATION, PLEASE VISIT:
WWW.REGONLINE.COM/DIABETICFOOT2013
Learning Center
Simulation
ACS REACCREDITATION

Dr. John Paige recently submitted reaccreditation self-study materials for LSU SOM Learning Center reaccreditation from the American College of Surgeons(ACS).  Originally accredited in 2007, the Learning Center has been an active member of the ACS institutes, including hosting the ACS AEI Post-Graduate meeting in New Orleans in September 2012. The American College of Surgeons accredits education institutes based on their ability to provide and promote quality in education.
As a member of the Education Institutes, LSU SOM incorporates the following goals into their training programs:
To promote patient safety by serving the education and training needs of surgeons and other learners;
To ensure the use of appropriate curricula, and teaching and assessment tools, including simulation to assist surgeons and other learners in achieving their personal and continuous professional development goals;
To develop new education and training programs, technologies, and methodologies;
To promote scholarly activity and collaboration among the ACS-accredited Education Institutes.
The ACS will conduct a site visit on March 27 to meet with key members of the Learning Center to verify the self-study report.  A decision will be made in June 2013 regarding continued accreditation.
More information about the ACS accreditation process can be found here:   http://www.facs.org/education/accreditationprogram/index.html.
Mark Your Calendar
March 27 – American College of Surgeons Site Visit – LEC Room 632
April 4 – University Medical Center Management Corporation Meeting – LEC Room 632 at 1pm
April 20 – School of Medicine Family Day
May 2 - University Medical Center Management Corporation Meeting – LEC Room 632 at 1pm
AHEC
Day with the Docs
The Learning Center and L2's recently hosted 107 junior and senior high school students from the Southeast AHEC region on Thursday, March 7. James Barrios (L2), Class of 2015 Vice President of Community Affairs, organized a day full of activities for the visiting students. The students participated in mock patient interviews, toured the Student Run Homeless Clinics, heard about the great work at Camp Tiger, and learned about the LSU SOM admissions process. In the afternoon, the visiting students split into 6 groups to participate to use simulation trainers,view x-rays and gross organs, and even play a game of "Medical School Jeopardy." The AHEC's annual "Day with the Docs" program allows junior and senior high school students who have expressed an interest in health professions an opportunity to view the medical school and speak with medical students about their experiences.
Thank you to group leaders Sam Herman, Brandi, Duet, Christ Latour, Stephanie Graebert, Stephanie Coleman, Amber Severio, Madeline Lemoine, Erik Oltmann, Brandi Ductoe, Alden Littlewood, David Lewis, Jordan Percle, Meredith Walker, and Samantha Baker for participating.
The program is one of the 22 recruitment programs for the AHEC South region. The activities combine students, residents and communities together by matching interests and needs.