Contact Us
Office of Medical Education
2020 Gravier Street
Suite 602
New Orleans, LA 70112
Phone: 504-568-4006
Fax: 504-599-1453
Graduate Medical Education
Accreditation
For ACGME CLER Visits, Policies Don't Equal Performance
The ACGME's Clinical Learning Environment Review (CLER) program has garnered an extraordinary amount of attention among medical schools and hospital systems across the nation. CLER visits take place in hospitals – not medical schools – but their primary focus is encouraging cooperation between hospitals and medical schools in six areas: quality improvement, patient safety, transitions in care, duty hours, supervision and professionalism.

The aim of the CLER program is to align hospital leadership, school-based GME administration, training program faculty, and house officers in their patient care improvement efforts. While policies and documentation have often been paramount in GME accreditation, the Next Accreditation System (NAS) and the CLER visits are a dramatic change from this model of compliance. At the spring meeting of the AAMC's Group on Resident Affairs, DIOs and hospital administrators from across the country shared insights on the CLER visit's reach. First and foremost is that policies do not equal performance. CLER visits highlight how critical it is for hospital systems to not only implement comprehensive policies, but also adapt workflows to efficiently carry out these policies. Continous assessment and measurement of the policies/workflows on patient outcomes is critical. Several hospital systems have discovered, for example, that transitions in care have not been made easier by electronic health records, not because of software limitations, but because physician and staff workflow policies were not adapted to utilize the EHR effectively. As a result of the CLER visit, these facilities have recognized the need to improve workflows and continue to reassess performance.

Quality improvement is an important component of the CLER program, and CLER site visitors will seek answers to two key questions: How are residents' QI activities aligned with the hospital's priorities? And are QI projects by GME faculty and residents demonstrating improvement in patient outcomes?

CLER site visitors do not expect hospital systems to perform perfectly on the first, or even the second, round of visits. Initially, the CLER will assess the hospital leadership, school-based GME administration, training program faculty, and house officers' commitment to continue to improve patient care, serve its core population base and build a better clinical learning environment.
Enhancing Quality Improvement for Patients (EQuIP) / Patient Safety
Quality Improvement Forum Highlights QI in Medical Education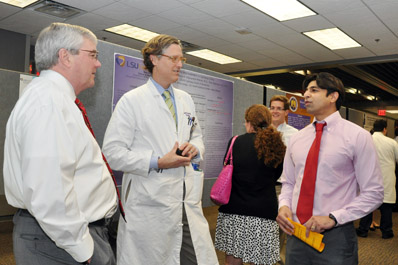 Charles Hilton, MD speaks with Drs. Christopher Edwards and Saurabh Lalan, Neurology residents, about their posters at the 2013 QI Forum

On Tuesday, May 14 faculty and house officers from more than sixteen residency and fellowship training programs at LSUHSC took part in the first annual LSU School of Medicine Quality Improvement and Patient Safety Forum. More than 30 abstracts and poster presentations detailed QI/PS initiatives and projects across the medical school, while a series of five oral presentations highlighted the importance of QI in clinical evaluation and medical education.

Dr. Richard Tejedor of the Section of Pulmonary/Critical Care Medicine delivered the afternoon's keynote address, "Performance Improvement Projects: Core Principles of Project Acceptability." He highlighted the importance of engaging physicians to improve patient care and reduce disparities in care, but also highlighted the dangers of proceeding with supposed improvements without consideration of unintended consequences. Dr. Tejedor also proposed core principles for future QI projects, including the importance for clinicians to measure existing performance outcomes in order to identify gaps and areas for improvement. The clinical range of resident projects featured in the Forum demonstrated the worthy efforts already underway at more than ten clinical sites. More than 150 LSU house officers are currently working with hospital-based committees to develop standard care plans and order sets, educate hospital staff, and improve the operational processes of clinics. Other training program-based projects are improving follow-up care for postoperative patients, enhancing clinic throughput, and reducing the number of unnecessary procedures and tests. The QI/PS Forum will be held yearly to showcase quality improvement and patient safety activities by LSUHSC residents and fellows at clinical sites across southern Louisiana. The Forum was jointly sponsored by the EQuIP program, the Office of Graduate Medical Education, and the LSU SOM Dean's Office.
EQuIP Modules Teach Evidence-Based QI Principles
As part of a comprehensive curriculum on quality and patient safety issues in the clinical setting, the EQuIP office in collaboration with Interim LSU Public Hospital staff and engaged faculty members developed a series of three core curriculum modules on the principles of clinical service excellence and quality improvement in healthcare systems. This curriculum contains multimedia elements, including audience-response interactivity and video components. The target audience for these modules is house officers from any PGY level; LSU residents and fellows will review this curriculum in each year of their training. Though early feedback has been generally positive, the EQuIP office will continue to make these modules more robust. The EQuIP modules will educate residents and fellows on evidence-based quality improvement principles and empower them to participate in improvement initiatives going on around them. Please visit the EQuIP website at our website and check out the modules under the "For Programs" header. Feedback is always welcome!

Check out more information on EQuIP at our website. For more information, contact Dr. Zee Ali (mali@lsuhsc.edu) or Vicki Harkin (vharki@lsuhsc.edu or (504) 568-2593).
Mark Your Calendars
June 20 - GMEC Meeting – Conference Room 7 at 1:00PM
June 24 – Incoming House Officer Orientation – MEB Lecture Room B 8:00AM – 5:00PM
June 26 & 27 – Incoming House Officer EPIC Orientation – MEB Lecture Room B 9:00AM – 6:00PM
June 28 – Incoming House Officer ILPH Orientation – MEB Lecture Room B 8:00AM – 5:00PM
July 16 - GME Coordinator Meeting – LEC Room 632 at 10:00AM
July 18 - GMEC Meeting – Conference Room 7 at 1:00PM
Undergraduate Medical Education
Updates
UME Guest Speaker Presents Grand Rounds, House Faculty Retreat on Professionalism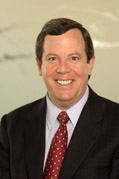 Dr. Edward Hundert
On Tuesday, May 21, 2013, Dr. Edward Hundert, Director of the Academy for Teaching and Learning at Harvard Medical School, presented a Grand Rounds to LSU School of Medicine faculty and students and led the first House Faculty retreat. Dr. Hundert's talk, Developing Medical Professionals for the 21st Century: Opportunities and Challenges, was sponsored by Dean Nelson and the LSU School of Medicine House program as a conclusion to the first year of the newly established mentorship program which has been well received by freshman students and faculty mentors. Dr. Hundert spoke at length on how to effectively teach students to be thoughtful, professional physicians, and he addressed current ethical issues facing today's medical students. He also met directly with the House Council and House faculty members to continue to develop the newly established House mentorship program curriculum. His guidance and experience provided a fresh perspective on ways to teach ethics and professionalism concepts to our undergraduate medical students.
Dr. Hundert is an internationally known expert in medical ethics and professional development. He is a Senior lecturer in Medical Ethics and director of the Harvard Medical School's first year "Medical Ethics and Professionalism" course. In his role as Director of the Academy for Teaching and Learning, Dr. Hundert directs the HMS Fellowship in Medical Education and monthly Medical Education Grand Rounds. Dr. Hundert has received the honor of most valuable faculty member at HMS numerous times.
Joanne Marier, Director, Health Law and Medical Ethics, has known Dr. Hundert professionally for many years. She speaks very highly of Dr. Hundert's knowledge and feels that he was a perfect person to lead the faculty retreat. Marier says, "Dr. Hundert is a thoughtful, smart, articulate, and gifted communicator that could be doing anything with his life, but he has chosen to center his energies on students." She continues, "He is a wonderful contribution to the medical education community."
Office of Medical Education, Research and Development
OMERAD Updates
The 2012-13 academic year has been busy with a number of educational research and scholarship projects. Implementation activities are near completion and efforts are shifting to data compilation, analysis, and preparation of technical reports, presentation proposals, and/or manuscripts for publication. These projects reflect collaboration between the OMERAD and individual faculty members, project teams, and programs and include a variety of faculty members, residents, and fellows. Among the project targets have been simulation-based training, quality improvement initiatives, educational innovations and enhancements, curriculum and instructional development, survey research, instrument development, and program evaluation.

The statewide simulation-based projects targeting faculty development and point-of-care training have been a huge success this year. In the coming months, much activity from these projects will focus on data compilation and analysis, report writing, preparation of presentation proposals and manuscript preparation. Efforts are already underway to explore future efforts and proposals for building upon these statewide simulation development efforts.
Academy Updates
As the administrative home for the LSUHSC Academy for the Advancement of Educational Scholarship, the OMERAD has been engaged extensively in a variety of program activities. Traditionally, this is a busy time of year for the Academy. The 2012-13 Educational Enhancements Grants are quickly approaching closure, with year-end activities being targeted.

Outcomes of the 2012-13 EEG awards will be presented at the upcoming 2013 Educational Scholarship Day in October. Proposals for 2013-14 EEGs have been received and are currently undergoing peer review. Announcement of new EEG awards will be made in June. Application for participation in the Academy's Docere Fellowship in Health Professions Education has been extended to May 24. Any Academy member in good standing may apply. Program details and application instructions are available at the Academy website. Interested Academy members should call 504-568-2140 or email omerad@lsuhsc.edu to obtain additional information.

The next campus-wide faculty development event that will be co-sponsored by the Academy and the OMERAD is the 2013 Back to Basics Summer Teaching Institute. Please mark your calendars now for July 30. Multiple sessions will be offered for a full-day schedule (8:30 a.m. – 5:00 p.m.). This program is open to all LSUHSC faculty members. Please plan to attend all or whatever portion of the day fits your interests and needs. A detailed program is forthcoming and will be posted on the Academy website. Plans are underway to offer CME and CNE credits. Pre-registration is always appreciated to help with planning for adequate materials. To register, please call the OMERAD at 504-568-2140 or email omerad@lsuhsc.edu to obtain additional information.

Plans are also underway for the 2013 Academy Fall Symposium and Educational Scholarship Day. These events are open to all LSUHSC faculty members. The specific date for this event during the second week of October will be announced in the immediate future. A call for ESD presentation proposals (oral abstract, poster, demonstration) will be issued in the coming weeks. Please be on the lookout for this email announcement and check the Academy website as well. Please reflect on your accomplishment of excellence and scholarly work in teaching and education and consider submitting a presentation proposal. Also, reflect on your colleagues accomplishments and contributions to health professions education at LSU and more broadly and encourage them to submit presentation proposals and/or attend the event in October. Additional details and the proposal template and instructions will be available at the Academy website. Let's all join together to celebrate the extraordinary teaching and learning that occurs at LSUHSC. The Academy website can be found by clicking here. Inquiries, comments, and suggestions are welcome via email to omerad@lsuhsc.edu or by calling 504-568-2140.
Continuing Medical Education
CME Updates
LSU CME Activities Are Easy To Find
Earning required CME credit may be easier than you think as a faculty member at LSU School of Medicine. CME credit can be earned at nearly 30 LSU CME certified activities each month with most activities being held on campus. A list of all activities can be found on the CME website or by clicking here.
Outstanding Evaluation Return Rates for Department of Pathology
The CME office would like to recognize Robin McGoey, MD and Tara Rodriguez, Coordinator for the Department of Pathology on their exceptional return rate for CME activity evaluations in the first 6 months of 2013. The Department of Pathology Grand Rounds activity has an impressive 93% average return rate! Following closely in second place is the Department of Orthopaedic Surgery with an 85% return rate. All participants in CME certified activities are require to complete evaluations for the activity. The CME office tracks response rates, learner identified changes to practice and identification of any bias in activity evaluations among other elements like learning objectives, clarity and speaker presentation.
If you have questions about your CME credit, please call 568-2000 or email cme@lsuhsc.edu
Mark your Calendar
LSU Department of Anesthesiology Ultrasound Guided Regional Block Course-June 1, 2013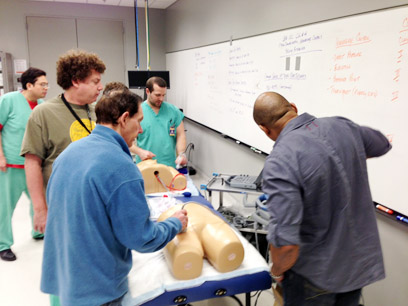 Attendees at December 2012 course learn new ultrasound guided techniques
A hands-on workshop for learning ultrasound guided regional anesthesia techniques for both upper and lower extremities will be held on Saturday, June 1 beginning at 8 a.m. The course enables anesthesiologists and certified registered nurse anesthetists (CRNA) an opportunity to use ultrasound to administer anesthetic to specific nerve centers in the upper and lower extremities. Attendees will learn proper ultrasound techniques, tips and pearls for identifying the nerves, and will use a simulated model to practice administering the blocks using ultrasound as a guide. For more information or to register for the course, visit:http://www.regonline.com/USAnesth
This course is designed for physicians, nurses and other health care providers whose scope or potential scope of practice includes management of anesthesetics.
The Louisiana  State University School of Medicine-New Orleans designated this live activity for a maximum of 4 AMA PRA Category 1 Credit(s)™.  Physicians should claim only the credit commensurate with the extent of their participation in the activity
FACULTY:
Christopher Merritt, MD
Clinical Assistant Professor
LSU School of Medicine
Jonathan Lissauer, MD
Clinical Assistant Professor
LSU School of Medicine
Melville "Trey" Wyche, MD
Clinical Assistant Professor
LSU School of Medicine
FOR REGISTRATION AND MORE INFORMATION, PLEASE VISIT:
Learning Center
Simulation
Updates

Dr. John Paige recently served as faculty for the workshop "The New Awesome: Incorporating Team Training and Assessments through Simulation into Surgical Practice" at the American College of Surgeons Accredited Education Institutes' 2013 Consortium Workshop held March 15-16, 2014 in Chicago, Illinois. LSU SOM Learning Center is an accredited member of the consortium. Dr. Paige is also a site surveyor, traveling to various facilities to ensure the standards for accreditation are met. The American College of Surgeons accredits education institutes based on their ability to provide and promote quality in education.
Learning Center's Community Outreach Program Rises in Popularity for New Orleans Area Schools
The Learning Center Community Outreach Program, which offers guided tours of the simulation labs for area high school students and college undergraduates, has grown at a tremendous rate in the past 2012-2013 academic year. In 2011-2012, there were a total of 564 students touring the center. In 2012-2013 that number rose 63% to 918 students. These touring groups included students from Sacred Heart Academy, St. Paul's High School and Benjamin Franklin High School just to name a few. Xavier and Dillard University student also tour our center. These groups numbered anywhere from 15-107 students per group, and the youngest to tour the facility were junior high students from Dutchtown High School. The staff of the Learning Center hopes to continue this program in the upcoming 2013-2014 school year and expose even more young people to careers in science and medicine.
Mark Your Calendar
June 7 – SOM Medical Alumni Association Reunion Weekend Tour of Learning Center – LEC 6th Floor at 2:00PM
July 11 - University Medical Center Management Corporation Meeting – LEC Room 632 at 1:00PM
AHEC
Medicine/AHEC Rural Primary Care Elective-2,000 Strong and Growing
The LSU School of Medicine/AHEC Rural Primary Care elective (PCE120) was designed to provide early exposure to Primary Care. The research is clear that early exposure to Primary Care can impact specialty choice. Since 1991 all Louisiana AHEC programs have supported PCE (120). Critical input was provided by the Department of Family Medicine, Medicine, Medicine-Pediatrics, Pediatrics and Obstetrics/Gynecology. In keeping with the Louisiana Area Health Education Center's mission to improve the supply and distribution of health care professionals within the state through community/academic educational partnerships in an effort to increase access to quality health care for all Louisiana residents, this primary care elective has been an overwhelming success. A medical student who has successfully completed the first year of medical school is eligible to participate. During the open application period, a student in good academic standing may apply through the AHEC program office. Selected faculty and representatives from AHEC will interview applicants. Selected students are placed in a 4 week rotation during the summer with a board certified physician practicing clinical medicine in one of the above mentioned primary care fields. This primary care precept ship is supported by the Louisiana Area Health Education Centers (AHEC), the Louisiana Office of Public Health and the Louisiana Office of Mental Health. The course is offered in the interval between the one of the first year and the beginning of the second year of medical school. Since its inception over 2,000 students have participated in the program. Students receive a stipend to offset travel and expenses. The AHEC website can be found by clicking here.