GME
UME
OMERAD
CME
Learning Center
Contact Us
Office of Medical Education
2020 Gravier Street
Suite 602
New Orleans, LA 70112
Phone: 504-568-4006
Fax: 504-599-1453
Graduate Medical Education
GME Updates
GME Hosts Coordinator Retreat
The GME office staff hosted a full-day training retreat for Program Coordinators on Wednesday, February 12 at the Student Learning Center. In addition to reviewing many current policies and procedures that coordinators use to manage the day-to-day activities of residency and fellowship programs, the retreat also featured several professional development activities for coordinators.
"It is very clear that program coordinators do a lot of work on behalf of residents and programs," said Dr. Rebecca Odinet-Frey. "The GME office staff wanted to make sure to communicate to coordinators that there are many resources available to them, and we look forward to ongoing collaboration."
Coordinators participated in individual and group sessions with colleagues from across the state. One activity was a personality test that gave insight into character traits many people share. Several coordinators expressed interest in this stress-free activity that allowed them to interact and have fun with other programs' staff.
In response to program coordinators' helpful suggestions, the GME office will be scheduling several professional development sessions in the coming months to help them share best practices and take advantage of new and existing technological tools for information storage and gathering. The first of these sessions will be held on Monday, March 10 by Kim Cannon, who will review resident file requirements. For more information, feel free to contact Kim at kcanno@lsuhsc.edu or 568-2468.
Grant Brings the Power of Analytics to Graduate Medical Education
In 2013, the Interim LSU Public Hospital in collaboration with LSU School of Medicine GME (SOM GME) office were awarded a Greater New Orleans Community Health Connection (GNOCHC) Infrastructure Investment award. GNOCHC is implemented by DHH as a Medicaid Section 1115 Demonstration Waiver to provide primary and behavioral health care services to low-income, uninsured residents of Jefferson, Orleans, Plaquemines, and St. Bernard Parishes. The grant is awarded to eligible providers for infrastructure costs related to the provision of health care. Payments for infrastructure costs cover expenditures for eligible providers' delivery of services, billing for services, financial accountability and encounter and quality reporting.

The grant was used to purchase and install SAS Visual Analytics software with its related components, (IT server) which is used to design and develop a functional and dynamic clinical dashboard to measure physician performance against accepted standards of care. The information can then be used as a feedback tool to boost clinical performance in both patient care and research for better quality of care and augmenting the SOM GME programs. SAS Visual Analytics provides a complete platform for analytical visualization, enabling the GME office to identify patterns and relationships among clinical data by creating robust reports.

This data infrastructure will frequently update a relational data warehouse that provides trainees and administrative staff direct access to detailed, flexible and rapid views of clinical and administrative outcomes data for SOM GME. The grantee team is led by Dr. Juzar Ali (Interim LSU Public Hospital) & Dr. Ram Paragi (SOM GME).
Recent GME Publications and Presentations
Detiege P, Lofaso D, Paragi Gururaja R , Moreno-Walton L. (2013, March). Conducting Hospital Disaster Drills Using Simulation Technology. Research and Innovations Poster presented at 2013 CORD Academic Assembly - Maximizing Innovation, Assessment, and Educational Outcomes in Competency Based Medical Education, Denver, Colorado.
Detiege, P., Lofaso, D., Gururaja, R., Moreno-Walton, L. (2013). Conducting Hospital Disaster Drills Using Simulation Technology. Annals of Emergency Medicine,62 (5), S176-S177.
Enhancing Quality Improvement for Patients (EQuIP) / Patient Safety
QI Forum-Call for Submissions!
The second annual LSU School of Medicine Quality Improvement Forum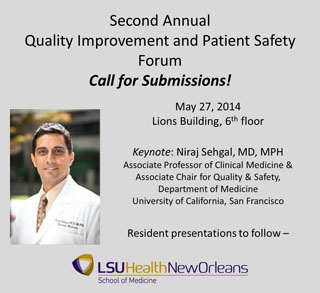 will be held on Tuesday, May 27, 2014. The keynote speaker will be Dr. Niraj Sehgal from the University of California San Francisco's Department of Medicine, a national leader in QI and patient safety education for residents.
Several resident oral presentations will also be featured from 1-2pm, followed by a poster session of resident and faculty QI projects. These projects will be peer-reviewed, and the top two projects – as determined by the EQuIP judging panel – will receive travel support from the Dean's Office to present their work at a national meeting.
Residents, fellows and faculty are invited to submit their projects for inclusion in the Forum as posters, abstracts or oral presentations. For more information, contact Dr. Zee Ali (mali@lsuhsc.edu) or Vicki Harkin (568-2593 or vharki@lsuhsc.edu). The deadline for submission is March 15, 2014. The submission form can be downloaded here.
Mark Your Calendar
Important Upcoming Dates

March 10, 2014 - GME Coordinator Professional Development-Large Lecture Room 9-10 AM
March 20, 2014 - GMEC Meeting – Conference Room 7 at 1:00PM
March 21, 2014 –Match Day
April 15, 2014 - GME Coordinator Meeting – LEC Room 632 at 10:00AM
April 17, 2014 - GMEC Meeting – Conference Room 7 at 1:00PM
May 15, 2014 - GMEC Meeting – Conference Room 7 at 1:00PM
May 15, 2014 – CORE Meeting – Lecture Room at 2:00PM
May 27, 2014 – EQuIP Forum
June 19, 2014 - GMEC Meeting – Conference Room 7 at 1:00PM
June 23, 2014 – LSU GME Orientation for all Incoming House Officers – MEB Lecture Room B at 8:00AM
June 24, 2014 – ILH GME Orientation for all Incoming House Officers – MEB Lecture Room B at 8:00AM
June 26, 2014 – ILH Electronic Medical Records Training for all Incoming House Officers – MEB MDL Labs at 8:00AM
June 27, 2014 – ILH Electronic Medical Records Training for all Incoming House Officers – MEB MDL Labs at 8:00AM
Undergraduate Medical Education
Curriculum Changes March Forward
Curriculum Renewal Committee
The Curriculum Renewal Committee is currently in the stage of exploring various curriculum models as part of the ongoing curriculum development process. Workgroups are meeting to develop models and sample week layouts, and the Renewal Committee will meet with course directors and larger groups of faculty in the near future to continue discussions about how to improve the undergraduate curriculum.
In addition to the ongoing curriculum renewal process, the Curriculum Renewal Committee hosted a five session active learning webinar series in January and February. Topics included LCME accreditation expectations on active learning, practical tips for large scale classrooms, MOOCs and health science education, social initiatives related to active learning, and examples of active learning initiatives at two medical schools. All of the webinars are now archived and available to faculty members. Please contact Jennifer Jeansonne (jjean2@lsuhsc.edu) if you would like to view any of the sessions.
Curriculum Inventory Portal
The Curriculum Inventory Portal project nears completion for this academic year. Our completed curriculum database has been uploaded to the AAMC Curriculum Inventory Portal. Course directors have entered all curriculum sessions, teaching methods, competencies, resources, and assessment methods, and the database is now ready to be used to analyze components across the curriculum. Faculty development sessions will be held in the near future to begin this process.
Office of Medical Education, Research and Development
OMERAD Updates
Spring Symposium-April 2
Mark your calendar for the upcoming Spring Symposium to be held on Wednesday, April 2. This year's theme will be "active learning." Please check the OMERAD website for updates to the agenda and to register: http://www.medschool.lsuhsc.edu/Medical_Education/Academy/omerad-academy.aspx
Continuing Medical Education
Continous Improvement Essential to Planning CME Activities
The Accreditation Council for Continuing Medical Education (ACCME) requires all CME programs to demonstrate an ongoing refinement of educational activities to address the professional practice gaps of physician learners. These gaps can be identified through statistical disparities in patient outcomes, patient chart reviews, new practice guidelines or regulations, medical literature review, suggestions from learners in previous CME activities, observations of physicians in the workplace and many other sources available to healthcare professionals.
The planning, format, content, faculty selection and evaluation of CME activities are created in the context of how to best fill these gaps. This needs assessment process establishes how the content of a CME activity will translate into changes the physicians makes to their practice. The best expression of these goals is the establishment of measurable learning objectives, which should be written as phrases which complete the sentence "At the conclusion of this activity, the learner should be better able to…"
Concluding a needs assessment by determining concrete objectives allows planners to design and execute an activity that maximizes the potential for practice change among learners after the activity. This cycle of continuous improvement is used to strengthen needs assessments for future activities as part of a continuing cycle of quality improvement for continuing medical education. Please contact the CME office at 568-2000 if you are interested in certifying an activity for CME credit.
CME Updates
Upcoming ERCP Conference
Dr. Stephen Landreneau and Dr. Daniel Raines are co-chairing the 5th Annual LSU ERCP & Therapeutic Endoscopy Conference to be held on Friday, March 7 in the Learning Center. Sponsored by the LSU Department of Internal Medicine-Section of Gastroenterology, this year's conference coincides with the American College of Gastroenterology meeting in New Orleans. The course is designed for gastroenterologists, surgeons, and healthcare professionals engaged in the comprehensive management of patients with pancreatobiliary disease and those requiring advanced endoscopic procedures. The conference is made possible by Continuing Medical Education grants from Boston Scientific, Cook, Hood, and Fujifilm.
The conference features world-class speakers and a hands-on simulation skills workshop. For more information and to view the agenda, please visit: https://www.regonline.com/ERCP2014
LSU Salivary Endoscopy Conference a Success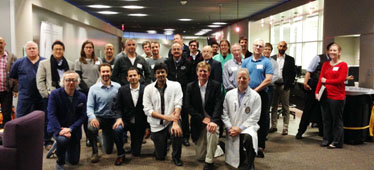 LSU Department of Otolaryngology held a salivary endosocopy conference at the Learning Center on February 1 & 2. Dr. Rohan Walvekar and Dr. Daniel Nuss directed the two-day course which featured faculty and participants from across the country. Attendees all had very positive comments about the quality of the lectures, the hands-on portion of the course in the Center for Advanced Practice, the facilities and the helpful staff. The conference was made possible by Continuing Medical Education grants from Karl Storz Endoscopy, Hood, Cook Medical, and Stryker.
A list of all LSU CME certified activities can be found on the CME website or by: clicking here.
Learning Center
Learning Center Updates
Workforce Studies

Recent Publications
Maronge G, Paragi R, Rigby P (Jan/Feb 2014). The Supply of Hematology/Oncology Specialists. The Journal of Louisiana State Medical Society.166. (1)
A Day with the Docs
On Thursday,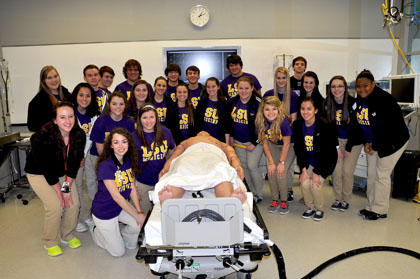 February 13 LSU again hosted the "Day with the Docs" program. Over 120 northshore high school students from Tangipahoa and St. Tammany Parish toured the School of Medicine and Learning Center. This program is sponsored by Southeast Louisiana AHEC.

2014 brings overwhelming interest for the 2014 summer AHEC program. 69 L1 students applied to be a part of the three week summer program that pairs students with primary care physicians throughout the state of Louisiana. Historically, participation in the summer program has always been strong, but this year's applicant pool is larger than it has been in years. The AHEC program hopes to be able to match all applicants with a preceptor for the three week summer program.