GME
UME
OMERAD
CME
Learning Center
Contact Us
Office of Medical Education
2020 Gravier Street
Suite 602
New Orleans, LA 70112
Phone: 504-568-4006
Fax: 504-599-1453
Graduate Medical Education
GME Updates
Update from AAMC Group on Resident Affairs Meeting
The AAMC Group on Resident Affairs (GRA) held its 2014 spring meeting in Phoenix, Arizona in early May. The meeting offered Designated Institutional Officials (DIOs) and accreditation leaders the opportunity to examine the GME environment and a chance to collaborate on the Next Accreditation System (NAS). Plenary sessions and workshops included topics such as maintaining accreditation, developing and supporting program directors, managing GME budgets and advocating for resources, GME legal matters and functioning effectively in the larger medical context.
A focus of the conference this year was the concept of professionalism in the GME training environment. The professionalism topic specifically examined the influence social media in GME-including its strength and weakness. Robin Wagner, Vice President, Clinical Learning Environment Review (C.L.E.R) for the ACGME, presented the newly released CLER Pathways to Excellence guidance document and discussed sample ways from each of the six focus areas: patient safety, health care quality, transitions, supervision,duty hours and professionalism. Ideas for implementation of these pathways across all key personnel in the institution and clinical training site was explored.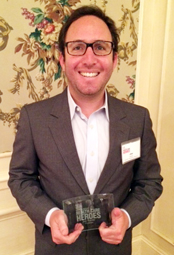 Joe Kanter, MD

Dr. Rebecca Frey attended the conference and was encouraged by the LSUSOM-New Orleans' February CLER visit results as compared to other institutions. "The conference provided a strong foundation for our efforts while we begin the training program performance reviews. It was helpful to discuss the new metrics among other instutions," said Dr. Frey upon her return. The meeting offered a reception with 13 different poster presentations on topics that included "Enhancing Recruiting and Interview Strategies with Technology," "Developing Communication Strategies for Difficult Conversations," "Redefining M&M to enhance the CLER and Interprofessional Collaboration" and "Learning from a Faculty Survey: Developing Faculty and Improving Programs."
Congratulations to LSU Emergency Medicine Resident Joe Kanter, MD
Dr. Kanter was named one of CityBusiness's 2014 Healthcare Heroes! He and other honorees were fêted at a luncheon on Friday, May 9 at the Ritz-Carlton in New Orleans. Congratulations!
Enhancing Quality Improvement for Patients (EQuIP) / Patient Safety
QI Forum
On Tuesday, May 27 faculty, house officers, and medical stduents from LSUHSC and Tulane University School of Medicine residency and fellowship programs took part in the 2014 LSU School of Medicine Quality Improvement and Patient Safety Forum.
Dr. Niraj Sehgal from the University of California, San Francisco, delivered the keynote address of the Forum. Dr. Sehgal is Associate Chair for Quality and Safety in the Department of Medicine at UCSF and gave a valuable perspective on building a safety culture through medical education initiatives.
Four additional projects were highlighted in oral presentations. Some of the initiatives presented included the progress of patient outcomes in LSU's DIME clinic, as well as changes to the OB/GYN program's M&M conferences to make better use of quality improvement methodologies. Thirty-nine poster presentations and abstracts detailing QI/PS initiatives and projects by house staff, medical students, nursing staff and faculty members rounded out the Forum.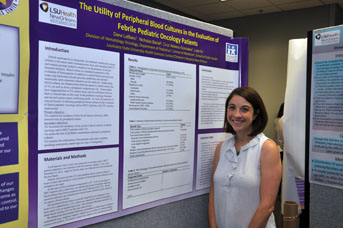 Dana LeBlanc, MD Pediatric Hematology/Oncology Fellow presents her 2014 poster at the Quality Improvement and Patient Safety Forum
All oral and poster presentations were judged by a panel that included Drs. Sehgal, Betty Lo, Richard Tejedor and Jorge Martinez. The Best Oral Presentation was "Delayed Autopsy Reporting: A Self-Study and Root Cause Analysis," by Drs. Caroline R. Alquist, Stephanie Moss and Robin McGoey from the Department of Pathology. The poster entitled "Using EHR for Metrics-Based Resident Performance Tracking and Quality Improvement," by Drs. Oliver "Rocky" Mollère, Evan Atkinson, Betty Lo and Ms. April Burrows, was selected as the Best Poster Presentation. A representative from each of these groups will receive travel support from the Dean's Office to present their project at a national conference.
The EQuIP office continues to work to develop QI/PS knowledge and practice at LSUHSC. More initiatives are forthcoming in the areas of faculty development and interdisciplinary education, but the clinical range of projects featured in this Forum demonstrated the worthy efforts already underway.
The QI/PS Forum is held yearly to showcase quality improvement and patient safety activities at LSUHSC and affiliated institutions. Next year's Forum will highlight interdisciplinary activities. The Forum was jointly sponsored by the EQuIP program, the Office of Graduate Medical Education and the LSU SOM Dean's Office.
For more information, contact Dr. Zee Ali (mali@lsuhsc.edu) or Vicki Harkin (568-2593 or vharki@lsuhsc.edu).
Mark Your Calendar
Important Upcoming Dates

June 12 – CORE Meeting – Large Lecture Room 632 at 2:00PM
June 19 - GMEC Meeting – Conference Room 7 at 1:00PM
June 24 – Incoming House Officer Orientation – MEB Lecture Room B 8:00AM – 5:00PM
June 25 & 26 – Incoming House Officer EPIC Orientation – MEB Lecture Room B 9:00AM – 6:00PM
June 27 – Incoming House Officer ILPH Orientation – MEB Lecture Room B 8:00AM – 5:00PM
July 15 - GME Coordinator Meeting – LEC Room 632 at 10:00AM
July 17 - GMEC Meeting – Conference Room 7 at 1:00PM
August 21- GMEC Meeting – Conference Room 7 at 1:00PM
Undergraduate Medical Education
Pre-Clerkship Boot Camp
The School of Medicine clerkship directors and Protégés student mentoring group have put together a pre-clerkship boot camp to help rising L3s prepare for their clinical clerkships. This effort was born out of a realization that in the past rising L3s have felt a little unprepared for their clerkships – what to expect, how things will work, specific skills needed, etc.
The boot camp will consist of a large group overview of clerkship expectations, small group sessions on surgical scrub review and physical exam review, as well as a pre-clerkship Moodle page with videos, documents and links to helpful websites. The pre-clerkship Moodle page will house general information that will be useful to the students throughout the year, as well as clerkship specific information that students can review just prior to beginning a new clerkship or at any point where students might need a refresher throughout the clerkship block. The clerkship directors and Protégés hope that students will use the materials throughout the year so students will feel more adequately prepared for their clinical rotations.
Neurology/Career Planning Elective Curriculum Change
The School of Medicine third year Neurology clerkship will now be a three week clerkship instead of a two week clerkship. The clerkship directors recommended this change based on feedback from Aesculapian Society evaluations that reported that most students felt that they did not have enough time to adequately learn the neurology concepts. In the past, the Neurology clerkship shared a time block with the Internal Medicine clerkship, but Neurology will now share a time block with the Surgery clerkship. The Career Planning Elective (CPE) will now be a two week clerkship, like the former Neurology clerkship, allowing clinical departments additional opportunities for students to choose a rotation in their department for their CPE.
Office of Medical Education, Research and Development
OMERAD Updates
With the publication of this issue, two funded projects in simulation-based education led by Dr. Chauvin are nearing completion: point-of-care simulation-based inter-professional team training and the second phase of a three-year development of a statewide simulation faculty development curriculum and dissemination strategy. The last hospital-based training session will conclude in May and the final simulation faculty development session for the current project year was completed in Lafayette on May 15 with a fully-subscribed audience. Both projects were funded by the Louisiana Board of Regents and Health Works Commission as continuation efforts from previous years and they target inter-professional education. The point-of-care project has been funded annually for the past three years and the faculty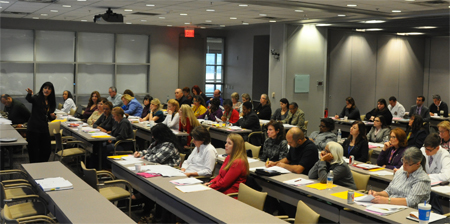 Health professions education faculty participate in Simulation Faculty Development sessions
development initiative is in its second year of funded activities. We are optimistic that funds will be available from the Louisiana legislature for 2014-15 and that we will be successful in acquiring continued support for this ongoing work. Both projects originated from results of a statewide assessment of simulation-based education in Louisiana higher education health professions programs and reflect statewide strategic developments that were recommended by the Simulation Medical Training and Education Council of Louisiana. Dr. Chauvin has served as chair of this council since it was established by the Louisiana legislature in 2009 and continues to serve in this role. Members of the OME who have been collaborating with Drs. Chauvin and Karpinski in the OMERAD include Drs. Matthew Carlisle, Vadym Rusnak, Sergii Rusnak and Mr. Daryl Lofaso. Other faculty from the School of Medicine have also collaborated in the point-of-care training activities on an as needed basis. To date, we have engaged partnerships with nine hospitals and look forward to further expansion statewide for both initiatives. Currently, the project team is preparing presentation proposals for submission to the Society for Simulation in Healthcare international annual meeting that will conveniently be held in New Orleans in January 2015. Also, Ms. Kelly Nester, OMERAD Program Coordinator, has been instrumental in keeping all of the logistical and administrative elements functioning effectively. Cooperation with the Offices of Continuing Medical Education and Continuing Nursing Education have facilitated accreditation of these educational opportunities and providing continuing education credit to eligible participants.
Drs. Chauvin and Karpinski have been busy with conducting faculty development activities with faculty, fellows and residents and providing individual and small group consultations on educational research and scholarship throughout the School of Medicine. Among these activities have been sessions in the monthly workshop series for Pediatrics Fellows and Faculty and sessions for residents in Obstetrics and Gynecology. Planning activities are underway for session and series in the 2014-15 academic year and new programs are being discussed with interested faculty and education leaders.
The volume of educational research and scholarship projects and activities have increased dramatically since the last publication of this newsletter. In large part, this has been possible with the addition of Dr. Karpinski to the OMERAD. For example, Dr. Chauvin is working with several faculty and fellows in Pediatrics to create new curricula and educational experiences and to design appropriate program evaluation activities. Dr. Karpinski is collaborating with faculty and residents in Pediatrics and in Ob/Gyn for measurement and evaluation components of several projects. A number of other collaborative research and scholarship projects with faculty, fellows, and/or residents in various departments are also underway.
On a larger scale, Dr. Chauvin and Karpinski are collaborating with Drs. Betty Lo-Blais (faculty) and Samara Khalique (resident) to conduct a national study of the role of community service in combined Medicine/Pediatrics residency programs. As a follow-to the published study of new faculty orientation programs in North American accredited medical schools (2013) led by Dr. Chauvin, the investigation of new faculty orientation practices for community-based preceptors at medical school regional campuses is in development and Dr. Karpinski has joined this research group for the current investigation.
Several new investigations are being planned. Among these is a study targeting barriers to health professionals' participation in point-of-care (PoC) simulation-based, inter-professional team training (Drs. Matthew Carlisle, Karpinski, and Chauvin). Follow-up studies associated with overall program evaluation of simulation-based projects will be occurring in the near future to examine the extended impact of participation in simulation-based training and education programs on everyday practice. Dr. Karpinski is also serving as a member of the dissertation committee for a doctoral student in the Department of Anatomy and Cell Biology.
In terms of scholarly dissemination, Dr. Karpinski was a co-author on the peer-reviewed presentation of work resulting from a project with Ilsa Leon, MD, Florencia Greer Polite, MD, and Amanda McRaney, BS at the 2014 Annual CREOG and APGO conference. Dr. Karpinski also presented two papers in April at the annual meeting of the American Educational Research Association. Dr. Chauvin has presented a number of invited sessions at other medical schools and academic health sciences centers in areas of faculty development, mentoring, curriculum and instruction, and teaching academies. She has served as invited faulty to teach multiple sessions at various medical schools, as part of the AAMC Medical Education Research (MERC) certificate program. Finally, the Leadership Education and Development (LEAD) certificate program that Dr. Chauvin created in 2009 with her colleague, Dr. Britta Thompson (University of Oklahoma School of Medicine), graduated its third cohort in March at the annual meeting of the AAMC Southern Group on Educational Affairs (SGEA). As of this past summer, LEAD is now a nation-wide certificate program supported by the AAMC as part of its leadership development strategic initiative. The LEAD program now has five regional directors, 32 faculty, and 64 fellows, all selected through a peer-review process. The program is implemented as four regional cohorts with administrative support from AAMC staff and leadership of the regional GEAs. Drs. Chauvin and Thompson now serve as the national program directors. Of local interest, Dr. Murtuza "Zee" Ali is a LEAD fellow in the SGEA cohort.
LSUHSC Academy for the Advance of Educational Scholarship
The health sciences center-wide Academy is administratively based in the OMERAD and directed by Dr. Chauvin.To learn more about the Academy, its programs and upcoming events, please go to www.learningcenter.lsuhsc.edu/academy. You may also enjoy reading the Academy Bulletin, a semi-annual publication that is also available as a PDF from the Academy website. The next issue of the Bulletin will be available in September/October 2014.
Academy 2013 Fall Symposium and Educational Scholarship Day
This day-long annual event occurred October 9 in the Isidore Cohn, Jr. Learning Center. The Educational Scholarship Day morning program included 13 peer-reviewed poster and interactive demonstration presentations. Included in the Educational Scholarship Day is the annual Academy recognition ceremony. New members were introduced and certificates were presented to project teams awarded Academy Educational Enhance Grants for 2012-13 who presented their work in the program and to authors of other accepted presentations in the Educational Scholarship Day program. Recipients of new 2013-14 EEG awards were introduced. The thematic focus of the 2013 Fall Symposium was on teaching based on how people learn. Dr. John Pelley (Texas Tech Health Sciences Center) provided an engaging plenary session,Teaching that Transforms the Brain, followed by an interactive discussion with packed audiences for both sessions. Other session topics included hands-on learning opportunities targeted educator portfolios, developing and using voice-over PowerPoint™ slides, enhancing use of the Moodle learning management system, teaching strategies that promote thinking skills, and strategies for doing educational research and scholarship. The full program of scholarship presentations abstracts and presenters is included in the fall issue of the Academy Bulletin, available from the Academy website (www.learningcenter.lsuhsc.edu/academy).
Academy 2014 Spring Symposium and Annual Faculty Development Program
The annual Academy spring symposium and faculty development sessions continued the theme on teaching based on how people learn. The centerpiece of the spring symposium was an engaging plenary presentation by Dr. John Szarek (Commonwealth Medical School) that was followed by a flipped-classroom approach to learning how to create podcasts using Camtasia™. The morning faculty development sessions were well-attended and included sessions on active learning strategies and techniques for lectures/large groups, small group learning and simulation-based teaching and learning environments. The full-day of programs provided a balance of evidence-based educational methods and practical strategies that faculty can incorporate easily into their teaching for the short- and long-term. A complete description of the program is included in the fall issue of the Academy Bulletin at the website listed above.
Academy – Upcoming Events – Save the Dates
The annual Back to Basics Summer Teaching Institute will be July 29 in the Isidore Cohn, Jr. Learning Center. Please mark your calendars for this day-long series of sessions and encourage them to join you in attending all or part of the session. The program is open to all LSUHSC faculty members and there is no registration fee. While the program is focused on basics of best practices in teaching and particularly useful for new faculty and those who are new to teaching, many experienced and accomplished teachers attend annually and cite the event as a way to refresh their perspectives and skills. Program details about individual sessions and presenters will be forthcoming soon and available from the Academy website. Pre-registration is not required, but very much appreciated to help with planning, and may be accomplished by sending an email message to omerad@lsuhsc.edu. Interested individuals may also request to be added to the OMERAD mailing list to receive announcements and other relevant information. Simply send an email request to omerad@lsuhsc.edu. Academy 2014 Fall Symposium and Educational Scholarship Day will be October 9 in the Isidore Cohn, Jr. Learning Center. The Call for Presentation Proposals will be distributed in early June. All LSUHSC faculty are encouraged to submit proposals for presenting educational innovations and excellence that has been accomplished and for educational research and scholarship projects. The Call for Proposals will be posted on the Academy website and details of the program will be updated regularly, as well. Presentations proposals are peer-reviewed and accepted presentations will have abstracts published in the fall issue of the Academy Bulletin. For more information, please contact the OMERAD at 504568-2140 or by email to omerad@lsuhsc.edu.
Docere Fellowship in Health Professions Education
The Academy offers a two-year fellowship experience to Academy members. Interested members submit applications and are accepted by peer review process. For the 2013-15 Docere Fellowship, three Academy members are currently enrolled. They include Michael Stumpf, MD (Internal Medicine, School of Medicine, Baton Rouge campus), Rachel Trommelen, PT, DPT, NCS (Physical Therapy, School of Allied Health Professions), and Joseph LaRochelle, PharmD (Pediatrics, School of Medicine). These Fellows are nearing completion of their first year. Drs. Chauvin and Karpinski work closely with these Fellows in monthly half-day sessions to complete a core curriculum in teaching/learning, curriculum and instruction, educational leadership, and educational research and scholarship. They also provide Fellows with ongoing mentoring. Of particular importance during the first year of the Fellowship is each Fellow's selection and design of an educational research/scholarship project. Between the monthly sessions, led by Drs. Chauvin and Karpinski, the Fellows have been working with Dr. Karpinski individually on their educational research and scholarship projects. The focus of these projects include the following: 1) examining the impact of an active learning intervention in core curriculum for third year medicine students completing their internal medicine clerkship in Baton Rouge and learners' study behaviors and communication apprehension (with Michael Stumpf, MD); 2) investigating medical residents' drug therapy decision-making and socialization in collaborative care in the Pediatric Intensive Care Unit and the effectiveness of a new inter-professional pharmacy elective rotation (with Joseph M. LaRochelle, PharmD); and 3) examining problem-based learning and reflection in developing clinical reasoning skills in a physical therapy course for DPT students (Rachel Trommelen, PT, DPT, NCS). Dr. Bonnie Desselle, Academy Teaching Scholar and first graduate of the Docere Fellowship, is collaborating with Dr. LaRochelle on his project, particularly in terms of developing and implementing the new pharmacy elective in the PICU. Other faculty are also invited to participate and present modules in the core curriculum. Associated with the Fellows' projects are studies targeting investigations of the psychometric properties of several measurement tools that will be used with the Fellows' research projects. Both peer-reviewed presentations and publications are being planned for disseminating the results of educational innovations and intervention studies and the measurement studies for targeted instruments. These Fellows are doing an outstanding job in this program and are actively engaged with each other and Drs. Chauvin and Karpinski as a professional learning community. The opportunity to engage in this type of fellowship program is one of the valuable benefits of being a member of the Academy. The next Docere Fellowship cohort will begin July 2015 and the call for applications will be distributed to Academy members in January 2015.
Continuing Medical Education
CME Updates
ORTHOPAEDICS FOR PRIMARY CARE COURSE SCHEDULED FOR SEPTEMBER 27
Join us for this annual conference on Saturday, September 27 to refresh your knowledge of common orthopaedic injuries and explore new in-office treatment option for your patients. This popular one-day workshop has been reformatted this year to provide attendees with even more hands-on learning opportunties. Attendees will rotate through stations at their own pace learning about knee exams and injections, hand/elbow, spine, and foot/ankle examinations and treatments. For more information and to view the agenda, please visit: https://www.regonline.com/LSUORTHOprimary2014
A list of all LSU CME certified activities can be found on the CME website or by: clicking here.
Learning Center
Learning Center Updates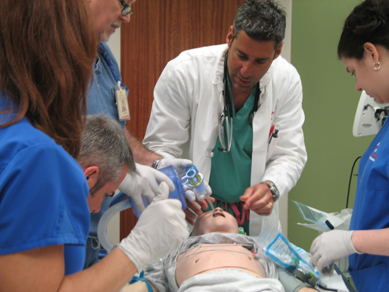 Inter-professional teams participate in simulation-based team training in their own care settings.
This has been an exciting year for our Point-of-Care (POC) Simulation Program. The Learning Center faculty and staff have been providing simulation training to community hospitals in the surrounding area for the last 3 years. The POC team brings the advanced simulation technology of the Learning Center to the surrounding community. We provide need-based training to hospitals with an emphasis on interdisciplinary teamwork and communication training. By bring the simulation into the clinical space, we are able to identify Latent Safety Threats- unknown systemic errors that could lead to a compromise in patient safety. Since July, we have trained 57 inter-professional teams in 5 different hospitals. We have educated over 250 nurses, physicians, and respiratory therapists. We have covered the topics of sepsis, rapid sequence intubation, ACLS, pediatric trauma, post-MI management, chest tube placement, decubitus ulcer identification and staging, all while incorporating teamwork and communication practices in a realistic simulated patient encounter. The evaluations have been overwhelmingly positive, with an almost unanimous request for further POC simulation training in the future. Attendees report learning the "importance of closed loop communication," "importance of being familiar with the contents of the code cart," and "the importance of a defined leader in a code." All current sites have requested additional training in the next year and we have several new sites lined up for next year. As we look to the future we see a wonderful potential for growth and hope to expand out to further parts of Louisiana.
Upcoming Dates
June 6 – SOM Medical Alumni Association Reunion Weekend Tour of Learning Center – LEC 6th Floor at 2:00PM
Workforce Studies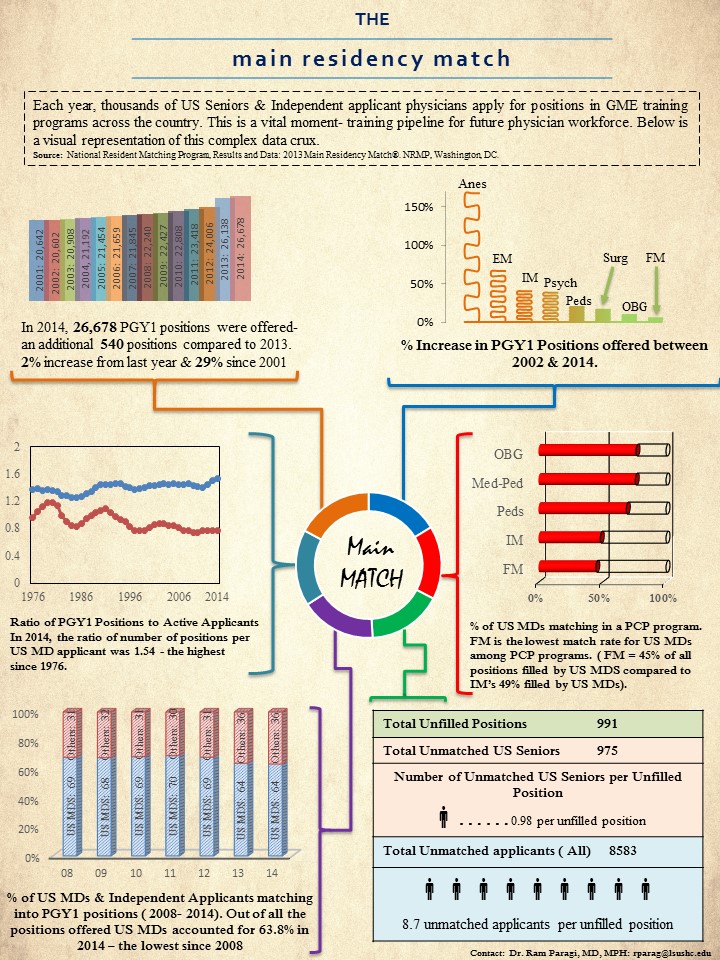 LSU Day at the Capitol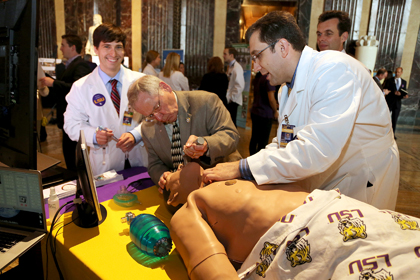 Dr. Vadym Rusnak and Dr. Matthew Carlisle demonstrate use of the medical simulator. Dr. Sergei Rusnak observes in the background.

On Monday, April 7th, LSUSOM-NO Learning Center staff participated in "LSU Day at the Capitol." Drs Sergei Rusnak, Vadym Rusnak and Matthew Carlisle showcased our high-fidelity patient simulators and provided hands-on demonstrations for Louisiana State Senators and members of Louisiana House of Representatives. The demonstration was very popular and drew a large crowd of curious onlookers who could see first-hand how simulation is used for teaching medical professionals.
Learning Center Tours Exceed 1,000 Students in 2014
The Learning Center Community Outreach Program, which offers guided tours of the simulation labs for area high school students and college undergraduates, has continued to grow. In the 2012-2013 academic year we had a total of 918 students tour the center. During 2013-2014 that number rose again and we exceeded 1,000 students. These touring groups included students from:
Belle Chasse High School
Benjamin Franklin High School
Chalmette High School
Edna Karr High School
Destrehan High School
Donaldsonville High School
Hahnville High School
John Curtis High School
Patrick Taylor Science and Technology Academy
Rummel High School
St. Scholastic Academy
Sacred Heart Academy
Warren Eastern High School
Students from Xavier, LSU and North Carolina University also toured the center. These groups numbered anywhere from 10-120 students per group, and the youngest to tour the facility were middle school students from Newman Middle School.
In addition to the above named schools, the center participates in two other outreach programs like: "Day with the Docs" and "Summer Science Program" for high school students.The staff of the Learning Center plans to continue this Outreach Program in the next academic year to expose young students to careers in science and medicine.