Contact Us
Office of Medical Education
2020 Gravier Street
Suite 602
New Orleans, LA 70112
Phone: 504-568-4006
Fax: 504-599-1453
Graduate Medical Education
GME Updates
GME Orientation Welcomes 250 New LSU House Officers
On Tuesday, June 24, 2014, the staff of the Graduate Medical Education office welcomed 250 new house officers for the 2014-2015 academic year. New residents and fellows enjoyed a full day of introductions to institutional policies and services. Satellite orientation sessions were conducted for residents in Baton Rouge-based programs.
A series of timely presentations about issues directly impacting the safety and efficiency of patient care was presented to the new trainees. Dr. Peter DeBlieux, Medical Director at the Interim LSU Hospital (ILH), addressed the new residents' and fellows' responsibility for facilitating learning for medical students and others. Dr. Bonnie Desselle, director of the pediatric residency program, spoke about teamwork being critical in residency training and why effective transitions in care are central to patient safety. Dr. Florencia Polite, OB/GYN residency Program Director, spoke about professionalism in the digital age.
The GME office also coordinates with ILH to ensure new residents and fellows receive Pelican training prior to beginning clinical work at the hospital. Over the course of three days, nearly all of the residents who will rotate at ILH throughout the year received EHR training. This level of coordination ensures a full complement of house staff is ready to work at ILH on July 1.
We wish all of our house staff a successful and productive academic year!
LSU Residents Recognized at Interim LSU Public Hospital Awards Luncheon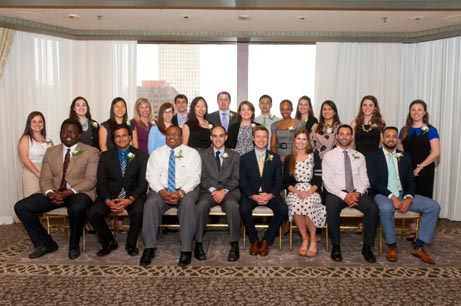 Resident of the Year and Intern of the Year Nominees and Winners
The Interim LSU Public Hospital hosted its annual Intern and Resident of the Year Luncheon at the Windsor Court Hotel on May 30, 2014. Each year the hospital accepts nominations for interns and residents of the year from each department. Candidates should demonstrate dedication to the care of patients, an interest in teaching students and other residents and an interest in research. Members of the ILH executive and credentials committee select the award winners. Guests in attendance were welcomed by Cindy Nuesslein, CEO, Dr. Cathy Lazarus, Chief Academic Officer, and Dr. Peter DeBlieux, Chief Medical Officer at ILH. Certificates were presented to all of the LSU nominees.
The Office of Graduate Medical Education would like to congratulate and recognize Dr. Stephen Hernandez, Department of Otolaryngology, for receiving the 2013-2014 LSU Intern of the Year Award and Dr. Jeremy Coleman, Department of Family Medicine, as the 2013-2014 LSU Resident of the Year.
LSU Nominees for Resident of the Year

Jared Braud, MD Orthopedics
Kira Clement, MD Obstetrics & Gynecology
Brooke Morrell, MD Radiology
Cornel Rogers, MD Neurology
Kelley Willis Sherling, MD Pathology
Kuldeep Singh, MD Psychiatry
Katherine Spinks, MD Medicine/Pediatrics
Alexander Sung, MD Emergency Medicine
Mary Yu, MD Internal Medicine

LSU Nominees for Intern of the Year

Ellen Chang, MD Medicine/Pediatrics
Matthew Delarosa, MD Orthopedic Surgery
Mallory Hurst, MD Internal Medicine
Mohamad Jibawi, MD Family Medicine
Joshua Sherman, MD Emergency Medicine
Ashley Van Wormer, MD Obstetrics & Gynecology
Brannon Wiedemann, MD Psychiatry
Congratulations!
Welcome Ashley Walker to the GME Office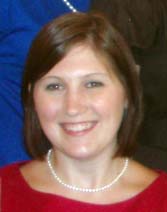 Ashley Walker
The Graduate Medical Education Office would like to welcome Ashley Walker to our team! Ms. Walker comes to our office with six plus years of medical education experience and knowledge serving as the LSU School of Medicine New Orleans Internal Medicine Residency coordinator. Please join us in welcoming Ms. Walker to the GME Office.
Enhancing Quality Improvement for Patients (EQuIP) / Patient Safety
EQuIP Rotation
The EQuIP program and the Quality, Risk Management and Process Improvement office at the Interim LSU Hospital have collaborated with the Pathology and Radiology residency programs to launch an EQuIP rotation at ILH. This monthly rotation, which began in July, begins with a week of didactics in quality improvement and patient safety and one-on-one sessions between the resident and performance improvement analysts, EQuIP staff, and service-specific administrators in the relevant hospital service. Throughout the next three weeks of the rotation, the resident works closely with ILH QI/PS analysts to build their own schedule of QI/PS activities.
The rotation wraps up with a summative meeting where the resident presents a proposed QI/PS project. The proposal should include a rationale for the project based on current performance data or hospital needs, the resources that would be required, and the objectives of the project. This proposal is vetted by rotation faculty, ILH administrators and the EQuIP office and then added to an idea bank housed at the ILH Quality, Risk Management and Process Improvement office.
The variety and flexibility of the rotation provide many upsides for all stakeholders. Hospital-based training programs can provide a meaningful and robust experiential learning structure in quality, safety and system-based improvement activities to their residents, which helps residents meet numerous ACGME Milestones requirements. Residents and fellows are exposed to a variety of quality improvement activities, including participation in root cause analyses, quality and safety committee meetings, performance data analysis, and hospital walk-arounds and tracers with regulatory staff. Finally, hospital staff appreciate that the rotation promotes house staff awareness of hospital priorities, provides residents' and fellows' input and feedback in quality and safety initiatives, and cultivates resident leadership at ILH.
To date, residents have already improved patient information on the ILH website, helped clarify triggers for hospital reviews of clinical performance, and worked to improve point-of-care testing. Theresa Nuttli, MD, fourth year Pathology resident, said at the conclusion of the rotation, "I now have a fuller understanding of how all the various departments interact to ultimately provide patient care."
The EQuIP rotation is fully customizable for each program, and may be best suited for upper-level residents interested in administrative work or chief residency. Some residents only attend the first week's didactic sessions, allowing them to combine their QI/PS instruction with research or clinical activities. For more information on participating in this rotation, please contact Dr. Zee Ali (mali@lsuhsc.edu)
Mark Your Calendar
Important Upcoming Dates
September 18 - GMEC Meeting - Conference Room 7 at 1:00PM
October 16 - GMEC Meeting - Conference Room 7 at 1:00PM
October 21 - GME Coordinator Meeting - LEC Room 632 at 10:00AM
November 20 - GMEC Meeting - Conference Room 7 at 1:00PM
November 20 - CORE Meeting - LEC Room 632 at 2:00PM
Undergraduate Medical Education
After an institution-wide campaign, a design to represent interprofessional education (IPE) was chosen from over 50 submissions. Congratulations to Allison Gagnard, Occupational Therapy student, for submitting the winning design, which is seen here.
IPE Day, September 29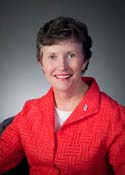 Jane M. Kirschling,
PhD, RN, FAAN
The Quality Enhancement Plan for the upcoming reaffirmation of accreditation by SACS COC is focusing on interprofessional education (IPE). The QEP committee has been hard at work determining student learning outcomes and planning implementation strategies for increased IPE at LSUHSC. In order to increase awareness of the QEP and IPE, a day devoted to the topic has been identified. IPE Day will take place on Monday September 29, and planning is well underway. The day will begin with a keynote speech by Dr. Jane Kirschling, Dean of the School of Nursing at University of Maryland, who is nationally known for her expertise in IPE. Dr. Kirschling's lecture will be in the MEB, Lecture Hall B starting at 9:00 a.m. If you are unable to attend oncampus, the lecture will be streaming online. Students and faculty have two opportunities to participate in breakout sessions at 10:00 and 11:00 a.m. The breakout sessions will be held the SOM Learning Center, Lion's Building 6th floor.
Dr. Kirschling will then meet with the QEP Committee as well as curriculum committee representatives and deans to help plan implementation of IPE. We anticipate approximately 800 students will participate in this day.
Faculty are strongly encouraged to participate and can attend either the 10:00 or 11:00 breakout session. To sign up, contact Dr. Robin English at (rengli@lsuhsc.edu.)
Continuing Medical Education
CME Updates
Patient Navigation Seminar to be Held September 23rd
The LSU School of Public Health is hosting a Patient Navigation Seminar on September 23rd at the Hyatt New Orleans.
This day-long conference will focus on the impact of cancer on Louisiana residents, especially minority and low socioeconomic status populations. The conference will give health care providers information on how patient navigation leads to improved patient outcomes, strategies to implement patient navigation in their practices and a Q & A session.
Invited guest lecturers will include Peggy Honore, DHA, Director of Public Health System, Finance and Quality Program in the Office of the Assistant Secretary for Health, U.S. Department of Health and Human Services, Mandi Pratt-Chapman, MA, Director of the George Washington Cancer Institute, Anne Willis, MA, Director of the George Washington Institute's Advancement of Cancer Survivorship, Navigation and Policy, and Electra Paskett, PhD, MPH, Marion N. Rowley Professor of Cancer Research in the Division of Epidemiology in the School of Public Health, Ohio State University.
The LSU School of Medicine is providing AMA/PRA Category 1™ credit for physicians and the LSU School of Nursing is providing CE credit for nurses attending the conference. If you would like more information or register to attend the Patient Navigation Seminar, please visit by clicking here.
Looking for more CME? A list of all LSU CME certified activities can be found on the CME website or by: clicking here.
Learning Center
Learning Center Updates
LSU Medical Alumni Visit The Learning Center
In conjunction with the LSU Medical Alumni Reunion Weekend, LSU Medical Alumni were invited to return to the school to tour the Isidore Cohn, Jr. Student Learning Center and the Russell C. Klein, MD (59) Center for Advanced Practice. Alumni received hands-on demonstrations from several Learning Center faculty.
Learning Center 3D Printer
Through a generous donation from the Alumni Foundation, the Learning Center has purchased a new 3D printer! This cutting edge technology will allow us to create replacement parts, new simulation models, product prototypes, and 3D recreations of patient images. If you have any ideas or would like to be involved in our new 3D printing endeavors, please contact Dr. Matthew Carlisle at (mcarl2@lsuhsc.edu.) or 504-568-8078.