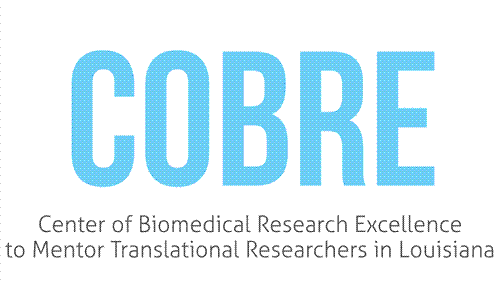 What is COBRE?
---
Centers of Biomedical Research Excellence (COBRE) are developed to expand and develop biomedical faculty research capability and enhance the quality of such research. These centers establish core facilities needed to carry out the objectives of multidiciplinary, collaborative programs.
COBRE funded research helps establish teams of highly productive researchers that develop unique research programs addressing health issues that affect the citizens of Louisiana, in particular the underserved minorities.
Mentoring Translational Researchers in Louisiana
---
The COBRE "Mentoring Translational Researchers in Louisiana" is the first program in Louisiana to train a new generation of researchers on the intricacies of translating research. Started in [date], the results of work supported by this COBRE went above and beyond expectations.
The goal of this COBRE program is to mentor outstanding junior faculty to become independent researchers. The LSU Health Sciences Center program intends to fill the gap that exists in Louisiana between the expanding basic sciences and the limited translational research capabilities. To address this problem, a group of successful researchers are mentoring a group of promising junior investigators to pursue biomedical research with demonstrated translational benefits to patient care.
The thematic focus for this COBRE program centers on understanding the immunobiology of disease. This concept brings together a critical mass of scientists and supports the basis for a Center of Excellence for Translational Immunobiology at LSUHSC-NO. Scientists supported by this COBRE use basic and clinical research to explore signal transduction, molecular regulation of the immune system, and alterations caused by disease.
Cores
---
Core facilities, funded by this COBRE, provide scientific and technological support for COBRE research programs and other researchers in academic and medical centers in Louisiana. The technical support of these cores has become an important training ground for undergraduate students participating in the Summer Reserarch Excellence Program, and for graduate students and post-doctoral fellows.
Cellular Immunology and Immune Metabolism Core (CIMC):
Created in 2006, the CIMC provides state of the art technologies to study inflammation and disease. This core has become an essential resource to investigators studying immune response in health and disease by providing the most advanced technologies in the region.

Translational Genomics Core (TGC):
Created in 2008, this core offers the unique oppoertunity to study and characterize genetic differences of diseases that affect unique minority populations in Louisiana, such as the African American, Acadian (cajun), and Latino populations. The TGS has been successful in developing local, national, and international collaborations with researchers from LSU, Tulane, Dillard, and Xavier Universities joining the University of Mississippi, Vanderbilt Universdity, and institutions from Colombia, Mexico. Chile and more.

Molecular Histopathology & Analytical Microscopy Core (MHAC)
The MHAC was established in 2011 to provide researchers with advanced imaging of animal and human tissues, as well as access to human patient samples. This laboratory works closely with the CIMC to develop detection techniques involving blood and tumor samples.

 

 

: