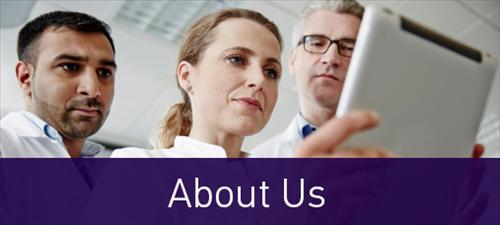 Cancer Center Members
---
Our researchers and clinicians represent departments throughout the Schools of Medicine, Public Health, and Veterinary MedicineV as well as the main campus in Baton Rouge.BR In addition, each member belongs to Louisiana Cancer Research Consortium (LCRC), a coordinated education, training, and treatment resource for this region of the state.
Members of the Cancer Center perform basic, clinical, and translational research in one or more of the following cancer-related program areas:
(1) Clinical Research,
(2) Population Science,
(3) Genetics and Viral Carcinogenesis,
(4) Immunology, and
(5) Molecular Signaling.
Unless otherwise specified, all numbers listed below are area code 504.
Name
Department
Program
Contact Info
Aiyar, Ashok, PhD
Immunology
Genetics
568-4072
aaiyar@lsuhsc.edu
Alahari, Suresh K., PhD
Biochemistry & Molecular Biology
Signaling
568-4734
(lab) 599-1138
salaha@lsuhsc.edu
Al-Khami, Amir, Ph.D.
Genetics
Genetics
210-2670
aalkha@lsuhsc.edu
Aviles, Diego, MD
Pediatrics
Immunology
896-9238
davile@lsuhsc.edu
Backes, Wayne L., PhD
Pharmacology
Genetics
568-6557
wbacke@lsuhsc.edu
Bedimo-Rung, Ariane, MPH, PhD
Public Health
Population Science
568-5709
abdemi@lsuhsc.edu
Boudreaux, J. Philip, MD, FACS
Surgery
Clinical
568-4750
(practice) 464-8500
jboudr4@lsuhsc.edu
Boulares, Hamid, PhD
Pharmacology
Signaling
210-3322
hboulr@lsuhsc.edu
Boulmay, Brian, MD
Hematology/Oncology
Clinical
568-2348
bboulm@lsuhsc.edu
Breslin, Mary, PhD
Pediatrics
Signaling
734-1640
mbresl@lsuhsc.edu
Burns, Leign Ann Kamerman, MS, LDN, RD
Nutrition
Clinical
(985) 878-1560
lkamer@lsuhsc.edu
Byerley, Lauri, PhD
Physiology
Clinical
568-6170
lbyerl@lsuhsc.edu
Cameron, Jennifer, PhD
Microbiology, Immunology, & Parasitology
Immunology
568-2785
jcame2@lsuhsc.edu
Catling, Andrew, PhD
Pharmacology
Signaling
568-2222
acatli@lsuhsc.edu
Chen, Vivien, MPH, PhD
Public Health
Population Science
568-5757
vchen@lsuhsc.edu
Chou, Chau-Wen, PhD
Physiology
Proteomics Core
568-6398
cchou@lsuhsc.edu
Church, Timothy S., MD, MPH, PhD
Preventive Medicine
Clinical
(225) 763-2632
timothy.church@pbrc.edu
Claycomb, William, PhD
Biochemistry & Molecular Biology
Signaling
568-4737
(lab) 568-4389
wclayc@lsuhsc.edu
Cole, John T., MD
Hematology/Oncology
Clinical
210-2837
(Ochsner) 842-3910
jcole6@lsuhsc.edu
Crabtree, Judy S., PhD
Genetics
Genetics
568-2963
jcrabt@lsuhsc.edu
Del Valle, Luis, MD
Hematology/Oncology
Clinical/Signaling
210-3321
ldelva@lsuhsc.edu
Diaz, James H., MD, MPHD, DrPH
Public Health
Population Science
568-6052
jdiaz@lsuhsc.edu
Drell, Martin J., MD
Psychiatry
Clinical
568-3031
mdrell@lsuhsc.edu
Fontham, Elizabeth, MPH, DrPH
Public Health
Population Science
568-5700
efonth@lsuhsc.edu
Foster, Timothy, PhD
Microbiology, Immunology, & Parasitology
Immunology
568-4075
tfoste@lsuhsc.edu
Francis, Joseph, PhDV
Comparative Biomedical Sciences
Signaling
(225) 578-9752
jfrancis@lsu.edu
Fuselier, Harold A., MD
Urology
Clinical
842-3115
hfusel@lsuhsc.edu
Gardner, Renee, MD
Pediatrics
Clinical
896-9740
rgardn@lsuhsc.edu
Gatipon, Betty, PhD
Family Medicine
Clinical
568-7608
bgatip@lsuhsc.edu
Giarratano, Gloria Peel, MSN, PhD
Nursing
Clinical
568-4172
ggiarr@lsuhsc.edu
Grabczyk, Edward, PhD
Genetics
Genetics
568-6154
(lab) 568-7959
egrabc@lsuhsc.edu
Gregory, Paula, PhD
Genetics
Genetics
568-6153
pgrego@lsuhsc.edu
Haas, Arthur, PhD
Biochemistry & Molecular Biology
Signaling
568-3004
(lab) 568-3151
ahaas@lsuhsc.edu
Hagensee, Michael, MD, PhD
Microbiology, Immunology, & Parasitology
Immunology
210-3325
mhagen@lsuhsc.edu
Helm, Edward, MD, MHA
Surgery
Clinical
568-8501
895-5748
ehelm@lsuhsc.edu
Hollenbach, Andrew, PhD
Genetics
Genetics
568-2431
(lab) 568-2273
aholle@lsuhsc.edu
Huh, KyungWon, PhD
Biochemistry & Molecular Biology
Genetics
568-7101
khuh@lsuhsc.edu
Kantrow, Stephen P., MD
Medicine
Immunology
568-2061
skantr@lsuhsc.edu
Kim, Sunyoung, PhD
Biochemistry & Molecular Biology
Clinical
568-2019
skim3@lsuhsc.edu
Kline, David G., MD
Neurosurgery
Clinical
568-2461
dkline@lsuhsc.edu
Kousoulas, K. Gus, PhDV,BR
Virology and Biotechnology, & Pathobiological Sciences
Genetics
(225) 578-9682
vtgusk@lsu.edu
Lan, Michael, PhD
Pediatrics
Immunology
896-2705
mlan@lsuhsc.edu
Lee, Yong-Hwan, PhD
Biochemistry & Molecular Biology
Genetics
(225) 578-0522
yhlee@lsu.edu
Lipscomb, Gary E., MD
Pathology
Clinical
568-3441
glipsc@lsuhsc.edu
Liu, Wanguo, PhD
Genetics
Genetics
210-3326
wliu2@lsuhsc.edu
Loch, Michelle, MD
Hematology/Oncology
Clinical
568-2230
mloch@lsuhsc.edu
Mandal, Diptasri, PhD
Genetics
Genetics
568-6156
dmanda@lsuhsc.edu
Martin, David, MD
Infectious Diseases
Population Science
280-1457
dhmartin@lsuhsc.edu
McCormick, Catherine M., MD
Hematology/Oncology
Clinical
(985) 878-1223
cmccor@lsuhsc.edu
McWhorter, Andrew J., MD
Otolaryngology
Clinical
(225) 765-5335
amcwhort@ololrmc.com
Mercante, Donald E. PhD
Public Health
Population Science
568-5981
dmerca@lsuhsc.edu
Miele, Lucio, M.D., Ph.D.
Genetics
Genetics
210-3433
lmiele@lsuhsc.edu
Moody Thomas, Sarah, PhD
Public Health
Population Science
280-1533
sthomas@lsuhsc.edu
Moore, Cleveland, MD
Pediatrics
Immunology
896-9589
cmoore@lsuhsc.edu
Nelson, Steve, MD
Pulmonary
Clinical
568-4637
snelso1@lsuhsc.edu
Nesbitt, Lee T., Jr., MD
Dermatology
Immunology
568-7110
lnesbi@lsuhsc.edu
Nuss, Daniel W., MD, FACS
Surgery & Otolaryngology
Clinical
568-4785
dnuss@lsuhsc.edu
Ochoa, Augusto, MD
Pediatrics
Immunology
210-2828
aochoa@lsuhsc.edu
Palmer, Glen, PhD
Microbiology, Immunology, & Parasitology
Immunology
670-2735
gpalme@lsuhsc.edu
Parsons, Chris, PhD
Microbiology, Immunology, & Parasitology
Immunology
210-3328
cpars1@lsuhsc.edu
Peruzzi, Francesca, PhD
Medicine
Signaling
210-2978
fperuz@lsuhsc.edu
Peters, Edward, DMD, ScD
Public Health
Population Science
568-5743
(cell) 453-6262
epete1@lsuhsc.edu
Prakash, Om, PhD
Microbiology, Immunology, & Parasitology
Genetics/Signaling
568-5755
oprakash022@gmail.com
Pou, Anna, MD
Otorhinolaryngology
Clinical
568-4785
apou@lsuhsc.edu
Qin, Zhiqiang, MD, PhD
Microbiology, Immunology, & Parasitology
Genetics/Signaling
210-3327
zqin@lsuhsc.edu
Ramsay, Alistair, PhD
Gene Therapy
Immunology
568-8324
aramsa@lsuhsc.edu
Reed, J. Robert, PhD
Pharmacology
Genetics
568-5552
rreed@lsuhsc.edu
Reiss, Krzysztof, PhD
Hematology/Oncology
Signaling/Clinical
210-2977
kreiss@lsuhsc.edu
Reske, Thomas, MD, PhD
Hematology/Oncology
Clinical
568-2230
treske@lsuhsc.edu
Rigby, Perry G., MD
Hematology
Clinical
568-8977
prigby@lsuhsc.edu
Ruiz, Marco, MD, MPH
Internal Medicine
Clinical
903-2926
mruiz@lsuhsc.edu
Ryan, Donna, MD
Public Health
Population Science
(225) 763-2514
ryandh@pbrc.edu
Scribner, Richard, MD, MPH
Public Health
Population Science
568-5937
rscrib@lsuhsc.edu
Shankar, Sharmila, Ph.D.
Genetics
Genetics
210-2982
sshan4@lsuhsc.edu
Shellito, Judd, MD
Gene Therapy
Immunology
568-4634
jshell@lsuhsc.edu
Simonsen, Neal, PhD
Epidemiology
Population Science
280-1588
nsimon@lsuhsc.edu
Sothern, Melinda, PhD, CEP
Public Health
Population Science
568-6183
msothe@lsuhsc.edu
Strong, Jack, MD
Pathology
Clinical
568-6033
jstron@lsuhsc.edu
Sturtevant, Joy, PhD
Microbiology, Immunology, & Parasitology
Immunology
568-6116
jsturte@lsuhsc.edu
Trapido, Edward J., Sc.D., F.A.C.E.
Epidemiology
Population Science
568-5772
etrapi@lsuhsc.edu
Tseng, Tung-Sung, MS, DrPH
Public Health
Population Science
568-6022
ttseng@lsuhsc.edu
Tsien, Fern, PhD
Genetics
Genetics
568-2080
fmille@lsuhsc.edu
Vander Heide, Richard S., MD, PhD
Pathology
Signaling
568-6033
rvand3@lsuhsc.edu
Vehaskari, Vesa, MD, PhD
Pediatrics
Immunology
896-9238
vvehas@lsuhsc.edu
Veith, Robert, MD
Hematology/Oncology
Clinical
455-0600
rveith@aol.com
Velasco-Gonzalez, Cruz, PhD
Public Health
Population Science
568-6082
cvelas@lsuhsc.edu
Velez-Yanguas, Maria, MD
Pediatrics
Immunology
896-9740
mvelez@lsuhsc.edu
Vicente, M. Graca H., PhDBR
Chemotherapy/Materials
Signaling
(225) 578-7405
vicente@lsu.edu
Volaufova, Julia, PhD
Public Health
Immunology
280-1537
jvolau@lsuhsc.edu
Walvekar, Rohan R., MD
Otolaryngology
Clinical
568-4785
rwalve@lsuhsc.edu
Wang, Guoshun, DVM, PhD
Medicine & Genetics
Signaling
568-7908
gwang@lsuhsc.edu
Wang, Yi-Zarn, MD, DDS, FACS
Surgery
Clinical
568-4750
(practice) 464-8500
ywang@lsuhsc.edu
Welsh, David, MD
Pulmonary
Clinical/Signaling
568-4634
dwelsh@lsuhsc.edu
Williams, Donna, MPH, DrPH
Public Health
Population Science
280-1520
dwilli3@lsuhsc.edu
Wise, Gary, PhD
Comparative Biological Sciences & Cancer Genetics
Genetics
(225) 578-9889
gwise@vetmed.lsu.edu
Woltering, Eugene, MD, FACS
Surgery
Clinical
884-3555
ewolte@lsuhsc.edu
Worthylake, Becky, PhD
Pharmacology
Signaling
568-7283
bworth@lsuhsc.edu
Worthylake, David, PhD
Biochemistry & Molecular Biology
Signaling
568-5176
dworth@lsuhsc.edu
Wu, Chunlai, PhD
Neuroscience
Genetics
599-0851
cwu@lsuhsc.edu
Wu, Guangyu, PhD
Pharmacology
Signaling
568-4740
gwu@lsuhsc.edu
Wu, Xiao-Cheng, MPH, MD
Public Health
Population Science
568-5763
xwu@lsuhsc.edu
Xi, Yaguang, MD, PhD, MBA
Genetics
Genetics
210-3324
yxi@lsuhsc.edu
Yoshimura, Masami, DSciV
Comparative Biomedical Sciences
Signaling
(225) 578-9759
myoshimura@vetmed.lsu.edu
Yu, Lolie, MPH, MD
Pediatrics
Clinical
896-9740
lyu@lsuhsc.edu
Zabaleta, Jovanny, PhD
Pediatrics
Immunology
210-2979
jzabal@lsuhsc.edu
Zea, Arnold, PhD
Microbiology, Immunology, & Parasitology
Immunology & Biospecimens Core
599-0906
azea@lsuhsc.edu