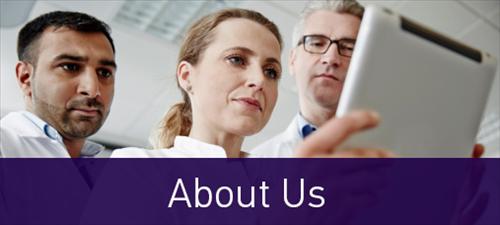 LSU Cancer Center History
---
Stanley S. Scott was a Pulitzer-nominated journalist and public relations specialist. Among his accomplishments were becoming the first African American reporter for United Press International and being named Special Assistant for Domestic Affairs under Presidents Nixon and Ford. Serving as chief liaison with African American organizations, he became especially active in bringing together groups of African American leaders to meet with the President. After being diagnosed with lung cancer, Mr. Scott gave his name to the Cancer Center in 1991.
In 1990, Dr. Mervin Trail established the SSSCC as a place where specialists with different backgrounds could work together to combat this disease and improve the way cancer patients are evaluated and treated.

Since then, the SSSCC has grown to include 100 researchers and physians. Its programs provide communities with information on how to reduce their chances of developing cancer; helps people detect cancer at early, treatable stages of the disease; diagnoses and treats cancer patients; and furthers cancer research.

Minority-Based Community Clinical Oncology Program (MB-CCOP)
In 1993, the SSSCC established this program to provide minority and other cancer patients with opportunities to participate in clinical trials offered through the National Cancer Institute (NCI). One of only about a dozen MB-CCOPs funded by NCI, this program is delivering potentially life-saving care to patients across central and southern Louisiana. In 2009, the NCI awarded our MB-CCOP team the prestigious Harry Hynes award in recognition of outstanding community oncology.
Center of Biomedical Research Excellence ( COBRE ) to Mentor Translational Researchers in Louisiana
Augusto Ochoa, MD, who serves as SSSCC director, has established a Center of Research Excellence called "Mentoring Translational Researchers in Louisiana." Funded by an $11 million grant by the National Institutes of Health, this initiative provides mentorship to promising junior investigators who are conducting research with a translational benefit to patient care. With a focus on understanding the immunobiology of disease, this program is cultivating a group of successful researchers in immunobiology and the immunopathology of cancer and chronic diseases.
Dillard-LSUHSC Minority Health and Health Disparities Research Center (MHHDRC) 
The MHHDRC is the first NIH-funded health disparities research center in Louisiana. Designed to improve the health of underserved populations in New Orleans and the surrounding regions, the center's objectives are to conduct health disparity research, develop minority faculty into successful investigators, expose undergraduates to health disparity research, and train minority nursing students to become clinical research associates. Towards the former, LSUHSC has developed research projects that focus on chronic conditions accounting for a disproportionate share of disease among minority and other populations. Through these projects, Dillard University faculty members are serving as co-investigators on studies being led by NIH-funded SSSCC investigators (Drs. Liu, Hagenseee, and Sothern).  By working in these and other LSUHSC laboratories, Dillard undergraduates are also being provided with valuable research opportunities. In addition, Dillard nursing students in training to become clinical research associates are being afforded experiential learning opportunities by working with clinical research associates at the LSU Interim Hospital and clinics and at other MB-CCOP performance sites. In conjunction with the Minority Health and Health Disparities Research Center at the University of Alabama, extensive community engagement initiatives are being developed to promote community participation in reducing health disparities. The LSUHSC efforts are being led by John Estrada, MD, who along with John Wilson, PhD, at Dillard University, serves as a PI for the MHHDRC award.
The SSSCC is part of the Louisiana Cancer Research Consortium (LCRC), which includes the Tulane University Health Sciences Center Cancer Center, Xavier University, and the Ochsner Clinic Foundation. Through the LCRC, the SSSCC receives a portion of the tax on all cigarettes sold in Louisiana. Approximately $10 million per year is being invested in the Consortium for the purpose of obtaining an NCI-designated, cross-institutional Comprehensive Cancer Center for residents of New Orleans and the surrounding regions.