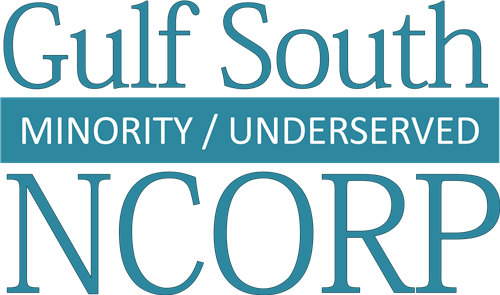 NCORP News
---
August 7, 2014
LSUHSC NOLA Awarded $5.6 Million NCI Grant To Save Lives And Boost Economy
New Orleans, LA – LSU Health Sciences Center New Orleans has been awarded a grant in the amount of $5,604,440 over five years to build a regional cancer clinical trials network. While open to all cancer patients, the focus of the Gulf South Minority/Underserved NCI Community Oncology Research Program (NCORP)  is minority and underserved patients who die at higher rates from cancer than others. This comprehensive cancer management program creates a network of physicians, nurses and researchers from major teaching and private medical institutions in Louisiana and Mississippi to deliver the latest promising investigational treatments for cancer. 
"The LSUHSC-NO Gulf South Minority/Underserved National Cancer Institute Community Oncology Research Program will allow minority and underserved cancer patients in Louisiana and the Gulf South access to state-of-the-art clinical trials, vastly improving their chances of recovery," said F. King Alexander, LSU president and chancellor.
LSU Health Sciences Center New Orleans partnered with LSU Health Shreveport and Mary Bird Perkins Cancer Center to successfully compete for the grant, one of only 12 of its kind funded by the National Cancer Institute in the country. The Gulf South NCORP currently includes 25 clinical sites across Louisiana and Mississippi covering 80% of the population of Louisiana and portions of the Mississippi Gulf Coast. More clinical sites will be added as the program develops to provide access to advanced cancer care to all of our citizens.
"The program allows oncologists in many community hospitals to provide treatment to patients closer to home, helping reduce expenses and keeping patients and families closer together," notes Dr. Larry Hollier, Chancellor of LSU Health Sciences Center New Orleans.
In addition to the potentially life-saving health benefits, this initiative will boost economic health.
"Expanded clinical trials will create jobs for physicians, nurses, health care personnel and researchers in Louisiana," adds Dr. Steve Nelson, Dean of the LSU Health Sciences Center New Orleans School of Medicine. "The initiative will enhance the biomedical and clinical workforce in our state and region by increasing the number of professionals experienced in conducting health disparities research, developing cancer care delivery capabilities and implementing advanced clinical trials.
Pharmaceutical companies will have more opportunities to participate in the new biomedical and clinical research programs, and the new health care facilities developing in Louisiana. It has been estimated that this kind of activity could bring in many millions of additional dollars over the grant period as well.
"The GS-MU-NCORP is the result of a concerted effort by clinical and research leaders from the Cancer Centers at LSU-New Orleans and Shreveport and the Mary Bird Perkins Cancer Center, to create a network of centers that can provide access to cutting edge treatments for cancer patients in the Gulf South region," notes the grant's Principal Investigator Dr. Augusto Ochoa, Director of the LSUHSC New Orleans Stanley S. Scott Cancer Center. "It provides access to high quality research studies to patients closer to home where family, friends and their support system is available. The GS-MU-NCORP is also a major step in addressing the health disparities caused by cancer  among our citizens, especially minorities, and establishes new opportunities for cancer care in the region."
This new NCORP funding replaces and expands the LSUHSC New Orleans Minority-Based Community Clinical Oncology Program, an award winning program addressing health disparities in cancer for 20 years. The NCORP program significantly expands those efforts and provides additional benefits.
It expands programs in cancer prevention, screening and survivorship programs to improve early diagnosis and treatment as well as to help patients cope with the extended process of recovering from cancer. Advancing ongoing research, the initiative is also a major step in addressing the health disparities in the region.
According to LSUHSC New Orleans' Louisiana Tumor Registry, the incidence rates for cancers of all sites combined among white and black men as well as black women in Louisiana were significantly higher than those for their national counterparts. In contrast, the rate for white women in the state was significantly lower than nationwide. Statewide, each of the four major race/sex groups had a significantly higher death rate for all sites combined than its national counterpart.                     
"We are excited to be one of the initial sites participating in this research effort. This is the first time we have a public-private partnership such as this that will bring cutting edge cancer research treatments to the entire state," said Glenn Mills, MD FACP, Director of the Feist-Weiller Cancer Center on the campus of LSU Health Shreveport.
"Our goal through this collaboration is to leverage our leadership and experience to help fight cancer in local Louisiana communities," said Renea Duffin, vice president of cancer support and outreach for Mary Bird Perkins Cancer Center, and Co-Principal Investigator for the grant.  "Along with our strong LSU academic partners and the substantial resources of NCI, we look forward to helping patients get the leading-edge care they need today and developing the treatments and cures for tomorrow."
For more information about the Gulf South Minority/Underserved NCI Community Oncology Research Program at LSU Health Sciences Center New Orleans, call 866-559-2476.
---
April 8, 2014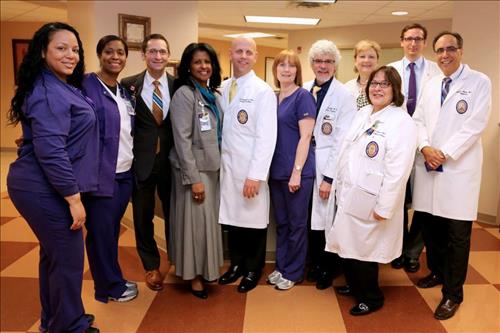 Interim LSU Hospital opens Multidisciplinary Oncology Clinic
NEW ORLEANS, LA – Today, Interim LSU Hospital, in collaboration with LSU faculty, launched a new Multidisciplinary Oncology Clinic to provide coordinated, comprehensive care to patients facing colorectal and genitourinary cancer.
Click here to view photos from the opening.
The Multidisciplinary Oncology Clinic will be offered to all patients with a new colorectal or genitourinary cancer diagnosis, providing them access to a team of physicians working hand-in-hand to ensure the most appropriate care. A Navigator will coordinate clinic visits and supportive services will be available to assist patients in their treatment and recovery. Rather than making multiple appointments to see various specialists, clinic patients will be able to see a group of LSU specialists during one clinic visit. The approach is designed to streamline medical visits and alleviate stress during an already difficult time.
"As an accredited Cancer Program, ILH offers a full scope of services to diagnose, treat, rehabilitate and support patients and their families. The new Multidisciplinary Oncology Clinic, like our innovative HOP Clinic for HIV patients and our Level 1 Trauma Center (the only one in the state) continue efforts to promote excellence in patient care and education," said ILH CEO Cindy Nuesslein.
Patients with advanced malignancies often require coordinated treatment planning and implementation of that treatment plan with multiple specialists. To ensurepatients do not haveto travel to different offices for appointments at different times, the Multidisciplinary Oncology Clinic will simplify treatment planning and education for patients. LSU physicians across multiple specialtieswillvisit with the patient in one locationto alleviatethe burden on the patient.
"This method providespatients immediate access to multiple experts in a specific type of cancer andsignificantly reduces delays to treatment which in turn have resulted in better outcomes for patients," said Dr. Scott Delacroix, director of Urologic Oncology at the LSU Health Sciences Center. "Inaddition to surgical,radiation, and chemotherapy specialists, patients are further supported by a network of cancer navigators and also have access to the highestvolume cancer clinical trials program in the State of Louisiana."
The Multidisciplinary Oncology Clinic will operate on the second and fourth Tuesdays of each month. It is located on the 5th floor of the University Medical Office Building (UMOB), located at 2025 Gravier Street, across from ILH.
(Source:  http://www.umcno.org/news-events/Interim-LSU-Hospital-opens-Multidisciplinary-Oncology-Clinic)