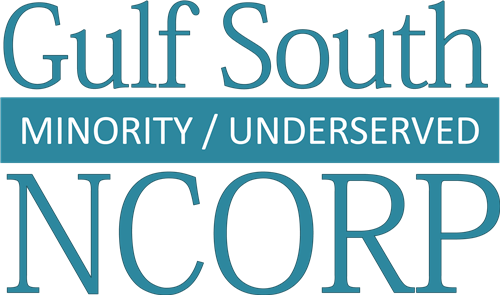 Cancer Care Delivery Research (CCDR)
---
Each component site has established a broad range of capabilities, including screening and early detection, multidisciplinary care teams, genetic counseling, care coordination and navigation, survivorship, supportive and palliative care, healthcare literacy, and disparities research. Moreover, component sites, in particular LSUHSC-Shreveport and MBPCC, have participated in national, regional, and institutional initiatives aimed at improving the quality of care of patients with cancer, such as the American Society of Clinical Oncology Quality Oncology Practice Initiative (QOPI®), ASO Quality Training Initiative (QTI), the American College of Surgeon's Commission of Cancer Rapid Quality Reporting System (RQRS), and Medicare's Physician Quality Reporting System (PQRS). Although these initiatives are multi-centered and, thereby, address issues related to the care of cancer patients on a macro level, participation in these care initiatives has provided a vehicle to uniquely address the needs of the minority and underserved patients. These experiences have also facilitated the development of new programs specific to their settings. These capabilities will serve to undergird the future development of Cancer Care Delivery Research (CCDR) studies in the GS-MB-NCORP. Selected examples of the capabilities are described below.
CCDR Capabilities
Genetics Counseling . All component sites have established genetics counseling, providing genetics testing and teaching and counseling services at each site. The geneticists also offer genetics seminars that are open to the public, and in Shreveport, to the hematology/oncology fellows. They have also established an outreach genetic counseling clinic in Monroe.  In New Orleans, the genetics counseling program is based at Children's Hospital which provides a full range of testing and counseling for pediatric cancer patients and families.
Multi-disciplinary Care (MDC) Teams . All component sites have established multi-disciplinary cancer care teams, varying slightly in their name and focus between sites, depending on the expertise of the clinical leaders. Multidisciplinary teams across the sites include aerodigestive tumors, breast cancer, urologic and gynecological malignancies, with LSUHSC-Shreveport also having a strong adult bone marrow transplantation program, MBPCC having a skin and soft tissue team and LSUHSC-New Orleans having pediatric hematology and oncology (including auto and allogeneic bone marrow and stem cell transplantation).
Care Coordination/Navigation. All multidisciplinary teams have assigned patient navigators that meet patients early in the process, and assist them from diagnosis through treatment, helping the transition to survivorship, palliative, or hospice care. They assist in scheduling, managing time, arranging transportation, and ensuring successful navigation in the complex environment of the public hospitals. FWCC in Shreveport has an advanced program where most of their nurse navigators have received formal patient navigation training from established programs such as the George Washington Cancer Institute's, "From Outreach to Survivorship Program." Navigators clearly facilitate and streamline the complex cancer care process. The best example is at the Interim LSU Public Hospital in New Orleans where the complex and mostly uncoordinated recovery after Hurricane Katrina resulted in unacceptable long intervals from diagnosis to treatment for some of the patients. This problem was essentially solved by having Navigators managing individual patients and scheduling different procedures as determined by the management plans established by the multidisciplinary team.
Supportive / Palliative Care. Since 2007, MBPCC has integrated palliative care into the multidisciplinary teams that provide care to oncology patients, as a result of participation in NCCCP initiatives. The most advanced example is the establishment of a palliative care program that includes an advanced practice registered nurse devoted to palliative care that developed and disseminated a "Palliative Care Tool Kit" to the Louisiana Comprehensive Cancer Control Partnership (LCCCP) to improve palliative care practices throughout the state of Louisiana. This resulted in an increase in patient referrals to the inpatient palliative care unit at Mary Bird Perkins-Our Lady of the Lake (MBP-OLOL) and the planning of an outpatient palliative care clinic for 2014. The implementation of this program is now in the planning stages for both LSUHSC-Shreveport and New Orleans.
Survivorship. All patients seen at the component sites receive a treatment summary and follow-up care plan based on NCCN guidelines, upon completion of their treatment. FWCC has well-organized symptom management and survivorship clinics available to all patients. Patients at MBPCC and LSUHSC-New Orleans are provided follow-up care through the general oncology clinics. The capacity to provide individually tailored survivorship care plans is currently being developed at both sites.
Screening and Outreach Programs . The screening programs at the three component sites of the GS-MB-NCORP are one of the major successes in cancer care delivery in Louisiana over the last decade and deserve to be highlighted. The Louisiana Breast and Cervical Health Program (LBCHP) is based at LSUHSC-New Orleans and led by Donna Williams, Ph.D. It was established in 2002 and operates throughout the state providing breast and cervical cancer early detection services at no cost to un- or under-insured, low and moderate-income Louisiana women age 40 or over, especially women who rarely or never receive screening services. LBCHP is part of the Centers for Disease Control and Prevention's (CDC) National Breast and Cervical Cancer Early Detection Program (NBCCEDP). It screens over 10,000 patients annually (Figure 10).  The Louisiana Comprehensive Cancer Control Program (LCCCP) is another program led by Dr. Williams, and is charged with reducing the burden of cancer in Louisiana through comprehensive, coordinated local planning and implementation of cancer control programs. LCCCP addresses cancers that are preventable or that can be detected early, including breast, colorectal, smoking related cancers, and skin cancer. LCCCP is leading the effort to work with community partners to transform its nine local cancer coalitions into comprehensive Healthy Community Coalitions.
Rural Screening Programs. MBPCC and the LSUHSC-Shreveport FWCC have pioneered the use of mobile medical clinics for cancer screening with the goal of serving the rural communities in the 18 parishes surrounding Baton Rouge in southeast Louisiana and the 17 parishes around Shreveport in Northern Louisiana. The innovative, yet pragmatic, use of mobile medical clinics has been instrumental in reducing structural barriers and increasing access to cancer screening among disparate communities. All screening services are offered at no costs to the participants, and full-time navigators assist patients with abnormal findings to ensure required timely follow-up care. Over 90,000 free screenings for breast, colorectal, prostate, skin, and oral cancers have been delivered to medically underserved adults since 2002, with approximately 60% of them being minorities. Through the screening and navigation programs MBPCC and LSUHSC-Shreveport FWCC have significantly decreased the times for the resolution of abnormal findings for breast and colorectal cancer. In fact, a study conducted for MBPCC by LTR and the LSUHSC School of Public Health in 2010 showed that when comparing the screening data for breast cancer in 2004 to 2009, there was a decrease in the late stage breast cancer diagnosis from 74% in 2004 to 35% in 2009. This suggests that patients consulted earlier and were more aware of the risk for disease, credited in part to the screening program. This demonstrates the efficiency of the screening programs in decreasing cancer.
Other Collaborating Data Sets
The LTR has had agreements for data-sharing with administrators of other heterogeneous, yet complementary databases containing information on care delivery, reimbursement, patterns of care, physician practices and other demographic, clinical, and biological data. Recent efforts led by the Center for Computation and Technology at LSU (led by Ron Horswell PhD and John Couk MD)  are aimed at mining Big Data sets through the  development software and tools to enhance the extraction of encrypted data and facilitate real-time data sharing. They are active collaborators with Drs. Chen, Wu in the LTR as shown by their publications. The following data bases will continue to collaborate with the CCDR program (see Letters of Support).
LSUHCSD HarmonIQ Data Warehouse : LSU Health's data warehouse, created in 2002, was originally called Disease Management Evaluation Database (DMED). Initially, it contained only administrative (claims-like) data, as those were the only data available electronically. Over the years, the manual abstraction process was phased out as more data became available electronically and were assimilated into DMED. Today DMED's successor, the HarmonIQ database, draws data from two major EMR/EHR systems used within the LSU Health System. In 2012, the LSU Health System began to phase in a new EPIC-based EMR system. Currently, both platforms are still in use, and HarmonIQ extracts data from both and stores the data in an EMR-independent format. The data are drawn into HarmonIQ via ETL (extract, transform, load) routines unique to each EMR.
Louisiana Health Information Exchange (LaHIE): Since its inception in 2009, the Louisiana Health Information Exchange (LaHIE) has quickly developed into an effective tool for improving care coordination and patient management, promoting public health efforts, and reducing healthcare costs. One of the essential elements of LaHIE has always been a strong commitment to data security and patient confidentiality, a particularly important issue given the number of organizations involved in a data exchange system of this size. In meeting its stated goals LaHIE has enable the secure exchange of patient care summaries between organizations that would otherwise have no formal system in place for communication; LaHIE currently promotes public health efforts via its connection with the Louisiana Immunization Network for Kids (LINKS), and most recently with the Louisiana Tumor Registry. In addition, LaHIE has developed a registry of patient visit summaries in order to increase efficiency and limit redundancies within the health care system.
GNOHIE Data Warehouse : The Greater New Orleans Health Information Exchange (GNOHIE), established in January 2012, is a community-shared HIT infrastructure designed to facilitate care coordination and chronic disease management by enhancing information and process linkages across health systems with the goal of improving the quality of care at the population level. The GNOHIE is linked to electronic medical records and health information systems of 11 community health clinics and two hospitals, respectively, to allow seamless exchange of health information in a HIPAA-compliant, secure manner to benefit patient care while maintaining privacy and confidentiality of personal health information. While the system provides real-time patient information at the point of care, it also maintains and continuously updates a centralized clinical data repository that stores all information passing through the health information exchange.
Louisiana Medicaid Data Warehouse : Since 1995 the Louisiana Department of Health and Hospitals administers and maintains the Management and Reporting Subsystem (Medicaid Data Warehouse). This electronic system holds comprehensive demographic, clinical, care claims data, and health care provider information for Louisiana Medicaid enrollees who, for the most part, constitute a great segment of our minority and underserved populations in need of cancer prevention, control and treatment. We have an established tradition of data exchange and collaboration with administrators of data sets such as the Louisiana Tumor Registry.
CCDR Funded Research Programs

Project Title

Years

Funding Agency and Grant

Patients Followed

Principal Investigator

Generating Critical Patient-Centered Information
for Decision Making in Localized Prostate Cancer

8/1/2013-7/31/2015

PCORI: CE-12-11-4667
Subcontract:  VUMC 41761

936

Wu (LTR)

Comparative Effectiveness of Modern
Therapies for Localized Prostate Cancer

12/1/2015-11/30/2016

AHRQ:  Funded, Waiting
for the Subcontract

936

Wu (LTR)

Comparative Effectiveness of Treatment for
Localized Prostate Cancer (CEASAR)

9/1/2010-8/31/2013

AHRQ:  R01 HS019356
Subcontract:  VUMC37044

936

Wu(LTR)

Validation of PROMIS in Diverse Patient
Populations (MY-Health)

9/30/2009-9/29/2014

NIH:  U01AR057971
Subcontract:  RX4442007

1096

Wu (LTR)

Enhancing Cancer Registries for Early Case Capture
of Pediatric and Young Adult Cancers (ECC)

12/1/2010-9/31/2014

CDC:  1U58DP003805-01

394

Chen (LTR)

Enhancing Cancer Registry Data System for
Comparative Effectiveness Research (CER)

12/1/2010-9/31/2013

CDC/IFC-Macro:  Subcontract

6343

Chen(LTR)

SEER Patterns of Care Study – 2011

9/30/2012-9/29/2013

NCI:  N01-PC-2010-00030C

279

Wu(LTR)

SEER Patterns of Care Study – 2010

9/30/2011-9/30/2012

NCI:  N01-PC-2010-00030C

342

Wu(LTR)

SEER Patterns of Care Study – 2009

9/30/2010-9/29/2011

NCI:  N01-PC-2010-00030C

316

Wu(LTR)

SEER Patterns of Care Study – 2008

9/30/2009-7/31/2010

NCI:  N01-PC-54402-Supplement

336

Wu(LTR)

Constructing Geographic Areas in GIS for
Cancer Data Analysis

8/1/2009-7/31/2010

NCI:  N01-PC-54402-Supplement

 

Chen(LTR)

Adolescents and Young Adults Health Outcome
Patient Experience (AYA HOPE) Study

9/30/2007-7/31/2010

NCI:  N01-PC-54402-Supplement

70

Wu(LTR)

SEER Patterns of Care Study – 2007

8/1/2008-7/31/2009

NCI:  N01-PC-54402-Supplement

313

Wu(LTR)

Breast and Prostate Cancer Data Quality and
Patterns of Care Study

9/30/2005-9/29/2010

CDC:  U01-DP000253

3548

Wu(LTR)

Racial Differences in Prostate Cancer: Influence of
Health Care and Host and Tumor Biology

9/1/2003-5/31/2010

Department of Defense:
DAMD17-03-2-0052

1230

Fontham(LTR)

Quality of Care:  The Impact of Multidisciplinary Care (MDC) on Processes and Outcomes of Cancer Care

1/1/2011-12/31/2012

National Cancer Institute: National Community Cancer Centers Program

134

Petrelli (MBPCC)

Health Literacy Intervention and Cancer Screening

10/01/2007-07/31/2013

NIH:  R01 CA115869-05

110

Davis, Arnold
(LSUHSC-SHREVEPORT)

Health Literacy Interventions to Overcome Disparities in CRC Screening

01/01/2013-12/31/2017

ACS:  RSG-13-021-01-CPPB

Training personnel

Davis, Arnold
(LSUHSC-SHREVEPORT)

Improving Psychosocial Quality of Life in Women with Advanced Breast Cancer

07/01/2012-06/30/2016

ACS:  RSG-12-121-01-CPPB

8

Davis, Arnold
(LSUHSC-SHREVEPORT)

Louisiana Clinical and Translational Science Center

07/01/2012-06/30/2017

NIH:  1 U54 GM104940

Training personnel

Davis, Arnold
(LSUHSC-SHREVEPORT)

LSU Improving Clinical Outcomes Network
(LSU ICON)

11/01/2011-10/31/2013

LSU System:  LSU ICON

Training personnel

Davis, Arnold
(LSUHSC-SHREVEPORT)

Enhanced Spanish Drug Label Design to Promote Patient Understanding and Use

04/01/2010-01/31/2013

AHRQ:  16435-02

429

Davis, Arnold
(LSUHSC-SHREVEPORT)

Communicating Safe and Appropriate Drug Use to
Patients and Families

12/18/2009-12/17/2013

Abbott:  N/A

554

Davis, Arnold
(LSUHSC-SHREVEPORT)

Consumer Understanding and Use of
Non-Prescription Analgesics

07/01/2009-12/31/2013

McNeil Pharmaceuticals:  N/A

662

Davis, Arnold
(LSUHSC-SHREVEPORT)

Building Healthy Communities. A Study to Investigate Teleradiology, Mobile Mammography and Other Methods of Enhancing Regular Mammography Screenings in Rural Communities

10/01/2010-09/30/2014

Health Resources Services
Administration:  H2 ARHZ R017

1,946

McLarty
(LSUHSC-SHREVEPORT