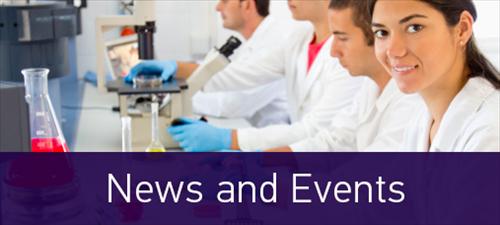 LSUHSC Cancer Center News
---
September 1, 2019
New Faculty Alert
Qiang Shen, MD, PhD
Dr. Qiang Shen joined the LSU Health Sciences Center (LSUHSC) as a Professor in the Department of Genetics and the Stanley S. Scott Cancer Center.  He obtained his medical degree and initial training in China, obtained his Ph.D.in Cell Biology at the University of Texas Medical Branch, and then completed his postdoctoral fellowship at Baylor College of Medicine, in Houston, Texas where he obtained a faculty position at MD Anderson Cancer Center.  Dr. Shen now joins LSUHSC from MD Anderson Cancer Center with expertise and publications covering a number of cancers, including breast, colorectal and pancreatic. His research also focuses on cancer metabolism and anticancer drug development.  His current research focuses on transcription factors(STAT3, AP-1), kinases (glucose metabolism enzymes,HIPK4), ion channels and related signaling (KCNK5,TRPM7, MCU) in the development and progression/metastasis of breast and other cancers, and the development of targeted small molecule anti-cancer drugs for preventive and therapeutic purposes (targetingSTAT3,AP-1, Bax, HIPK4, and NRF2/RHOA/ROCK pathway, etc.).  Dr. Shen has authored/co-authored 59 peer-reviewed publications and is a co-inventor of 2 international and U.S. patents.
---
August 1, 2019
LSU Health New Orleans Awarded a $13.6 million Grant to Expand Cancer Clinical Trials in Louisiana and Mississippi
LSU Health New Orleans has been awarded a $13.6 million grant by the National Cancer Institute to expand its successful statewide clinical trials network with a special emphasis on minority and underserved cancer patients. Principal Investigator, Dr. Augusto Ochoa, Director of LSU Health New Orleans Stanley S. Scott Cancer Center, and his team will develop a new entity by combining LSU Health New Orleans' previously funded Gulf South Minority/Underserved NCI Community Oncology Research Program (NCORP) with Ochsner's Community NCORP. Primary partners of the new Gulf South Minority/Underserved Clinical Trials Network NCORP will be LSU Health New Orleans Stanley S. Scott Cancer Center, LSU Health Shreveport Feist Weiller Cancer Center, Mary Bird Perkins Cancer Center and Ochsner Cancer Center. The new Clinical Trials Network will provide cancer care and access to clinical trials for more than 50% of newly diagnosed cancer patients in the region, expand the number of sites offering access to clinical trials from 22 to 42 and increase the proportion of minority patients participating in NCORP trials. It will also take advantage of the clinical subspecialties at the primary affiliate sites, utilize the valuable samples in biorepositories to advance research in health disparities and treatment, as well as expand its partnerships with community health organizations. "This funding recognizes the expertise of LSU Health New Orleans and our partners in cancer research and care," notes Larry Hollier, MD, Chancellor of LSU Health New Orleans. "It will allow us to bring access to the latest advances in cancer care to even more Louisiana people diagnosed with this devastating disease." Major health providers in the region including the Southeast Louisiana Veterans Health Care System in New Orleans, Woman's Hospital in Baton Rouge and the Christ us Health community sites will also participate ."A decade ago we started building this network with Mary Bird Perkins and LSU Health Shreveport, "recalls principal investigator Augusto Ochoa, MD, Director of LSU Health New Orleans Stanley S. Scott Cancer Center. "It was recently named a recipient of the Platinum Award by the NCI for being a leading organization in enrolling cancer patients into clinical trials. Last year alone, we enrolled more than 1,300 patients in Louisiana, and when combined with Ochsner, it was close to 1,500. We are the largest cancer clinical trials network in the state. With the addition of Ochsner, this new clinical trials network holds a hopeful future for our cancer patients. We will continue to build cancer care throughout the state through team efforts such
---
August 25, 2017
10 Million Reasons that Treatment of Cancers Caused by Viruses May Advance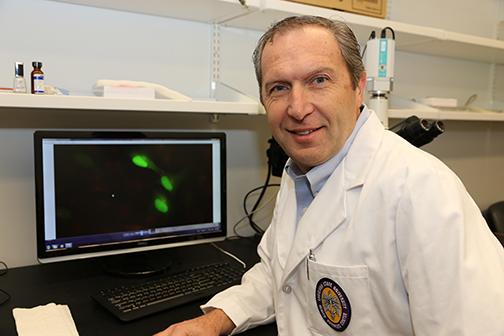 The National Institute of General Medical Sciences has awarded LSU Health New Orleans a $10 million grant over five years to support new basic research studies advancing the development new diagnostic and therapeutic approaches for virus-induced cancers.
"Viruses are responsible for approximately 20% of all human cancers," notes Krzysztof Reiss, PhD, Professor and Director of Neurological Cancer Research at LSU Health New Orleans Stanley S. Scott Cancer Center, the grant's principal investigator. "This funding will support four promising junior investigators who will study the molecular details of virus-host interactions while using patient samples, clinical data and biological systems to facilitate clinical translation of their most promising findings."
Virus-related cancers including cervical, anorectal and head and neck cancers associated with Human Papilloma Virus (HPV), Kaposi sarcoma and primary effusion lymphoma associated with Kaposi sarcoma-associated herpes virus, liver cancers associated with Hepatitis B and Hepatitis C viruses, and others are rapidly increasing in our region and disproportionately affect the African-American population. This increase may be explained in part by the large number of HIV+ patients in the region.
"However, our data also show that co-infection with viruses promotes malignant transformation," says Dr. Reiss. "Therefore, understanding why and how particular viruses and viral co-infections promote the development of malignancies in our minority and vulnerable populations is essential to identifying and implementing new prevention, diagnostic and treatment strategies. Training a new cadre of investigators capable of conducting novel research in this field is therefore essential for our state."
The grant is a Centers of Biomedical Research Excellence, or COBRE, grant. The purpose of these grants is to strengthen an institution's biomedical research infrastructure through the establishment of a thematic multi-disciplinary center and to enhance the ability of investigators to compete independently for complementary NIH individual research grants or other external peer-reviewed support. The funding is intended to support investigators from several complementary disciplines. It will enable the institution to develop a critical mass of investigators and enhance their competitiveness in a specific research area and in some cases, will facilitate the development of new disease-specific research centers or augment the capability of existing centers.
"This $10 million competitive award represents a significant recognition of the quality of research here at LSU Health New Orleans," says Dr. Larry Hollier, Chancellor of LSU Health New Orleans. "This type of grant is even more valuable than the monetary award because grants like this provide comprehensive support to the research pipeline. They not only fund basic science research which underlies treatment advances, but they also help develop the next generation of competitively funded faculty research scientists."
The funding will support research projects led by LSU Health New Orleans promising junior investigators Zhiqiang Qin, MD, PhD, and Chris McGowin, PhD, both Assistant Professors of Microbiology, Immunology & Parasitology, and Donna Neumann, PhD, Associate Professor of Pharmacology, as well as Tulane Assistant Professor of Pathology Zhen Lin, MD, PhD. It will also support two pilot projects – Myeloid-Derived Suppressor Cells (MDSCs) and HIV Malignancies, and John Cunningham Virus-induced MDSCs in Central Nervous System Tumors.
"In addition to the value of research programs like this in terms of lives saved and improved quality of life, the LSU Health New Orleans research enterprise is a robust economic engine, attracting millions of outside dollars to the city and state that also support jobs in a highly desirable industry," says Dr. Steve Nelson, Dean of LSU Health Sciences Center New Orleans' School of Medicine.
"This major award dovetails with the clinical programs in cancer prevention and immunotherapy of our Cancer Center, and will bring cutting-edge research in these important fields to our state,"says Dr. Augusto Ochoa, Director of the Stanley S. Scott Cancer Center at LSU Health New Orleans.
The grant complements funding donated by the Al Copeland Foundation for cancer research through the Copeland-LSUHSC Partnership in Viruses, Cancer, and Immunotherapy.
---
October 13, 2016
LSU Health New Orleans Opens Merkel Cell Carcinoma Clinical Trial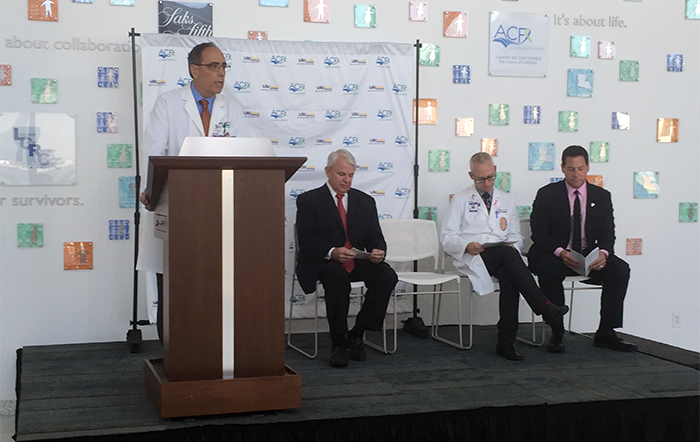 LSU Health New Orleans is recruiting participants to a clinical trial to determine the effectiveness of MK-3475 (pembrolizumab) in treating patients with Merkel cell cancer that cannot be removed by surgery, or controlled with treatment, or has spread to other parts of the body. It is the first systemic intervention for patients with advanced Merkel cell carcinoma. Pembrolizumab is an immunotherapy drug. Immunotherapy works differently than chemotherapy in that it boosts the body's own natural defense system to help fight cancer. LSU Health New Orleans is one of 11 sites in the country selected to enroll patients in this clinical trial.
Merkel cell carcinoma (MCC) is an aggressive form of skin cancer. It is linked to exposure to ultraviolet rays, but about 80% of cases are associated with a virus called Merkel cell polyomavirus. There are currently no FDA-approved drugs to treat Merkel cell carcinoma. While some patients do respond to chemotherapy, after about three months, the disease typically progresses, leaving patients with few, if any, treatment options. Merkel cell carcinoma took the life of Al Copeland Sr. in 2008. There were no and are still no FDA-approved treatments for Merkel cell carcinoma. After their experience searching for an effective treatment, the Copeland family dedicated themselves to raising funds to help find a cure for this and other cancers, and the Al Copeland Foundation was born. The ACF chose LSU Health New Orleans as its partner in this quest and continues to raise funds for cancer research at LSU Health New Orleans.
"LSU Health New Orleans is one of a few sites able to offer this clinical trial, and patients with advanced Merkel cell carcinoma in our area will no longer have to travel long distances to participate," notes Dr. Larry Hollier, Chancellor of LSU Health New Orleans.
Pembrolizumab targets a protein on immune system cells called PD-1, for programmed cell death-1. PD-1 inhibits immune system activity. By blocking PD-1, pembrolizumab may stimulate the immune system to identify and destroy cancer cells. Early results of the first 26 patients with advanced Merkel cell carcinoma treated with pembrolizumab were published in April 2016. According to the National Cancer Institute, more than half of the patients in this small clinical study had a complete or partial response to treatment with pembrolizumab, and overall, the responses have been longer-lasting than those typically seen in patients with this very rare cancer who have received chemotherapy.
"This protocol shows how important immunotherapy may be as a new form of treatment in cancer and in particular tumors caused by viruses," says Dr. Augusto Ochoa, Director of LSU Health New Orleans Stanley S. Scott Cancer Center and co-Principal Investigator.
The clinical trial, sponsored by the National Cancer Institute seeks to enroll a total of 50 patients among the participating sites. Although there are a number of inclusions and exclusions, participants must be 18 years or older, have biopsy-proven or metastatic MCC, measurable disease and a life expectancy of greater than six months. Exclusions include having prior systemic therapy for MCC, radiation therapy within two weeks of beginning study treatment, having active autoimmune disease or other diseases such as congestive heart failure and cardiac arrhythmias, or is pregnant or breastfeeding.
"Pembrolizumab is already approved to treat melanoma and certain lung cancers," says co-Principal Investigator Dr. Adam Riker, Professor of Surgery and Director of Surgical Oncology at LSU Health New Orleans School of Medicine. "Although Merkel cell carcinoma is a rare disease, as we learn more about pembrolizumab's clinical activity, another goal of the clinical trial, we hope to learn if it could be beneficial as a treatment option for other cancers caused by viruses as well."
Other goals of the study include learning more about the duration of response, the incidence of adverse events, overall survival and progression-free survival.
The Al Copeland Foundation donated $100,000 to support this clinical trial, raised with the first annual Chicken Jam event.
"We are excited that the Copeland-LSU Health Sciences Center Partnership in Viruses, Cancer and Immunotherapy is now able to be the driving force to bring the first ever Merkel Cell Carcinoma immunotherapy trials program to the Louisiana and Mississippi areas," said Al Copeland Jr., Chairman of the Board and CEO of Al Copeland Investments. "The Al Copeland Foundation is proud to invest in immunotherapy right here at home, and we need the community's help to ensure patients who have Merkel Cell carcinoma in the Gulf State region can be recruited to receive this game changing, possibly lifesaving treatment."
All participants will be given the study medication, pembrolizumab, by infusion every three weeks for as long as they benefit, up to two years. The visits, which also include a CT scan, EKG or other laboratory procedures, will be approximately four hours long. There may be no benefit to participants, and there are a number of risks. Side effects have been reported in patients receiving this study medication, although most have been reversible. Two of the early participants in the study had to stop treatment after only a couple of infusions, but nearly a year afterwards both patients continued to have tumor responses.
To find out if you qualify or for more information about the Merkel cell carcinoma clinical trial at LSU Health New Orleans, call 504-407-7395.
---
April 4, 2016
Blue Ribbon Panel Announced to Help Guide Vice President Biden's National Cancer Moonshot Initiative
Today, the National Cancer Institute (NCI), part of the National Institutes of Health, announced a Blue Ribbon Panel of scientific experts, cancer leaders, and patient advocates that will inform the scientific direction and goals at NCI of Vice President Joe Biden's National Cancer Moonshot Initiative. The panel will serve as a working group of the presidentially appointed National Cancer Advisory Board (NCAB) and will provide scientific guidance from thought-leaders in the cancer community.
"This Blue Ribbon Panel will ensure that, as NIH allocates new resources through the Moonshot, decisions will be grounded in the best science," said the Vice President. "I look forward to working with this panel and many others involved with the Moonshot to make unprecedented improvements in prevention, diagnosis, and treatment of cancer."
Over the next several months, the panel will consider how to advance the themes that have been proposed for the initiative. The themes include the development of cancer vaccines, highly sensitive approaches to early detection, advances in immunotherapy and combination therapies, single-cell genomic profiling of cancer cells and cells in the tumor microenvironment, enhanced data sharing, and new approaches to the treatment of pediatric cancers.
In addition, the cancer community, including the American public, will be provided a forum to post comments and insights to help inform the panel's deliberations. Findings of the panel will be reported to the NCAB, which in turn will make its recommendations to NCI and contribute to the overall approach of the initiative.
"Thanks to advances in science, we are now in a historically unique position to make profound improvements in the way we treat, detect, and prevent cancer," said NIH Director Francis S. Collins, M.D., Ph.D. "The Vice President's deep personal commitment to this noble cause will make a tremendous difference in our ability to lift the terrible burden of cancer. His call to action, including the establishment of this panel, comes at just the right time for all the right reasons."
"The Vice President's enthusiasm about this effort is welcomed by the community of researchers, health professionals, and patients who share his passion and belief that great things are possible by accelerating cancer research with leadership and resources," said NCI Acting Director Douglas Lowy, M.D. "We are committed to breaking down silos and stimulating the groundbreaking work already underway. To be successful, we must hear a broad range of perspectives to take full advantage of the exceptional current opportunities in cancer research."
The Blue Ribbon Panel members represent a spectrum of scientific areas, including biology, immunology, genomics, diagnostics, bioinformatics, and cancer prevention and treatment.
Scientific members also include investigators with expertise in clinical trials and cancer health disparities. Importantly, the members of cancer advocacy groups and pharmaceutical and biotechnology companies will be represented on the panel and its working groups.
The members of the Blue Ribbon Panel are:
Tyler Jacks, Ph.D. (Co-Chair)
Chair, National Cancer Advisory Board, and Director, Koch Institute for Integrative Cancer Research, Massachusetts Institute of Technology, Cambridge
Elizabeth Jaffee, M.D. (Co-Chair)
Professor and Deputy Director for Translational Research, Sidney Kimmel Comprehensive Cancer Center, Johns Hopkins University School of Medicine, Baltimore
Dinah Singer, Ph.D. (Co-Chair)
Acting Deputy Director and Division of Cancer Biology Director, National Cancer Institute, Bethesda, Maryland
Peter Adamson, M.D.
Professor and Director, Experimental Therapeutics in Oncology, The Children's Hospital of Philadelphia
James Allison, Ph.D.
Professor and Chair of Immunology, University of Texas MD Anderson Cancer Center, Houston
David Arons, J.D.
Chief Executive Officer, National Brain Tumor Society, Newton, Massachusetts
Mary Beckerle, Ph.D.
CEO and Director, Huntsman Cancer Institute, Salt Lake City
Mitch Berger, M.D.
Professor and Chair, Department of Neurological Surgery, University of California, San Francisco
Jeff Bluestone, Ph.D.
Executive Vice Chancellor and Provost, University of California, San Francisco
Mikael Dolsten, M.D., Ph.D.
President, Pfizer Worldwide Research and Development, and Executive Vice President, Pfizer, Inc., New York City
James Downing, M.D.
President and CEO, St. Jude Children's Research Hospital, Memphis, Tennessee
Levi Garraway, M.D., Ph.D.
Associate Professor of Medicine, Harvard Medical School, and Assistant Professor of Medicine, Dana-Farber Cancer Institute, Boston
Gad Getz, Ph.D.
Director, Cancer Genome Computational Analysis Group, Broad Institute of MIT and Harvard, Cambridge, Massachusetts
Laurie Glimcher, M.D.
Professor of Medicine and Dean, Weill Cornell Medical College, and Incoming President and CEO, Dana-Farber Cancer Institute, Boston
Lifang Hou, M.D., Ph.D.
Associate Professor of Preventive Medicine, Robert H. Lurie Comprehensive Cancer Center, Northwestern University Feinberg School of Medicine, Chicago
Neal Kassell, M.D.
Professor of Neurosurgery, University of Virginia, Charlottesville
Maria Elena Martinez, Ph.D.
Professor of Family Medicine and Public Health, Reducing Cancer Disparities Program, UC San Diego Moores Cancer Center
Deborah Mayer, Ph.D., R.N.
Professor of Adult and Geriatric Health, University of North Carolina School of Nursing, and Director of Cancer Survivorship, UNC Lineberger Comprehensive Cancer Center, Chapel Hill
Edith Mitchell, M.D., F.A.C.P
Professor of Medical Oncology and Associate Director for Diversity Services, Sidney Kimmel Cancer Center at Thomas Jefferson University, Philadelphia
Augusto Ochoa, M.D.
Professor of Pediatrics and Director, Stanley S. Scott Cancer Center, Louisiana State University, New Orleans
Jennifer Pietenpol, Ph.D.
Professor of Oncology, Professor of Biochemistry, and Director, Vanderbilt-Ingram Cancer Center, Nashville
Angel Pizarro, M.S.E.
Technical Business Development Manager, Amazon Web Services Scientific Computing and Research Computing, Philadelphia
Barbara Rimer, Dr.P.H.
Alumni Distinguished Professor and Dean, University of North Carolina Gillings School of Global Public Health, Chapel Hill
Charles Sawyers, M.D.
Chair, Human Oncology and Pathogenesis Program, Memorial Sloan Kettering Cancer Center, and Investigator, Howard Hughes Medical Institute, New York City
Ellen Sigal, Ph.D.
Founder and Chair, Friends of Cancer Research, Washington, D.C.
Patrick Soon-Shiong, M.B.B.Ch.
Founder, Chair, and CEO, NantWorks LLC, Los Angeles
Chi Van Dang, M.D., Ph.D.
Professor of Medicine and Director, Abramson Cancer Center, University of Pennsylvania, Philadelphia
Wai-Kwan Alfred Yung, M.D.
Professor of Neuro-Oncology and Chair of Clinical Cancer Care, University of Texas MD Anderson Cancer Center, Houston
The NCAB will advise the NCI director based on its consideration of the Blue Ribbon Panel's recommendations, expected to be delivered later this summer. A final report by the White House  Cancer Moonshot Task Force, chaired by Vice President Biden, will be produced and delivered to President Barack Obama by Dec. 31, 2016.
To meet its milestones, the panel will begin its work immediately, convening its first meeting in the coming weeks. The panel will also consider public comments over the next several months prior to making its recommendations.
Members of the research community and the public can engage in the initiative initially by subscribing to updates on the initiative's main website (www.cancer.gov/moonshot-cancer-  initiative) or by emailing the panel at cancerresearch@nih.gov. In addition, an online forum for submitting scientific ideas and comments to the panel will be available on the site in the coming weeks.
###
The National Cancer Institute leads the National Cancer Program and the NIH's efforts to dramatically reduce the prevalence of cancer and improve the lives of cancer patients and their families, through research into prevention and cancer biology, the development of new interventions, and the training and mentoring of new researchers. For more information about cancer, please visit the NCI website at http://www.cancer.gov or call NCI's Cancer Information Service at 1-800-4-CANCER.
About the National Institutes of Health (NIH): NIH, the nation's medical research agency, includes 27 Institutes and Centers and is a component of the U.S. Department of Health and Human Services. NIH is the primary federal agency conducting and supporting basic, clinical, and translational medical research, and is investigating the causes, treatments, and cures for both common and rare diseases. For more information about NIH and its programs, visit www.nih.gov.
Source:  (http://www.nih.gov/news-events/news-releases/blue-ribbon-panel-announced-help-guide-vice-president-bidens-national-cancer-moonshot-initiative)
---
November 12, 2015
OncLive Teams Up With LSU's Stanley S. Scott Cancer Center to Publicize Center's Innovative Cancer Research and Community-Based Programs
OncLive® welcomed the Stanley S. Scott Cancer Center into its Strategic Alliance Partnership program today as the two organizations announced they would band together to share news about the Center's advances in the fight against cancer. The Center is part of the new Louisiana State University's Health Sciences Center recently built in downtown New Orleans.

With the new partnership, OncLive's editorial and marketing groups will bring visibility to the LSU Stanley S. Scott Cancer Center as it works to lessen the burden that cancer imposes on its community, via research, clinical trials and studies of minority health and health disparities.

The Center's initiatives include a minority-based clinical oncology program that helps members of the community participate in National Cancer Institute clinical trials. One of 13 such programs funded by the NCI, this initiative serves southern Louisiana and Mississippi. The Cancer Center has also united efforts with the first National Institutes of Health-funded Health Disparities Research Center in Louisiana, with the goal of helping underserved populations in New Orleans.

"We can't wait to inform others about the important community-focused work being done by the LSU Stanley S. Scott Cancer Center," said Mike Hennessy Jr., president of Intellisphere Oncology and Healthcare Specialty Group. "It's essential, in waging the fight against cancer, to focus on what's going on at the community level, and that's exactly what the Center does." Intellisphere, LLC, a leading provider of healthcare publishing, research and education, is a part of the Plainsboro, N.J.-based Michael J. Hennessy Associates, Inc., family of businesses, of which OncLive is a part.

In partnership with Apogee Biotechnology Corporation, LSU Stanley S. Scott Cancer Center was recently awarded a $1.5 million contract by the National Cancer Institute to conduct clinical trials on the most common subtype of non-Hodgkin's lymphoma.

"Our focus is on the people from the communities we serve," said Augusto Ochoa, M.D., director of the Center. "Our new partnership with OncLive will make it easier for us to let those people know we are here for them."

The LSU Stanley S. Scott Cancer Center joins more than 50 other leading cancer centers, nursing schools and physician groups around the country in partnering with OncLive.

"The Strategic Alliance Partnership program serves everyone committed to fighting cancer. When we work together and share our knowledge broadly, we are better armed to improve our efforts to overcome this devastating disease," Hennessy said.

About OncLive
OncLive.com is the official website for Intellisphere's Oncology Specialty Group, which publishes Oncology & Biotech News, OncologyLive, Oncology Nursing News, Contemporary Oncology and Contemporary Radiation Oncology. OncLive offers oncology professionals resources and information they need to provide the best care for their patients. Intellisphere, LLC, a leading provider of healthcare publishing, research and education, is part of the Michael J. Hennessy Associates, Inc., family of businesses, based in Plainsboro, N.J. 

MJH is also the parent company of CURE Media Group, which includes CURE® magazine, the largest consumer publication in the U.S. focused entirely on cancer, and curetoday.com, the magazine's online resource. CURE reaches patients, cancer centers and advocacy groups, and combines science and humanity to make cancer understandable. For more information, visit http://www.onclive.com/, http://www.curetoday.com or http://www.mjhassoc.com/.

About the LSU Stanley S. Scott Cancer Center
The LSU Stanley S. Scott Cancer Center includes more than 100 researchers and physicians focused on helping members of their community reduce their chances of getting cancer, detecting cancer early and conducting new research into the disease. Its innovative programs include a mentoring initiative for junior investigators researching the immunobiology of cancer and other chronic diseases. In addition to conducting research, its health disparities research center also helps minority faculty become successful investigators, and trains minority nursing students in clinical research.
(Source:  http://www.onclive.com/sap-partner/cancer-centers/LSUStanleyScott/onclive-teams-up-with-lsus-stanley-s-scott-cancer-center-to-publicize-centers-innovative-cancer-research-and-community-based-programs)
---
September 17, 2014
The Stanley S. Scott Cancer Center at Louisiana State University Health Sciences Center in New Orleans, LA (LSUHSC-NO), in partnership with Apogee Biotechnology Corporation, has been awarded a $1.5M Small Business Technology Transfer (STTR) Phase I/IIa clinical trial contract from the National Cancer Institute (NCI), one of the 27 institutes and centers that comprise the National Institutes of Health (NIH).  Over the course of the three year award, LSUHSC-NO aims to improve the outcomes of patients with virus-associated diffuse large B-cell lymphomas (DLBCLs), the most common sub-type of Non-Hodgkin's lymphoma.
DLBCL, which accounts for 30 percent of newly diagnosed cases of lymphoma in the United States, is a cancer of B cells, a type of white blood cell called lymphocytes that are responsible for producing antibodies. It is an exceptionally aggressive tumor that can arise in essentially any part of the body.
The causes of DLBCL are not well understood.  While it occurs primarily in older individuals, an underlying immunodeficiency, such as those that are infected with the human immunodeficiency virus (HIV+), is a significant risk factor. In particular, infection with Epstein-Barr virus or Kaposi's sarcoma human herpesvirus  in patients that are over 50 or those infected with HIV+ has commonly been associated with the majority of these tumors.  Despite modest improvements in outcomes for patients receiving standard therapy, patients with virus-associated DLBCLs exhibit more widespread disease and less favorable outcomes.  
Apogee Biotechnology Corporation has developed the clinical compound ABC294640, an orally-available selective inhibitor that may stop the growth of tumor cells by blocking some of the enzymes needed for cell growth. Under this award, investigators will seek to test the effectiveness of ABC294640 as a new drug for DLBCL. Objectives will include determination of the maximum tolerated dose (MTD), dose-limiting toxicities, and pharmacokinetics for ABC294640 in these patients.
Christopher Parsons, M.D., an Associate Professor in the LSUHSC-NO Departments of Medicine and Microbiology, Immunology, & Parasitology and the Director of the HIV Malignancies Program at the Louisiana Cancer Research Center (LCRC) in New Orleans, is the principal investigator on the research project, titled "An Early-phase Clinical Trial for ABC294640 in HIV+ Patients with NHL."
Joining Dr. Parsons as co-investigators is Thomas Reske, MD, PhD, an Assistant Professor and medical oncologist specializing in the care of HIV patients with cancer. Dr. Reske also serves as the PI for the LSUHSC AIDS Malignancies Consortium site.   Additional research support will be provided by Luis Del Valle, M.D., Director of the LCRC Pathology Core Facility, and Erik Flemington, PhD., Director of the LCRC Molecular Viral Sequencing Facility.
The research will be completed in the state-of-the-art Louisiana Cancer Research Consortium laboratories located on the downtown LSU medical school campus.  This grant will begin on September 17, 2014 and will last for 3 years.
---
August 2014
One of MY TOUGHEST Cases: HIV Patient Faces a Cancer Scare
By Kimberley Singletary
In 2011, Baton Rouge led the nation in the number of new HIV cases per 100,000 people. New Orleans came in close behind at number five.
 
"Data like that is really scary," says Dr. Michael Hagensee, "but it means that this area is also a place where we have the ability to make a real difference."
Board certified in both internal medicine and infectious disease, Hagensee serves as primary care physician for hundreds of HIV positive patients in New Orleans.
And as if one career isn't enough, Hagensee juggles his clinical duties with research time running a lab that studies the interaction of EBV (Epstein-Barr Virus) and HPV (Human Papillomavirus) in the development of cervical dysplasia (precancerous changes in the cervix) in HIV.
"When I began working with HIV positive and AIDS patients in the early (19)90s in Seattle, my patients all died," he says. "Now, with proper care, people with HIV can live just as long as anyone else. What we've seen, however, is that they tend to develop some kinds of cancers at much higher rates."
For instance, Hagensee says that HIV positive people are 20 to 50 times more likely to develop anal cancer.
"It becomes really important, therefore, to get these patients in for screenings," he says.
Which is why, in the last few years Hagensee has been working with LSU Health Sciences Center to develop an anal cancer screening clinic in New Orleans.
He is also part of a group called Cervical Cancer-Free Louisiana, where he works to improving uptake rates of the HPV vaccine. Virtually all cervical cancers are caused by high-risk strains of HPV.
Hagensee says that one of his most memorable cases to date was an HIV patient that, after undergoing a real cancer scare, had the opportunity to turn around and help Hagensee during a pivotal moment in his life.
"He had been my patient for about four or five years and had suddenly started losing a lot of weight," he says. "Eventually he was admitted with swollen lymph nodes. I was thinking cancer, but luckily it turned out to be a fungal infection."
Two years later, Hagensee ran into the same man, but in a much happier setting.
"I was out looking for flowers for my wedding with my fiancée and we walked into this shop and I could hear a voice that I recognized," he says. "It was him – that same patient."
Hagensee says he soon realized that it was now his turn to hand over control to the expert.
"My fiancée and I know nothing about flowers so we were so grateful to him," he says. "He took over the whole thing and it was just beautiful."
Source:  (http://www.myneworleans.com/New-Orleans-Magazine/August-2014/Michael-Hagensee-MD-PhD/)
---
August 7, 2014
LSUHSC NOLA Awarded $5.6 Million NCI Grant To Save Lives And Boost Economy
New Orleans, LA – LSU Health Sciences Center New Orleans has been awarded a grant in the amount of $5,604,440 over five years to build a regional cancer clinical trials network. While open to all cancer patients, the focus of the Gulf South Minority/Underserved NCI Community Oncology Research Program (NCORP)  is minority and underserved patients who die at higher rates from cancer than others. This comprehensive cancer management program creates a network of physicians, nurses and researchers from major teaching and private medical institutions in Louisiana and Mississippi to deliver the latest promising investigational treatments for cancer. 
"The LSUHSC-NO Gulf South Minority/Underserved National Cancer Institute Community Oncology Research Program will allow minority and underserved cancer patients in Louisiana and the Gulf South access to state-of-the-art clinical trials, vastly improving their chances of recovery," said F. King Alexander, LSU president and chancellor.
LSU Health Sciences Center New Orleans partnered with LSU Health Shreveport and Mary Bird Perkins Cancer Center to successfully compete for the grant, one of only 12 of its kind funded by the National Cancer Institute in the country. The Gulf South NCORP currently includes 25 clinical sites across Louisiana and Mississippi covering 80% of the population of Louisiana and portions of the Mississippi Gulf Coast. More clinical sites will be added as the program develops to provide access to advanced cancer care to all of our citizens.
"The program allows oncologists in many community hospitals to provide treatment to patients closer to home, helping reduce expenses and keeping patients and families closer together," notes Dr. Larry Hollier, Chancellor of LSU Health Sciences Center New Orleans.
In addition to the potentially life-saving health benefits, this initiative will boost economic health.
"Expanded clinical trials will create jobs for physicians, nurses, health care personnel and researchers in Louisiana," adds Dr. Steve Nelson, Dean of the LSU Health Sciences Center New Orleans School of Medicine. "The initiative will enhance the biomedical and clinical workforce in our state and region by increasing the number of professionals experienced in conducting health disparities research, developing cancer care delivery capabilities and implementing advanced clinical trials.
Pharmaceutical companies will have more opportunities to participate in the new biomedical and clinical research programs, and the new health care facilities developing in Louisiana. It has been estimated that this kind of activity could bring in many millions of additional dollars over the grant period as well.
"The GS-MU-NCORP is the result of a concerted effort by clinical and research leaders from the Cancer Centers at LSU-New Orleans and Shreveport and the Mary Bird Perkins Cancer Center, to create a network of centers that can provide access to cutting edge treatments for cancer patients in the Gulf South region," notes the grant's Principal Investigator Dr. Augusto Ochoa, Director of the LSUHSC New Orleans Stanley S. Scott Cancer Center. "It provides access to high quality research studies to patients closer to home where family, friends and their support system is available. The GS-MU-NCORP is also a major step in addressing the health disparities caused by cancer  among our citizens, especially minorities, and establishes new opportunities for cancer care in the region."
This new NCORP funding replaces and expands the LSUHSC New Orleans Minority-Based Community Clinical Oncology Program, an award winning program addressing health disparities in cancer for 20 years. The NCORP program significantly expands those efforts and provides additional benefits.
It expands programs in cancer prevention, screening and survivorship programs to improve early diagnosis and treatment as well as to help patients cope with the extended process of recovering from cancer. Advancing ongoing research, the initiative is also a major step in addressing the health disparities in the region.
According to LSUHSC New Orleans' Louisiana Tumor Registry, the incidence rates for cancers of all sites combined among white and black men as well as black women in Louisiana were significantly higher than those for their national counterparts. In contrast, the rate for white women in the state was significantly lower than nationwide. Statewide, each of the four major race/sex groups had a significantly higher death rate for all sites combined than its national counterpart.                     
"We are excited to be one of the initial sites participating in this research effort. This is the first time we have a public-private partnership such as this that will bring cutting edge cancer research treatments to the entire state," said Glenn Mills, MD FACP, Director of the Feist-Weiller Cancer Center on the campus of LSU Health Shreveport.
"Our goal through this collaboration is to leverage our leadership and experience to help fight cancer in local Louisiana communities," said Renea Duffin, vice president of cancer support and outreach for Mary Bird Perkins Cancer Center, and Co-Principal Investigator for the grant.  "Along with our strong LSU academic partners and the substantial resources of NCI, we look forward to helping patients get the leading-edge care they need today and developing the treatments and cures for tomorrow."
For more information about the Gulf South Minority/Underserved NCI Community Oncology Research Program at LSU Health Sciences Center New Orleans, call 866-559-2476.
---
June 16, 2014
New Study Aims to Rapidly Test Lung Cancer Drugs
By MARILYNN MARCHIONE
AP Chief Medical Writer
A bold new way to test cancer drugs started Monday in hundreds of hospitals around the U.S. In a medical version of speed dating, doctors will sort through multiple experimental drugs and match patients to the one most likely to succeed based on each person's unique tumor gene profile.
It's a first-of-a-kind experiment that brings together five drug companies, the government, private foundations and advocacy groups. The idea came from the federal Food and Drug Administration, which has agreed to consider approving new medicines based on results from the study.
Its goal is to speed new treatments to market and give seriously ill patients more chances to find something that will help. Instead of being tested for individual genes and trying to qualify for separate clinical trials testing single drugs, patients can enroll in this umbrella study, get full gene testing and have access to many options at once.
The study, called Lung-MAP, is for advanced cases of a common, hard-to-treat form of lung cancer - squamous cell. Plans for similar studies for breast and colon cancer are in the works.
"For patients, it gives them their best chance for treatment of a deadly disease," because everyone gets some type of therapy, said Ellen Sigal, chairwoman and founder of Friends of Cancer Research, a Washington-based research and advocacy group that helped plan and launch the study. "There's something for everyone, and we'll get answers faster" on whether experimental drugs work, she said.
Cancer medicines increasingly target specific gene mutations that are carried by smaller groups of patients. But researchers sometimes have to screen hundreds of patients to find a few with the right mutation, making drug development inefficient, expensive and slow.
One of the leaders of the Lung-MAP study - Dr. Roy Herbst, chief of medical oncology at the Yale Cancer Center - said he once screened 100 patients to find five that might be eligible for a study, and ultimately was able to enroll two.
"It's just going to be impossible, in rare subgroups, for companies to find enough" people to try out a new medicine, said Dr. Richard Pazdur, cancer drugs chief at the FDA. He and others at the FDA suggested the Lung-MAP trial design to speed new treatments to market and "minimize the number of patients exposed to ineffective therapies," he said.
Everyone in the study will be screened for mutations in more than 200 cancer-related genes, rather than a single mutation as in conventional studies.
Then they will be assigned to one of five groups based on what these tumor biomarkers show. Each group will test a particular experimental medicine. Drugs can be added or subtracted from the study as it goes on, based on how each performs.
The initial round of testing involves Amgen, Genentech, Pfizer, AstraZeneca PLC, and AstraZeneca's global biologics partner, MedImmune. Up to 1,000 patients a year can be enrolled in the study.
It will cost about $150 million. The National Cancer Institute is paying $25 million, and the rest will come from foundations, charities and others in the public-private partnership.
About 500 hospitals that are part of a large cancer treatment consortium around the country will take part, and some private groups want to join as well, Herbst said.
"Nothing like this has ever been done before," where such comprehensive testing will be done to match patients to experimental drugs, he said.
Breyan Harris, a 33-year-old nurse from Sacramento, hopes to enroll. She's a lifelong non-smoker who was diagnosed with lung cancer on June 3.
"Since then I've pretty much been on the phone, seeing doctors, trying to figure out how do I get rid of this," she said. Harris expects to have one lung with a large tumor removed, "but if it comes back in my other lung I'm in real trouble," so finding a drug to attack any remaining, hidden cancer is crucial, she said.
(Source:  http://bigstory.ap.org/article/new-study-aims-rapidly-test-lung-cancer-drugs)
---
January 17, 2014
CytRx's Aldoxorubicin Shrinks Tumors and Prolongs Survival in Model of Human Brain Cancer
LCRC Researchers Om Prakash, PhD, Assistant Professor of Microbiology, Immunology, and Parasitology LSUHSC, Brian Boulmay, MD, Assistant Professor, Department of Medicine, Hematology and Oncology LSUHSC and Chris Parsons, MD, Associate Professor of Medicine, Infectious Diseases have partnered with CytRx Corporation, a biopharmaceutical research and development company specializing in oncology. CytRx announced that aldoxorubicin, a more potent version of the widely used chemotherapeutic agent doxorubicin, demonstrated improved treatment of rapidly growing human brain (glioblastoma) cancer in the brains of animals. Glioblastom multiforme (GBM) is the most common and most malignant brain tumor in adults and afflicts more than 12,000 new patients in the U.S. annually. Despite surgical resection, radiotherapy and chemotherapy, the median survival after diagnosis is about 12-14 months. Although the reason for treatment failure may depend upon several factors, limited efficacy of chemotherapeutic agents has been attributed to several contributing factors including insufficient drug delivery to the tumor site through the blood-brain barrier. Complete results from this favorable confirmatory trial, which was conducted in collaboration with Om Prakash, PhD, Louisiana State University (LSU) School of Medicine, were presented at the European Society for Medical Oncology in Amsterdam. Dr. Prakash's initial study entitled "Preclinical evaluation of aldoxorubicin for the treatment of temozolomide-resistant Glioblastoma" demonstrated the significance of this research by showing that aldoxorubicin uses a special chemical linker which allows the drug to penetrate tumor and blood vessel walls more effectively. Dr. Prakash's work reveals that aldoxorubicin successfully crosses the blood-brain barrier and remains a highly potent anti-tumor agent in model systems.  LCRC clinical researches from LSUHSC are now participating in the development of this potential new drug for the treatment of GBM. It is anticipated that aldoxorubicin will have both a greater effect for treating GBM, as well as reduced toxicity for patients. The initial study has led to the initiation of two Phase 2 trials that will access these findings. 
The first clinical study conducted by LCRC Clinical Researcher Brian Boulmay, MD Assistant Professor Department of Medicine, Hematology and Oncology LSUHSC  entitled "An Open-Label Pilot Phase 2 Study to Investigate the Preliminary Efficacy and Safety of Aldoxorubicin in Subjects with Unresectable Glioblastoma Multiforme (GBM) Whose Tumors Have Progressed Following Prior Treatment with Surgery, Radiation and Temozolomide."  The significance of this study is to evaluate a novel therapeutic agent for the treatment of glioblastoma multiforme (GBM) that is refractory to current standard therapy. After GBM has progressed following surgery, radiation and temozolomide, there are no clear options for additional therapy. The goal of this trial is to assess the efficacy of aldoxorubicin in patients with relapsed or drug-resistant GBM. This trial is the only clinical study available in the New Orleans area for treating patients with progressive GBM after standard therapies are unsuccessful.
The second clinical study conducted by LCRC Clinical Researcher Chris Parsons, MD, Associate Professor of Medicine, Infectious Diseases, entitled "An Open-Label Pilot Phase 2 Study to Investigate Efficacy, Safety and Intratumoral Kinetics of Aldoxorubicin in HIV-Infected Patients with Kaposi's Sarcoma".  The significance of this study is to assess the safety and effectiveness for aldoxorubicin as a first-line agent for the treatment of Kaposi's sarcoma (KS). Especially for patients with severe organ involvement at the time of diagnosis and heavily compromised immune systems, standard therapy is effective in only 30% of patients. The average survival remains only about one year, and metropolitan areas in Louisiana (particularly New Orleans and Baton Rouge) have some of the highest rates of severe KS in the country. Aldoxorubicin is the first potential advance in first-line therapy for KS since the 1980s, and it can potentially be given at low doses, thereby improving safety for KS treatment.
---
August 1, 2010
NIH Awards LSUHSC $11 Million for Center of Biomedical Research Excellence (COBRE) Focusing on Inflammation in Cancer and Infectious Diseases
On August 1, 2010, the National Institutes of Health (NIH) awarded the LSU Health Sciences Center – New Orleans with a five-year, $11 million grant for the continuation of a Center of Biomedical Research Excellence (COBRE) entitled "Mentoring Translational Researchers in Louisiana." Currently in its sixth year of operation, this COBRE is led by Augusto C. Ochoa, M.D., Professor of Pediatrics, Director of the Stanley S. Scott Cancer Center, and Co-Director of the LCRC. With this new funding, the Center will further develop research infrastructure at LSU and will promote the career development of eight promising junior investigators by pairing them with established mentors, who will provide career as well as scientific guidance.
At NIH, the national COBRE program is designed to increase competitiveness of researchers in underfunded geographical areas by the establishment of multidisciplinary research centers that are each focused on a scientific theme. Louisiana institutions have received nine COBRE grants, more than those of any other state. Six of these Centers are housed at Louisiana State University institutions, including LSU-Baton Rouge (1), LSU-Shreveport (1), and LSUHSC-New Orleans (4); and two are located at Tulane University, including "Menoring a Cancer Genetics Program," which is directed by Prescott Deininger, Ph.D., Director of the Tulane Cancer Center and Co-Director of the LCRC.
Dr. Ochoa established the "Mentoring Translational Researchers in Louisiana" COBRE in 2005, just days before Hurricane Katrina made landfall in New Orleans. Despite the destruction stemming from Katrina's floodwaters and the chaos that ensued, this Center succeeded in producing nationally recognized research and in creating a foundation for retaining local clinical and basic scientists and recruiting additional talent to the greater New Orleans area.
During the first five-year cycle of this COBRE, participating researchers successfully competed for over $54 million dollars in extramural funding, which was brought into the New Orleans area to fund biomedical research. This program established 66 employment opportunities, including support for over 25 faculty and 30 laboratory support positions. These opportunities created substantial economic impact on the greater New Orleans area, as the research industry has been considered one of the most powerful drivers of the economic prosperity of communities. According to the Bureau of Labor Statistics, 17 of the 30 fastest growing occupations in the US are related to medical research or health care. According to BIO, in Louisiana a single life sciences job equals 5.19 jobs produced indirectly within the local economy.
Support from this grant is allowing LSUHSC to lead the scientific infrastructure recovery by establishing, completely or in part, several research cores at LSUHSC, which are available to researchers from other local universities as well. These facilities are the Immunology and Cell Analysis Core; the Genomics and Illumina Core, which provides high throughput sequencing and SNP analysis; the Biostatistics / Bioinformatics Core, being developed collaboration with the Louisiana Biomedical Research Network; the Faculty Development Core, which structures and organizes the mentoring activities for junior faculty; and the Grants and Development Core, which facilitates the strategic planning and preparation of grant applications and the management of awards.
The scientific focus of this COBRE is chronic inflammation and disease. Chronic inflammation is central to the development of multiple diseases, including cancer, chronic viral and bacterial infections, and cardiovascular (coronary) disease. The research stemming from this Center will be essential for developing novel concepts of prevention and treatment, which has a particular relevance in southern Louisiana. According to the CDC, this state ranks first in the U.S. in incidence of cardiovascular diseases, second in cancer, third in cerebrovascular diseases, fourth in chronic obstructive pulmonary disease, and tenth in diabetes—diseases which account for 70% of all deaths and more than 75% of the nation's $2 trillion annual medical care costs in the U.S.
The five-year grant renewal will continue funding this successful COBRE through June of 2015. The original award, renewal, and supplements represent a total $14.5 million in direct federal funding.