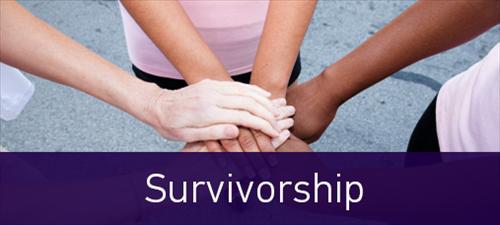 Cancer may affect patients' lives in many ways. At the Stanley S. Scott Cancer Center, the impact cancer has on you and your family is important to us. We work closely with patients and families from the time of diagnosis through the completion of treatment and afterwards. Our team of cancer care experts will ensure your comfort and continue to grow in the community, and provide our area with the resources it takes to live as a survivor.
What is Survivorship?
---
A survivor is anyone who has been diagnosed with cancer. Survivorship begins from the moment of diagnosis and continues throughout the patient's life. Cancer survivorship has three phases: living through, with and beyond cancer. At the Stanley S. Scott Cancer Center we pride ourselves on being available to our patients at all stages, and in all areas of life.
Our Goal
---
At the LSU HSC Cancer Center, our team of experts make a commitment to making a wealth of resources available to our patients. Our unique team approach prioritizes our patients as they undergo treatment and beyond. What sets LSU HSC Cancer Center apart is our:
·        Nationally recognized staff
·        Access to groundbreaking innovations
·        A commitment to community
·        A team approach to proving knowledge and comfort care
Contact
---
Other Links:
---