Lefer Lab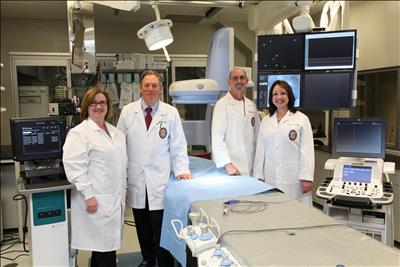 Research Breakthroughs and Interests
Dr. Lefer has been working in the fields of myocardial protection and coronary physiology for over 20 years and have made important contributions to these fields.  Dr. Lefer's laboratory was among the first to demonstrate the profound loss of endothelial cell derived nitric oxide (NO) from the coronary circulation following coronary artery occlusion and reperfusion.  A series of subsequent studies in both small and large animal models clearly demonstrated that oxidative stress occurring within the first few minutes of reperfusion significantly impaired NO generation by coronary endothelial nitric oxide synthase (eNOS).  
Dr. Lefer's laboratory was the first to report on the potent cardioprotective actions of NO in the setting of acute myocardial infarction and congestive heart failure in both small and large animal models.  Dr. Lefer has investigated nitrite-based therapies in a number of models of chronic tissue ischemia and ischemia-reperfusion injury. Nitrite has emerged as a safe and efficacious therapy to augment endogenous nitric oxide levels and attenuate the severity of various forms of cardiovascular disease.  Several nitrite therapies are currently in clinical trials in the United States and Europe. 
In 2005, Dr. Lefer's laboratory initiated investigations of the potential cytoprotective actions of a second gaseous signaling molecule, hydrogen sulfide (H2S).  Work performed in Dr. Lefer's laboratory was among the first to demonstrate the potent protective actions of H2S in acute myocardial infarction and heart failure model systems.  Dr. Lefer's research investigations have determined that H2S possesses a physiological profile that is very similar to nitric oxide and protects cells via a number of overlapping mechanisms including: attenuation of oxidative stress and apoptosis, mitochondrial protection, and upregulation of pro-survival signaling proteins and pathways. 
Cardiovascular Center Goals of Mentorship
The goal of the Cardiovascular Center is to improve the understanding and management of cardiovascular diseases through an integrated multidisciplinary approach. To this end, cooperative agreements exist between several departments in order to facilitate and encourage the exchange of ideas and resources and to stimulate new areas of research that will benefit our understanding of heart disease and lead to better methods prevention and treatment.
The Cardiovascular Center operates in an interpersonal manner that allows efficient and productive mentorship. This allows students, fellows and postdocs alike to expand their knowledge through first-hand experiences and guided tutelage in the laboratory setting. If you are an LSU Health New Orleans student and are interested in partcipating in the mentorship program with cardiovascular, heart and/or heart disease focus, reach out to learn more about opportunities to join our team.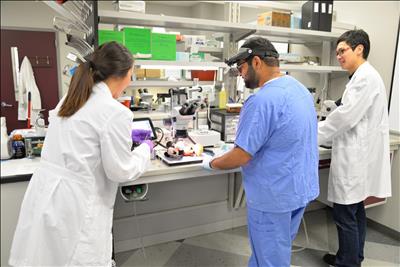 Former Students Chelsea Organ and Rishi Trivedi work alongside current student, Zhen Li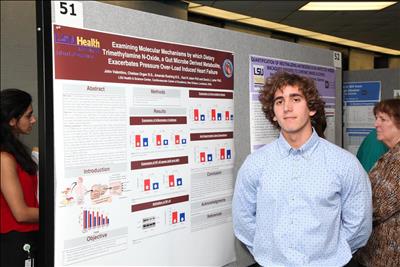 Former Student, John Valentino