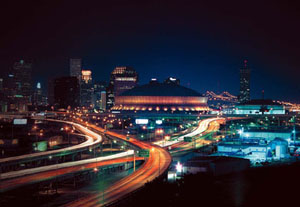 The LSUHSC Epilepsy Center is dedicated to providing state-of-the-art, comprehensive epilepsy treatment, enhancing access to epilepsy education for patients and physicians, and promoting multidisciplinary epilepsy research in pharmacology, neuroelectrophysiology, neuroimaging, neurosurgery, neuropsychology. biomedical engineering and public health.
The Epilepsy Center was the first tertiary care center for epilepsy in Louisiana and the Gulf Coast when it was established in 1990 and continues to serve the approximately 54,000 to 90,000 medically intractable and hard to treat individuals with epilepsy in this region. The Epilepsy Center has been a member of the National Association of Epilepsy Centers since its inception and has continuously maintained a Level IV certification, the highest level possible. Our team of professionals offers diagnostic and presurgical monitoring, the strategic use of antiepileptic medications, specialized epilepsy neuroimaging, vagus nerve stimulator implantation, implanted responsive neurostimulator system (RNS) treatment, ketogenic diet management, neuropsychological testing, psychiatric support and epilepsy surgery for adults and children. The Center also hosts clinical research trials for investigational medications and devices.
All individuals who continue to have seizures despite treatment by their doctor or those who continue to experience significant side effects from their epilepsy treatments should be evaluated by the Center's clinical epilepsy team to determine if more advanced approaches to treatment may be beneficial. Information about Center staff, diagnostic and treatment options, available research opportunities and appointment scheduling can be found on our website at www.epilepsycenter.info. Questions about Center services and opportunities can be e-mailed to epicenter@lsuhsc.edu.
Participating Universities & Departments
LSU Health Sciences Center, New Orleans

Neurology (Adult and Pediatric)
Neurosurgery
Pathology
Psychiatry
Radiology

Epilepsy Center Sections

Electrophysiology
Neuroimaging
Neuropsychology
Neuroscience
Neurosurgery
Psychiatry
Research

Tulane University

Mathematics

University of New Orleans

Psychology
Participating Hospitals & Clinics
Children's Hospital New Orleans
University Medical Center New Orleans
LSU Pediatric Clinics, Ambulatory Care Center
LSU Health, Multispecialty Clinic
University Medical Center New Orleans, Neurology, Neurosurgery and Epilepsy Clinics