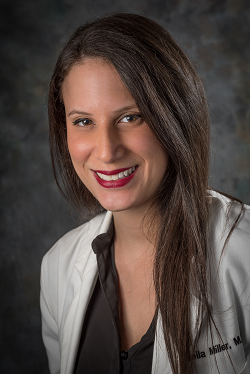 Assistant Professor of Clincal Neurology and Neurophysiology
Associate Program Director, Epilepsy Fellowship
Children's Hospital
200 Henry Clay Avenue
New Orleans, LA 70118 
Phone: (504) 896-9859 
Fax: (504) 895-9547

dmill4@lsuhsc.edu
BA Biology - 2007
Johns Hopkins University

Masters in Public Health - 2011
Tulane University School of Public Health and Tropical Medicine

MD - 2011
Tulane University School of Medicine
Daniella Miller, MD, MPH is board-certified in Child Neurology and Epilepsy. She currently serves as assistant professor of Clinical Neurology and Neurophysiology at LSU Health Sciences Center New Orleans and Children's Hospital of New Orleans.  Dr. Miller was born and raised in Long Island, New York.  She completed her undergraduate training at Johns Hopkins University in Baltimore, Maryland.  Dr. Miller received her medical degree as well as a masters in public health from Tulane University School of Medicine. She performed her pediatric residency training at Children's National Medical Center in Washington, D.C., followed by a residency in Child Neurology and Fellowship in Clinical Neurophysiology at LSU Health Sciences Center New Orleans.
Mader, E, Miller, D, Olejniczak P.  Introduction to Clinical Neurophysiology.  In: Tatum W, ed. Atlas of Artifacts in Clinical Neurophysiology. (Publication pending.)
Tilton, A, Miller, D.  Evaluation, Treatment Planning and Nonsurgical Treatment of Cerebral Palsy.  In: Brashear A, ed. Spasticity Diagnosis and Management.  2015. 
Miller, D, Gupta, ND, Palacios, E and Neitzschman, H. An Unusual Cause of Hemorrhage With Rapid Deterioration. Journal of the Louisiana State Medical Society. 2011 Sep-Oct;163(5):286-9.
Miller, D, Martin, J, Menard, GE. Treatment considerations for recurrent MRSA bacteremia leading to cholecystitis. Journal of General Internal Medicine. 2011 Jun;26(6):669-72.

Kier, C, Barone, D, Mirza, M, Belisova-Gyure, Z, Hossain, S, Maqsood, H, Messina, C, Miller, D, Ludwig-Cull, B.  Correlation of Child-Parent Responses to a Kids Sleepiness Scale.  CHEST.2011 Oct;140(4).