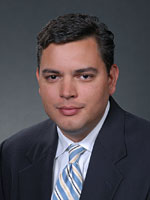 Erich Conrad, M.D., F.A.C.L.P.
Professor of Clinical Psychiatry

Vice Chairman for Hospital Psychiatry

Program Director, LSU-Ochsner Consultation-Liaison Psychiatry Fellowship
478 S. Johnson Street
7th Floor
New Orleans, LA 70112
Phone: (504) 412-1580
Fax: (504) 412-1530
MD - 1999
Louisiana State University School of Medicine
Erich Conrad M.D. is a Professor of Psychiatry at the Louisiana State University Health Sciences Center and is the Vice Chairman for Hospital Psychiatry. He is the Program Director for the LSU-Ochsner Consultation-Liaison Fellowship.  He also serves as the Service Line Director for Behavioral Health at the University Medical Center, New Orleans and is the Director of the Spirit of Charity Trauma Center Psychiatry Research Unit.

Dr. Conrad completed training at the LSU/Ochsner Psychiatry Residency Training Program in 2003, where he served as chief resident. He is board certified in Psychiatry and Consultation-Liaison Psychiatry. Dr. Conrad's current research interests include psychiatric sequelea of traumatic physical injury.
Conrad EJ, Lavigne KM. Psychiatry Consultation during Disaster Preparedness:
Hurricane Gustav. Southern Medical Journal 2013; 106(1):99-101
Torous J, Chan SR, Tan SY, Behrens J, Mathew I, Conrad EJ, Hinton L, Yellowlees P, Keshavan M. Patient Smartphone Ownership and Interest in Mobile Apps to Monitor Symptoms of Mental Health Conditions: A Survey in Four Geographically Distinct Psychiatric Clinics. JMIR Mental Health 2014;1(1)
Nanney JT, Conrad EJ, McCloskey M, Constans J. Criminal Behavior and Repeat Violent Trauma: A Case-Control Study. American Journal of Preventive Medicine 2015; 49(3):395–401
Galarneau DW, Conrad EJ. Benzodiazepine Intoxication and Withdrawal: Assessment and Management. Hospital Medicine Clinics 2015; 4:513-525  
Yu M, Tadin D, Conrad EJ, Lopez FA. A 48-Year-Old Man With Fever and Abdominal Pain of One Day Duration. Journal of the Louisiana State Medical Society 2015; 167:237-240
Roi C, Conrad EJ. Combined Oral Contraceptive Pill Initiation in a Patient With Major Depressive Disorder, Premenstrual Dysphoric Disorder, Social Anxiety, Panic Disorder, and Histrionic Personality Disorder. The Ochsner Journal 2017; Summer;17(2):181-183.
Gipson S, Torous J, Boland R, Conrad E. Mobile Phone Use in Psychiatry Residents in the United States: Multisite Cross-Sectional Survey Study. JMIR Mhealth Uhealth 2017;5(11):e160
Nanney JT, Conrad EJ, Reuther ET, Wamser-Nanney R, McCloskey M, Constans J. Motivational Interviewing for Victims of Urban Armed Community Violence: A Non-Experimental Pilot, Feasibility Study. Psychology of Violence 2018; 8(2), 259
Wamser-Nanney R, Nanney JT, Conrad E, Constans JI. Childhood Trauma Exposure and Gun Violence Risk Factors among Victims of Gun Violence. Psychological Trauma: Theory, Research, Practice, and Policy 2019; 11(1), 99-106.
Sayde G, Stefanescu A, Conrad E, Nielsen N, Hammer R. Implementing an intensive care unit (ICU) diary program at a large academic medical center: Results from a randomized control trial evaluating psychological morbidity associated with critical illness. General Hospital Psychiatry 2020; 66:96-102.