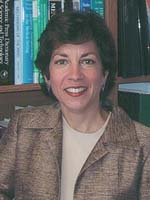 Professor and Vice-Chair of Clinical Research
Department of Neurology, LSUHSC
Director, Cognitive & Behavioral Neurology
Professor, Department of Psychology, UNO
Neuroimaging Core Director, LSU Epilepsy Center of Excellence
LSUHSC Brain & Behavior Center
Children's Hospital - Calhoun Campus
935 Calhoun Street
New Orleans, LA 70118
Phone: 504-568-4080
Fax: 504-568-7130
afound@lsuhsc.edu
BS Psychology - 1979
Wellesley College, Wellesley, MA
MD - 1986
LSU School of Medicine, New Orleans, LA
Anne L. Foundas, M.D. is a Behavioral Neurologist, presently Professor of Neurology and Vice-Chair of Clinical Research in the Department of Neurology, Louisiana State University Health Sciences Center in New Orleans.

Dr. Foundas completed her undergraduate studies at Wellesley College, and went on to graduate from Louisiana State University School of Medicine in New Orleans in 1986. Dr. Foundas completed her Neurology residency training at the University of Florida in Gainesville where she also trained with Dr. Kenneth M. Heilman as a Post-doctoral Research Fellow in Cognitive and Behavioral Neurology. Dr. Foundas came to New Orleans in 1992 as Assistant Professor of Neurology at Tulane University School of Medicine. She rapidly rose through the ranks to Professor of Neurology in 2003. Dr. Foundas served as the Director of Neurology Residency Training and Co-Director of the combined programs of Medicine-Neurology and Psychiatry-Neurology Residency Training from 1995 to 2008. Dr. Foundas was the Director of Medical Student Education in Neurology in 2007 to 2008.

Dr Foundas directs a Human Cognitive Neuroscience research program that is both collaborative and interdisciplinary. Her research is funded by the National Institutes of Health, the Malcolm Fraser Foundation, Stuttering Foundation of America, Louisiana Board of Regents, Charles A. Dana Foundation, and the Department of Veterans Affairs Health and Human Services Research Programs. Publications include over 80 scientific papers and a text: Mendoza JE and Foundas AL. Clinical Neuroanatomy: A Neurobehavioral Approach. Springer Science and Business, Incorporated, New York, 2008.

Research Summary
HUMAN COGNITIVE NEUROSCIENCE RESEARCH PROGRAM
Cognitive Neuroscience is a rapidly growing field which integrates neuroscience methods with theoretical models of cognitive neuropsychology with the goal of understanding the formation of thoughts and images in the human brain. Currently, human cognitive neuroscience as a discipline is concerned with the exploration of higher-order cognitive processes, and the effects on such processes in the context of developmental and acquired brain abnormalities.

Cognitive Neuroscience is being driven by dramatic advances in neuroimaging and neurophysiologic methods. Anatomical details of the brain can be reconstructed using structural MRI methodologies. Cognitive functions, such as memory and language, can be studied by analyzing subtle, task-related changes in blood flow using functional MRI paradigms. The timing of neural activity can be precisely mapped using cortical event-related potentials (ERP) which can be co-registered with brain images derived from structural and functional MRI. Cerebral ischemia can be studied with diffusion-perfusion weighted imaging, and metabolic studies can be conducted with MR spectroscopy. Motor and cognitive neural systems can be studied using transcranial magnetic stimulation (TMS) methods. In this way, the precise anatomy, function, timing, and physiology of neural events can be studied in humans in vivo. We have utilized these state-of-the-art MRI and neurophysiological methods to study complex cognitive operations in healthy individuals, and then we have applied these methods to study clinical populations including: developmental stuttering, stroke, dementia, and epilepsy.

Our New Orleans based research group is comprised of a diverse group of individuals from a variety of disciplines, the sum of which provides a comprehensive, programmatically-oriented system in which to pursue research in a variety of areas. Our overarching goal is to learn more about brain and behavior in both health and disease states. Normal development and healthy aging are studied in order to learn more about typical and atypical function and maladaptive effects that result in functional deficits. To meet these goals, our projects focus on the study of basic neural mechanisms (i.e., neurocognitive, neurophysiological and neuroimaging approaches) with an eye toward the development of effective treatment strategies and rehabilitation.

Our long-term goal is to develop targeted treatment strategies based on the knowledge that we gain from these basic neuroscience studies. Translational research programs are being developed to bridge basic and clinical neuroscience research. Targeted program development includes studies of: development and aging, stress and depression, stroke and neuroplasticity, and epilepsy.
Human Cognitive Neuroscience – Speech, Language, and Motor Neural systems

Development and Developmental Disorders – Developmental Stuttering

Aging, Dementia, and Stroke
Mendoza JE and Foundas AL., Clinical Neuroanatomy: A Neurobehavioral Approach, Springer Science and Business, Incorporated, New York, 2008.
Foundas AL, Corey DM, Hurley M, Heilman KM, Verbal dichotic listening in right and left-handed adults: Laterality effects of directed attention, Cortex 42:79-86, 2006.
Foundas AL, Bollich AM, Feldman J, Corey DM, Hurley M, Heilman KM, Atypical planum temporale anatomy in stuttering: Relationship to delayed auditory feedback, Neurology 63:1640-1646, 2004.
Foundas AL, Corey DM, Hurley M, Heilman KM, Anomalous auditory processing in adults with persistent developmental stuttering: Dichotic listening measures of free recall and directed attention, Cognitive & Behavioral Neurology 17:224-232, 2004.
Foundas AL, Corey DM, Angeles V, Bollich AM, Crabtree-Hartman E, Heilman KM, Atypical cerebral laterality in adults with persistent developmental stuttering, Neurology 61:1378-1385, 2003.
Foundas AL, Bollich AB, Corey DM, Hurley M, Heilman KM, Anomalous Anatomy in Adults with Persistent Developmental Stuttering: A Volumetric MRI Study of Cortical Speech-Language Areas, Neurology 57:207-215, 2001.
Hanna-Pladdy B, Daniels SK, Fieselman MA, Thompson K, Vasterling JJ, Heilman KM, Foundas AL, Praxis lateralization: Errors in right and left hemisphere damage, Cortex 37:219-230, 2001.
Hanna-Pladdy H., Heilman KM, Foundas AL, Cortical and subcortical contributions to ideomotor apraxia: Analysis of task demands and error types, Brain 124:2513-2527, 2001.