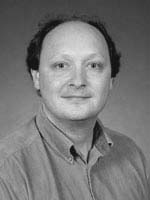 Oliver Wessely, PhD
MEB, Room 6E5
1901 Perdido Street
New Orleans, LA 70112
Phone: (504) 568-2028
Fax: (504) 568-4392

owesse@lsuhsc.edu
Diploma Molecular Genetics - 1992
University of Vienna
PhD Natural Sciences - 1997
University of Vienna
Dr. Wessely's laboratory is studying kidney development and its perturbation during diseases. The focus is on understanding the molecular nature of this regulation at the level of signal transduction and transcription using the amphibian Xenopus laevis. In contrast to slow developing mouse, Xenopus forms a functional pronephros (primitive kidney) within 31 hours. It thereby facilitates the fast identification and characterization of novel genes and regulatory pathways involved in kidney development and how those are perturbed during diseases such as Polycystic Kidney Disease. The results from these studies are then directly applied to subsequent studies in our lab using transgenic mice.

Dr. Wessely received his Magister in Molecular Genetics in 1992, and his Ph.D. in Natural Sciences in 1997 from the University of Vienna in Austria. He then continued his research education as a postdoctoral fellow in the lab of E.M. DeRobertis at UCLA in Los Angeles, CA. In November 2003, he joined the Department of Genetics at LSUHSC. He has a joint appointment with the Department of Cell Biology & Anatomy.
The molecular mechanisms of kidney development in Xenopus and mouse.

Tran, U., Pickney L. M., Özpolat B. D. Wessely O. (2007). Xenopus Bicaudal-C Is Required for the Differentiation of the Amphibian Pronephros. Dev. Biol. 307,152-164.

Agrawal R., Tran U., Wessely O. (2009) The miR-30 miRNA Family Regulates Xenopus Pronephros Development and Targets the Transcription Factor Xlim1/Lhx1. Development, 136(23), 3927-3936.
 
Tran U., Zakin L., Schweickert A., Agrawal R., Döğer R., Blum M., De Robertis E.M., Wessely O. (2010) The RNA-Binding Molecule Bicaudal-C Is Required for Post-transcriptional Regulation of Polycystin-2 in the Kidney by Antagonizing miR-17 Activity. Development, 137(7), 1107-1116.
    
Wessely O., Agrawal R., Tran U. (2010) microRNAs in Kidney Development: Lessons from the Frog. RNA Biology, 7(3), 1-4

White J.T., Zhang B., Cerqueira D.M., Tran U., Wessely O. (2010). Notch Signaling, wt1 and foxc2 are Key Regulators of the Podocyte Gene Regulatory Network in Xenopus. Development, 137(11), 1863-1873.