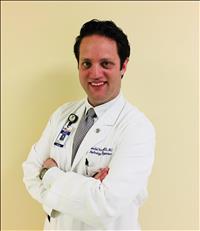 Assistant Professor of Clinical Medicine
Section of Nephrology
Clinical Location:

LSU Special Hypertension clinic
LSU Renal clinic
2000 Canal Street
New Orleans, LA 70112
Phone: 504-702-5700
Fax: 504-568-2127

 

Academic Location:

Section of Nephrology
1542 Tulane Avenue
Room 330A
New Orleans, LA 70112
Phone: 504-568-2551
Fax: 504-568-2127

 
Dr. Farshid Yazdi joined the faculty at LSUHSC-New Orleans School of Medicine in the Section of Nephrology and Hypertension as an Assistant Professor of Medicine in 2015.  He completed his post-graduate education (MSPH) at Tulane University School of Public Health and Tropical Medicine in 2005, his medical education at Tulane University School of Medicine in 2009 and subsequently finished his medical training in an Internal Medicine Residency at the New York University-Langone Medical Center in 2012.  After working one year as a hospitalist at NYU, he then decided to complete a Nephrology fellowship training program at Vanderbilt University Medical Center, from which he graduated in 2015. 
Since joining the faculty at LSUHSC, he has completed his training as an Interventional Nephrologist and is now the Medical Director of the Interventional Nephrology program at Ochsner Baptist Medical Center.  Additionally, he oversees the dialysis care of patients on hemodialysis within many dialysis units in and around New Orleans, as well as nocturnal and home modalities, including peritoneal dialysis (PD)and home hemodialysis (HHD).  He is actively involved in teaching medical students, residents, and fellows within the LSUHSC School of Medicine.  He is also in charge of the section's telemedicine program, which treats most of the Louisiana prisoners with progressive renal disease.
His research interests include:  Nutritional and electrolyte disturbances within renal disease, obesity-related kidney diseases, sleep apnea and hypertension, diabetic nephropathy, urgent start peritoneal dialysis and hemodialysis-related vascular access complications.
Teaching Activities include:  LSU Houses Program, Undergraduate Medical Education, Graduate Medical Education, Inter-professional Education (Team Up);  he is the champion of Board Review education for the Internal Medicine residents at LSU and often teaches fellows within other areas of interests, as their field pertains to renal diseases.
Owen JG, Yazdi F, Reisin E.  Bariatric Surgery and Hypertension.  American Journal of Hypertension, Aug 11 2017
Slakey DP, Simms E, Drew B, Yazdi F, Roberts B.  Complications of Liver Resection: Laparoscopic Versus Open Procedures.  Journal of the Society of Laparoendoscopic Surgeons, 2013 Jan-Mar; 17(1):46-55.
ASN Conference: Fellows Case Reports Poster Presentation: Hereditary Kidney Diseases and Electrolytes; An Unusually Severe Case of Polycystic Kidney Disease.  November 2014
NKF Conference: Poster Presentation: A Case of MPGN and Mixed Cryoglobulinemia in a Patient with Hepatitis C: New Treatment Implications and Renal Outcomes.  April 2016
Annual Dialysis Conference: Poster Presentation: Urgent Start Peritoneal Dialysis Protocol Using Manual Exchanges.  February 2017
SSCI Conference: Poster Presentation: An Interesting Case of Hyponatremia Requiring 5% Dextrose in Water.  April 2017
Affiliated Hospitals & Clinics
University Medical Center- New Orleans
Ochsner Kenner Medical Center
Ochsner Baptist Medical Center
Touro Infirmary
Davita Kenner Dialysis Unit
Davita Memorial Dialysis Unit (including home unit)
Davita Metairie Dialysis Unit (nocturnal shift)