The Enhancing Quality Improvement for Patients (EQuIP) Program
The Enhancing Quality Improvement for Patients (EQuIP) Program at the LSU School of Medicine is an institution-wide initiative to engage residents and fellows in systems-based quality improvement programs. In cooperation with faculty supervisors and mentors, the EQuIP program will empower the House Officers of the LSU School of Medicine to contribute to scholarly activity and the implementation of clinical quality improvement initiatives at our affiliated training institutions, with the goal of improving outcomes for patients and inculcating a culture of quality improvement and patient safety.
The LSU School of Medicine's Enhancing Quality Improvement for Patients (EQuIP) rotation provides an in-depth orientation to the principles of quality improvement, patient safety, and process improvement for House Officers. The rotation is available as a two (2) - four (4) week block and offers a flexible schedule and curriculum to best accommodate resident quality and safety education needs.

Questions?  Visit the EQuIP rotation page.
The goal of projectCONNECT is to improve participation in quality improvement initiatives at clinical sites by providing a searchable database of current, ongoing QI projects. This resource encourages interprofessional collaboration on patient safety & quality initiatives at LSU School of Medicine's clinical partner sites. For more information, contact the EQuIP office at EQuIP@lsuhsc.edu or click the projectCONNECT link below.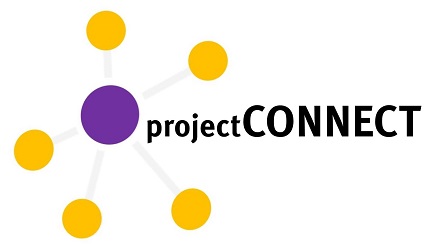 QUALITY & PATIENT SAFETY COLLABORATIVE
building a culture of safety together
     Upcoming Meetings
         Stay tuned for upcoming meetings scheduled for 2018.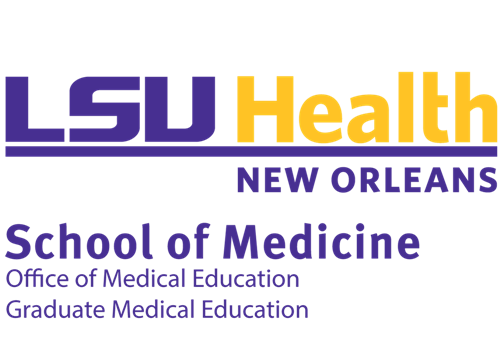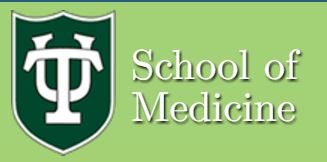 LSU EQuIP Project Review Spreadsheet
tracking your project for the ACGME
Fill out the LSU EQuIP QI Project Spreadsheet
Submit the spreadsheet to the EQuIP office for collection in the LSUGME QI Database and the end-user site, projectCONNECT 

YOU WILL RECEIVE A CONFIRMATION OF PROJECT APPROVAL via EMAIL, WITH A COPY OF YOUR PROJECT INFO FROM OUR DATABASE, WITHIN ONE WEEK OF SUBMISSION
If closer IRB collaboration is necessary prior to project approval, you will be contacted by the EQuIP office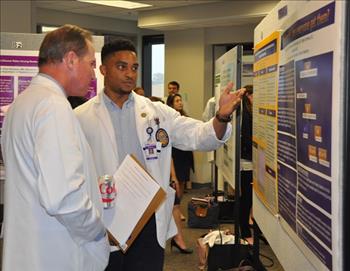 The Annual Quality and Patient Safety Forum features special guest speakers, poster submission reception, and abstract presentations.
Request for submissions is generally emailed to all Program Directors, Coordinators, Residents and Fellows, by the EQuIP office and the Office of the Associate Dean for Academic Affairs, Dr. Charles Hilton, Jr.

(From left: Dr. John Heaton, CHNOLA Chief Medical Officer and LSU School of Medicine Student, Obinna Oko)
If you'd like your QI/PS project considered for approval at UMCNO, complete the following steps:
Fill out UMCNO's PROJECT CHARTER
Identify the Lead Resident or Faculty Advisor
Email your UMCNO PROJECT CHARTER to the UMCNO Quality Dept. for approval
If approved, submit your project to the UMCNO CQM Committee
If approved, submit your project to the UMCNO MEC
If approved, submit your project for UMCNO Board Approval
Questions?  Contact Donna Blady, PI RN at UMCNO and EQuIP liaison
SUBMITTING QI PROJECTS NATIONALLY
for local & national scholarly publication
Questions?  Contact us!
Resources for LSU Programs
Physician Wellness
 EQuIP Tools & Presentations
     Request Standard Hand Off & Fatigue Management Badge Buddy
     View our QI/PS presentation - PDF
Meet the Team



                            Dr. Zee Ali                               Dr. Fred Rodriguez                              Treva Lincoln    
                         EQuIP Director                             Rotation Director                            EQuIP Coordinator
                        mali@lsuhsc.edu                          frodri@lsuhsc.edu                           tlinco@lsuhsc.edu
The EQuIP Office, Isidore Cohn, MD Student Learning Center
6th Floor Lions Bldg., 2020 Gravier St., New Orleans, LA., 70112