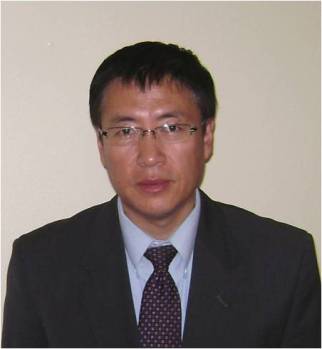 Office:
Medical Education Building
1901 Perdido Street, Room 3205T6
New Orleans, LA  70112
Phone:  (504) 568-6377

Microbial Genomics Resource Group Lab:
Clinical Science Research Building
533 Bolivar Street, Room 749
New Orleans, LA  70112
Phone:  (504) 568-3336

Email:mluo2@lsuhsc.edu
MGRG: http://metagenomics.lsuhsc.edu/mgrg/
PhD in Crop Genetics and Breeding, 2001
Chinese Academy of Agricultural Science
Beijing, China

MS in Microbiology, 1996
Inner Mongolia University
China

BS in Botany, 1987
Inner Mongolia University
China
Dr. Luo received his Ph.D. in 2001 from Chinese Academy of Agricultural Science, Beijing, China. In 2002, he carried out postdoctoral studies at the University of Georgia, studying the effect of drought/high-temperature on Aspergillus infection and aflatoxin contamination in corn and peanuts using functional genomics techniques. In 2004, he was promoted to Research Assistant Scientist in the Crop and Soil Sciences Department. In 2008, he joined the Food and Feed Safety Institute as Postdoctoral Associate at the Southern Region Research Center of USDA-ARS, New Orleans to continue his interested studies using transcriptomics and proteomics techniques. 

Dr. Luo joined the LSUHSC in 2012 as Research Associate in the Genomics Core, and transferred to the Department of Microbiology, Immunology and Parasitology as Instructor in 2013.
Interaction between hosts and pathogens under environmental stress, focusing on the expression of defense related genes and proteins in hosts in response to biotic and abiotic stress.

Based on the analysis of microarrary and next-generation sequencing data, exploring the resistant mechanisms in hosts, and developing biomarker sets used for assessment and selection of resistant genotypes in the complex phenotypes controlled by multiple genes.

Current research: microbiome and mycobiome in human, animals and environments using the next-generation sequencing platform of Illumina MiSeq and NextSeq; variants' identification of viruses.
NGS technical service: 16S rRNA, ITS, small genome, CHIP, small RNA, RNA-seq.   
Samuelson DR, Siggins RW, Ruan S, Amedee AM, Sun J, Zhu QK, Marasco WA, Taylor CM, Luo M, Welsh DA, Shellito JE. Alcohol consumption increase susceptibility to pneumococcal pneumonia in a humanized murine HIV model mediated by intestinal dysbiosis. Alcohol. 2018 Sep 10. pii: S0741-8329(18)30166-6. PMID: 30213614.
Rhoads JM, Collins J, Fatheree NY, Hashmi SS, Taylor CM, Luo M, Hoang TK, Gleason WA, Van Arsdall MR, Navarro F, Liu Y. Infant Colic Represents Gut Inflammation and Dysbiosis. J Pediatr. 2018 Aug 31. pii: S0022-3476(18)30947-8. PMID: 30177353.
Wen ZT, Scott-Anne K, Liao S, De A, Luo M, Kovacs C, Narvaez BS, Faustoferri R, Yu Q, Taylor CM, Quivey RG. Deficiency of BrpA in Streptococcus mutans Reduces Virulence in Rat Caries Model. Mol Oral Microbiol. 2018 Jun 11. PMID: 29888871.
Muzny CA, Blanchard E, Taylor CM, Aaron KJ, Talluri R, Griswold ME, Redden DT, Luo M, Welsh DA, Van Der Pol WJ, Lefkowitz EJ, Martin DH, Schwebke JR. Identification of Key Bacteria Involved in the Induction of Incident Bacterial Vaginosis: A Prospective Study. J Infect Dis. 2018 Apr 28. PMID: 29718358.
Obanda D, Page R, Guice J, Raggio AM, Husseneder C, Marx B, Stout RW, Welsh DA, Taylor CM, Luo M, Blanchard EE, Bendiks Z, Coulon D, Keenan MJ. CD Obesity-Prone Rats, but not Obesity-Resistant Rats, Robustly Ferment Resistant Starch Without Increased Weight or Fat Accretion. Obesity (Silver Spring). 2018 Mar; 26(3):570-577. PMID: 29464911.
Samuelson DR, Burnham EL, Maffei VJ, Vandivier RW, Blanchard EE, Shellito JE, Luo M, Taylor CM, Welsh DA. The respiratory tract microbial biogeography in alcohol use disorder. Am J Physiol Lung Cell Mol Physiol. 2018 Jan 1; 314(1):L107-L117. PMID: 28860145.
Byerley LO, Samuelson D, Blanchard E 4th, Luo M, Lorenzen BN, Banks S, Ponder MA, Welsh DA, Taylor CM. Changes in the gut microbial communities following addition of walnuts to the diet. J Nutr Biochem. 2017 Oct; 48:94-102. PMID: 28797931.
Samuelson DR, Shellito JE, Maffei VJ, Tague ED, Campagna SR, Blanchard EE,  Luo M, Taylor CM, Ronis MJJ, Molina PE, Welsh DA. Alcohol-associated intestinal dysbiosis impairs pulmonary host defense against Klebsiella pneumoniae. PLoS Pathog. 2017 Jun 12;13(6). PMID: 28604843.
Maffei VJ, Kim S, Blanchard E 4th, Luo M, Jazwinski SM, Taylor CM, Welsh DA. Biological Aging and the Human Gut Microbiota. J Gerontol A Biol Sci Med Sci. 2017 Oct 12; 72(11):1474-1482. PMID: 28444190.
Goldsmith F, Guice J, Page R, Welsh DA, Taylor CM, Blanchard EE, Luo M, Raggio AM, Stout RW, Carvajal-Aldaz D, Gaither A, Pelkman C, Ye J, Martin RJ, Geaghan J, Durham HA, Coulon D, Keenan MJ. Obese ZDF rats fermented resistant starch with effects on gut microbiota but no reduction in abdominal fat. Mol Nutr Food Res. 2017. 61(1). PMID: 27234399.