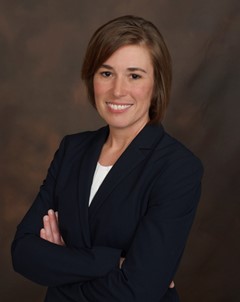 Jennifer Cameron, PhD
Associate Professor - Research
Microbiology, Immunology & Parasitology
Stanley S. Scott Cancer Center
BA in Biology, 1998
Monmouth College, Monmouth, IL
MS in Microbiology, Immunology and Parasitology, 2001
LSU Health Sciences Center, New Orleans, LA
PhD in Microbiology, Immunology and Parasitology, 2004
LSU Health Sciences Center, New Olreans, LA
Dr. Cameron earned first a Masters degree and then a Doctorate in Microbiology, Immunology and Parasitology at LSU Health Sciences Center in New Orleans, where she conducted patient-oriented research on human papillomavirus (HPV)-associated diseases under the mentorship of Dr. Michael E. Hagensee. For her Masters thesis, Dr. Cameron evaluated oral sampling methods as non-invasive, cost-effective surrogates for serum in HPV antibody testing. As a PhD candidate, Dr. Cameron characterized an emerging epidemic of HPV-associated oral papillomas in HIV-infected adults on combination antiretroviral therapy, ultimately identifying HPV-32 as the primary etiologic agent of these lesions. In the final year of her graduate training, Dr. Cameron was responsible for the seminal observation that HIV-infected women with cervical co-shedding of HPV and Epstein-Barr virus (EBV) are at increased risk of cervical abnormalities. Dr. Hagensee's research team at LSU Health Sciences Center continues to explore this intriguing link between cervical co-infection and cervical pre-neoplasia.
Following completion of her Ph.D. in 2004, Dr. Cameron accepted a Postdoctoral Fellowship appointment in the laboratory of Dr. Frederick C.C. Wang at Harvard Medical School and Brigham and Women's Hospital in Boston, MA. Dr. Wang's research program was developing an animal model for Epstein-Barr virus infection using the highly-similar Rhesus lymphocryptovirus (RhLCV) in its natural host, the Rhesus macaque. During her tenure in Dr. Wang's lab, Dr. Cameron made substantial progress in the development of valuable research tools for the RhLCV model, including a real-time PCR based RhLCV viral load assay and a genetically-mutable bacterial artificial chromosome (BAC) containing the RhLCV genome.
In 2006, Dr. Cameron accepted a second Postdoctoral Fellowship appointment within the Louisiana Cancer Research Consortium (LCRC) at Tulane University Health Sciences Center, New Orleans, LA, in the laboratory of Dr. Erik K. Flemington. Dr. Flemington had just begun to investigate the interactions between Epstein-Barr virus and the host cell microRNA (miRNA) network, and how these interactions might contribute to EBV-mediated lymphomas. This collaboration resulted in one of the first reports demonstrating that a DNA tumor virus and its major oncoprotein alter expression of cellular miRNAs. Subsequently, Dr. Cameron's studies focused on uncovering the role of miR-146a, a cellular miRNA highly induced by EBV via LMP1-mediated NF-kB activation, in tumor phenotypes and immunological signaling pathways. As a Fellow, Dr. Cameron was successful in obtaining extramural support in the form of a National Cancer Institute-sponsored Ruth L. Kirschstein National Research Service Award (NRSA) Independent Postdoctoral Fellowship (F32-CA130469).
In 2012, Dr. Cameron returned to LSU Health Sciences Center in New Orleans, LA as a faculty member in the Department of Microbiology, Immunology, and Parasitology.  She has been named LSUHSC's 2012-2014 recipient of the Louisiana Clinical and Translational Science Center (LACaTS) Scholar Award.
Dr. Cameron's lab is investigating the mechanisms by which DNA tumor viruses such as human papillomavirus (HPV) and Epstein-­‐Barr virus (EBV) interact with the host cell and promote cancer. The ultimate goal of the research is to improve cancer outcomes through development of novel screening tests, prevention strategies, and treatments. Currently the lab is working to improve cervical cancer screening through discovery of molecular biomarkers that predict progression of cervical dysplasia. The lab is also applying cutting-­‐edge technologies to explore the molecular biology of HPV and EBV co-­‐infections and their associations with epithelial tumors, including cervical, anal and oropharyngeal cancers.