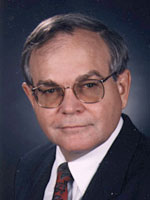 David H. Martin, MD
Harry E. Dascomb, M.D. Professor of Medicine Emeritus
Professor of Microbiology, Immunology and Parasitology Emeritus
1542 Tulane Avenue
Suite 331, Box T4M-2
New Orleans, LA 70112-2822
504.599.1457  Phone
504.568.5553  FAX

dhmartin@lsuhsc.edu
M.D. - 1969
Harvard Medical School
Boston, Massachusetts
Dr. Martin completed his internship in 1970 at Bronx Municipal Hospital Center in New York. From 1970-73 he served as a Staff Associate at the National Institutes of Health, National Institute of Allergy and Infectious Diseases, Middle American Research Unit in the Panama Canal Zone. He took his medical residency at University of Washington Affiliated Hospitals and was chief resident at the U.S. Public Health Service Hospital in Seattle. In 1979, he moved to the USPHS Hospital in New Orleans, LA where he was the Deputy Director of the Clinical Research Unit.
In 1982, Dr. Martin joined the faculty of LSU School of Medicine in New Orleans, where he started the extensive STD training and research programs. He is past president of the International Society for Sexually Transmitted Diseases Research, the American Sexually Transmitted Diseases Association, and the Louisiana/Mississippi Infectious Diseases Society. He has served on numerous CDC expert panels in the areas of treatment, diagnosis, and prevention of STDs. He has served on several NIH ad hoc review panels for large program projects and clinical trials focused on STDs, HIV infections, and chlamydial infections. For many years he served as Medical Director of the Infection Control Office of the Medical Center of Louisiana in New Orleans and as the Chairman of the Antibiotics Subcommittee of that institution's Pharmacy and Therapeutics Committee. Through these experiences he gained extensive knowledgeable of the issues surrounding the prevention and treatment of nosocomial infections.
Dr. Martin currently serves as Director of the Louisiana STD Research Center. He is board certified in Internal Medicine and Infectious Diseases.
 
1   The epidemiology, diagnosis and patogenesis of
     C. trachomatis infections in normal populations.
2.  The pathogenicity, genomics and diagnosis of
     Mycoplasma genitalium infection.
3.  The use of molecular microbiology to advance the
     understanding of the vaginal microbiome in health
     and disease.
Committees & Administrative Responsibilities
LSUHSC Research Council Executive Committee
LSUHSC Executive Research Council
LSUHSC AIDS Policy/Procedure Committee
McGowin CL, Ma L, Martin DH, Pyles RB. Mycoplasma genitalium-encoded MG309 activates NF-kB via toll-like receptor 2 and 6 to elicit pro-inflammatory cytokine secretion from human genital epithelial cells. Infect Immun 77(3):1175-1181, 2009.

Martin DH. Urethritis in males. In: Sexually Transmitted Diseases. Homes KK, Sparling Pf, Stamm WE, et al (eds). McGraw Hill. New York. 2008, pp. 1107-11126.

Zozaya-Hinchliffe M, Martin DH, Ferris MJ. Prevalence and abundance of uncultivated Megasphaera-like bacteria in the human vaginal environment. J. Appl Environ Microbiol 74(5); 2008: 1656-9, 2008.
Taylor SN, Martin DH. Chancroid. In: Current Diagnosis and Treatment of Sexually Transmitted Diseases. Eds: Klausner JD, Hook EW. McGraw-Hill, New York, 2007, pp. 69-74.

Ferris MJ, Norori J, Zozaya-Hinchliffe M, Martin DH. Cultivation-independent analysis of changes in bacterial vaginosis flora following metronidazole treatment. J Clin Microbiol. 46(3):1016-1018, 2007.

Marrazzo JM and Martin DH. Management of women with cervicitis. Clin Infect Dis 44(Suppl 3):S102-110, 2007.

Nelson SJ, Manhart LE, Gorbach PM, Martin DH, Stoner BP, Aral SO, Holmes KK. Measuring sex partner currency: It's what's missing that counts. Sex Transm Dis 34(10):801-807, 2007.

Mroczkowski TF, Martin DH. Wrzód miękki. In: Choroby Przenoszone drogą ptciową. Dla studentów i lekarzy (Chancroid). Mroczkowski TF (ed) Wydawnictwo Lekarskie PZWL, Warzawa, 2006, pp. 331-346.