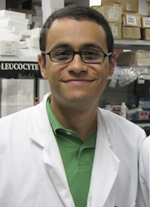 Assistant Professor - Research
Microbiology, Immunology & Parasitology
Stanley S. Scott Cancer Center
533 Bolivar Street
Clinical Sciences Research Building
4th Floor, Room 452A
New Orleans, LA  70112
Phone: (504) 568-3350
Lab Phone: (504) 599-0920
Fax: (504) 568-6888

prodri1@lsuhsc.edu
Ph.D. - 2008
Louisiana State University Health Sciences Center - New Orleans, LA 

M.S. - 1997
Universidad de Antioquia - Colombia, South America
Dr. Rodriguez earned his BS in Microbiology and an MS in Immunology from the University of Antioquia in 1995 and 1997, respectively.  He obtained his PhD in the Department of Genetics from Louisiana State University in New Orleans, Louisiana, and completed a research fellowship in the Tumor Immunology/Immunotherapy laboratory at LSU Health Sciences Center.  He is now an Assistant Professor of Microbiology, Immunology, and Parasitology, focusing on amino acid modulation of leukemias.
Research in Dr. Rodriguez's laboratory focuses on understanding mechanisms underlying the inhibition of immune responses in tumor-bearing hosts, in generating new therapies to overcome tumor-induced immune suppression, and to enhance efficacy of different forms of immunotherapy. The long-term goal is to develop new strategies to restore protective immunity in cancer, leading to long-lasting anti-tumor effector T cell responses.  The Rodriguez lab has described over the years the role of metabolism of different amino acids as a major mechanism of immune suppression in both mice and humans with tumors (see Figure below).  Through the years, we have established three different research programs:
(1) To determine the role of specific sensors for cellular stress in regulating the function and accumulation of Myeloid-derived suppressor cells in tumors,
(2) To characterize the therapeutic use of a pegylated form of the human arginase I as an effective chemotherapy agent for acute lymphoblastic leukemia,
(3) To test the prediction that over expression of Notch-1 in T cells induces resistance to MDSC suppression and represents a significant new therapy for immunotherapy in tumors.