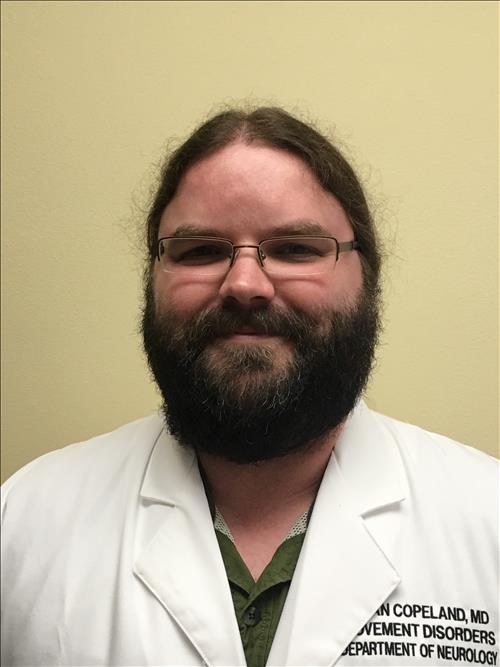 Assistant Professor
Director, Neurology Residency Program

 
LSU Healthcare Network Clinic 
478 South Johnson St, 5th Floor
New Orleans, LA 70112
Phone: (504) 412-1517
Fax: (504) 412-1518

B.S. Biology - 2001, University of South Carolina, South Carolina Honors College
M.D. - 2005, University of South Carolina School of Medicine
Psychiatry/Neurology Residency - 2011, Tulane University School of Medicine
Movement Disorders and Neurodegenerative Disorders Fellowship - 2013, University of Texas Medical School at Houston
Dr. Copeland completed a combined residency in Psychiatry and Neurology at Tulane University School of Medicine in 2011.  He then completed a fellowship in Movement Disorders and Neurodegenerative Diseases at the University of Texas Medical School at Houston.  He has returned to New Orleans to join the faculty at LSUHSC School of Medicine.  Dr. Copeland is board-certified in both Neurology and Psychiatry.
Dr. Copeland's clinical interests include movement disorders, especially Parkinson's disease, essential tremor, dystonia, and cerebellar ataxia In addition, he also has interests in memory disorders such as Alzheimer's disease, dementia with Lewy bodies, and frontotemporal dementia.
Dr. Copeland is skilled in the evaluation and management of deep brain stimulation for movement disorders, as well as the use of botulinum toxin injections for the treatment of movement disorders.
Current Research Projects:
INSYTE: Management of Parkinson's Disease Psychosis in Actual Practice.
Role: Principal Site Investigator.
NO LONGER ENROLLING.
Saccadic eye movements and cognition in neurological disorders.
Role: Co-Investigator
Principal Investigator: Deidre Devier, PhD
This study is currently still enrolling healthy older adults and individuals with Parkinson's disease or Multiple Sclerosis.
For more information, please contact Deidre Devier, PhD - ddevie@lsuhsc.edu, (504) 568-2146.
Assessing the potential of using ISGylation as a liquid biopsy biomarker for neurodegenerative diseases.
Role: Co-Investigator
Principal Investigator: Shyamal Desai, PhD
COMPLETED.
For more information, please contact Shyamal Desai, PhD - sdesai@lsuhsc.edu, (504)-568-4388.
Cruz RA, Smith C, Ramos AB, Copeland BJ, and Seal PS.  Intracranial Hypertension Secondary to Eosinophilic Meningitis by Angiostrongylus Cantonensis: Case Report with Review of the Literature.  J La State Med Soc 2018 (accepted).
Lindsey E and Copeland BJ.  Idiopathic basal ganglia calcifications: A case report and brief review of the literature, (2015), J La State Med Soc 2016 Jan-Feb;168(1):29-31. PMID: 26986866
Copeland BJ, Fenoy A, Ellmore TM, Liang Q, Ephron V, and Schiess M. Deep brain stimulation of the globus pallidus internus for generalized dystonia with spinocerebellar ataxia type 1: a case report.  Neuromodulation: Technology at the Neural Interface 2014 Jun;17(4):389-92.  PMID: 23815390
Copeland BJ and Schiess MC.  Can mild cognitive impairment predict the development of dementia in Parkinson's disease?  JAMA Neurology 2013;70(5):553. PMID: 23529474
Copeland BJ.   Commentary of: "Stochi F.  Benefits of treatment with rasagiline for fatigue symptoms in patients with early Parkinson's disease. Eur J Neurol 2014 Feb;21(2):357-60."  In Parkinson's Disease Monitor & Commentary Fall 2013;6(3):8.
Affiliated Hospitals & Clinics
LSU Healthcare Network Multispecialty Clinics
University Medical Center New Orleans
Ochsner Medical Center - Kenner
Southeast Louisiana Veterans Healthcare System