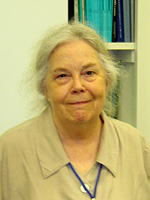 Margaret Caroline Duncan, MD
Professor Emeritus of Neurology
LSU Neurology
1542 Tulane Avenue, Room 763
New Orleans, LA 70112
Phone: (504) 568-4080
Fax: (504) 568-7130
BA - 1952
University of Texas (with honors)
MD - 1955
University of Texas Medical Center, Galveston, TX
Lacassie Y, Arriaza MI, Duncan MC, Dijamco C, McElveen C and Stahls III PF, Identical Twins with Mental Retardation, Dysarthria, Progessive Spastic Paraplegia, and Brachydactyly Type E: A New Syndrome or Variant of Fitzsimmons-Guilbert Syndrome?, American Journal Medical Genetics 84:90-93, 1999.
Craver RD, Duncan MC and Nelson JS, Familial Dystonia and Choreoathetosis in Three Generations Associated with Bilateral Striatal Necrosis., J. of Child Neurology Vol. 11, No. 3, 185-188, 1996.
Kapor G, Albrecht RJ, Craver R, Duncan C and Warrier RP, Diffuse large cell lymphoma presenting as inflammatory bowel disease in an adolescent with ataxia telangiectasia (letter)., Leuk Res 20(11-12): 997-8, Nov-Dec, 1996.
Willis J, Duncan MC, Bell R, Pappas F and Moniz M, Somatosensory Evoked Potentials Predict neuromotor Outcome After Periventricular Hemorrhage., Developmental Medicine and Child Neurology 31, 435-439, 1989.
Ganji S and Duncan MC, Angelman=s (Happy Puppet) Syndrome: Clinical, CT Scan and Serial Electroencephalographic Study., Clinical Electroencephalography Vol 20, No. 2, 128-140, .