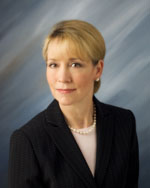 Ann Henderson Tilton, MD
Professor of Clinical Neurology
Chief, Section of Child Neurology
 
Children's Hospital
200 Henry Clay Avenue
New Orleans, LA 70118
Phone: (504) 896-9283
Fax: (504) 896-9547

atilto@lsuhsc.edu
BS Biology
Texas A&M University, Kingville, TX
MD
University of Texas Medical Branch, Galveston, TX
Ryan MM, Tilton AH, De Girolani U, Darras BT and Jones HR Jr, Pediatric mononeuritis multiplex: a report of three cases and review ofthe literature., Neuromuscular Disorder Vol 13, pp 751-756, 2003.
Payne MS, Nadell JM, Lacassie Y and Tilton AH, Congenital glau-coma and neurofibromatosis in a monozygotic twin: case report andreview of the literature., J Child Neurology Vol 18, pp 504-508, 2003.
Tilton AH, Approach to the Rehabilitation of Spasticity and Neuromuscular Disorders in Children. Bodensteiner, J. Ed, Neurologic Clinic of North America Vol 21, No 4, pp 853-881, Elsevier Science, London, 2003.
Tilton AH and Butterbaugh G, Mental Retardation and Cerebral Palsy. Noseworthy, J.H, Ed, Neurological Therapeutic Principles and Practice Vol 2, pp 1617-1629, Martin Dunitz, New York, 2003.
Tilton AH, Injectable Neuromuscular Blockade in the Treatment of Spasticity and Movement Disorders., J Child Neurololgy Vol 18, pp S50-S66, 2003.