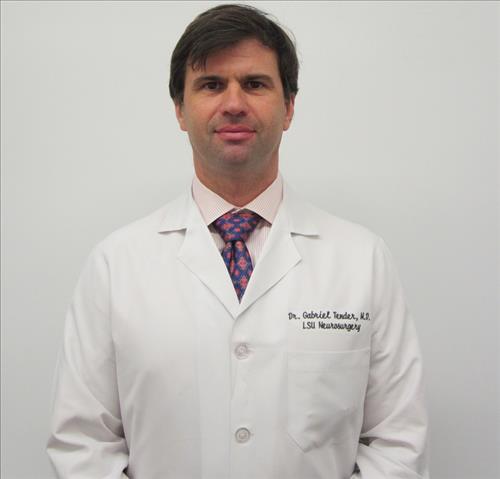 Gabriel C. Tender, MD
Director, Minimally Invasive Spine Service
Associate Professor of Clinical Neurosurgery
Adjunct Professor, Family Nursing Department
LSU Healthcare Network Clinic
3700 St. Charles Avenue, 3rd Floor 
New Orleans, LA 70115
Phone: (504) 412-1325
Fax:     (504) 412-1498



University Medical Center Clinic
2000 Canal Street
New Orleans, LA 70112
Phone: 504-702-4944
Fax: 504-702-2051

Academic Office:
LSU Health Sciences Center
2020 Gravier Street, Room 744
New Orleans, LA 70112
Phone: (504) 568-6123
Fax:     (504) 568-6127
MD - 1994
Craiova Medical School, Craiova, Romania
Medical School: Craiova Medical School
Craiova, Romania

Residency: Louisiana State University, School of Medicine
New Orleans, LA 

Surgical Internship: University of Tennessee at Chattanooga
Chattanooga, Tennessee
                             Louisiana State University, School of Medicine
New Orleans, LA 

Pain Inhibition Research Fellowship: National Institutes of Health
Bethesda, Maryland

Board Certified: American Board of Neurological Surgery, 2009
Complex Spinal Surgery
Neurotrauma

Minimally Invasive and Complex Spine Surgery
Chronic PainTreatment
Neurotrauma
Spine Biomechanics
Neuropathic Pain Modulation and Treatment
 
Committees & Administrative Responsibilities
LSU Health Sciences Center, School of Medicine, International Travel Committee
Member, 7/08-Present

Medical Center of Louisiana at New Orleans, Neurosurgery Trauma Liaison
7/08-present
Tender GC, Li YY, Cui JG. Brain-derived neurotrophic factor redistribution in the dorsal root ganglia correlates with neuropathic pain inhibition after resiniferatoxin treatment. Spine J 2010 May 6 (Epub ahead of print).

Tender GC, Ratliff JK. Minimally invasive transforaminal lumbar interbody fusion: technical note. The Open Neurosurgery Journal 2009 Vol 2:8-13. (http://www.bentham.org/open/toneurosj/openaccess2.htm)
Janjua RM, Fernandez J, Tender GC, Kline DG. Submuscular transposition of the ulnar nerve for the treatment of cubital tunnel syndrome. Neurosurgery 2008 Oct;63(4 Suppl 2):321-324.

Yadla S, Lebude B, Tender GC, Sharan AD, Harrop JS, Hilibrand AS, Vaccaro AR, Ratliff JK. Traumatic spondyloptosis of the thoracolumbar spine. J Neurosurg Spine 2008 Aug;9(2):145-151.

Tender GC. Lumbar intradural varix masquerading as a nerve tumor. J Neurosurg Spine 2008 Jun;8(6):600.

Tender GC, Kline DG. The infraclavicular approach to the brachial plexus. Neurosurgery 2008 Mar;62(3 Suppl 1):180-184.

Tender GC, Li YY, Cui JG. Vanilloid receptor 1-positive neurons mediate thermal hyperalgesia and tactile allodynia. Spine J 2008 Mar-Apr;8(2):351-358.