Christopher Marrero, MD
Diversity and Inclusion Officer & Associate Professor of Clinical Orthopaedic Surgery
---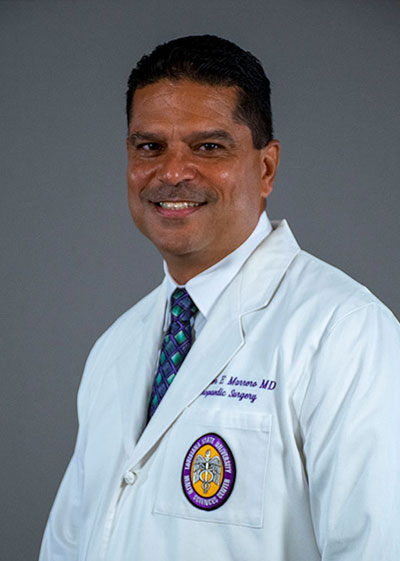 Practice Location:
3700 St. Charles Avenue - 6th Floor
New Orleans, LA 70115
(504) 412-1200, clinic appointment
(504) 412-1251, fax

Academic Office:
Louisiana State University SoM
Department of Orthopaedic Surgery
1542 Tulane Avenue, Box T6-7
New Orleans, LA 70112
(504) 568-4680, Voice
(504) 568-4466, Fax

Degrees
Residency:

1998 - Martin Luther King Jr./Charles R. Drew Medical Center
Los Angeles, CA

Internship:

1992 - Preliminary Surgery Internship
Medical College of Pennsylvania Hospital
Philadelphia, PA
Medical School:

MD 1991 - Howard University College of Medicine
Washington, DC

Undergraduate Training:

BS 1987 - Xavier University of Louisiana
New Orleans, LA

Bio
Christopher E Marrero MD was born and raised in New Orleans and graduated from St. Augustine High School and Xavier University. He received his medical degree from Howard University in Washington, DC and completed a general surgery internship at the Medical College of Pennsylvania in Philadelphia. He completed his orthopedic surgery residency at King / Drew Medical Center in Los Angeles and then returned to New Orleans where he joined his father in private practice until Hurricane Katrina. Displaced by the storm, he went back to Los Angeles and joined the orthopedic faculty of King / Drew Medical Center as an assistant professor. After 10 months he moved to Texas and opened a private practice in the Beaumont /Port Arthur area. Three and a half years later in December 2009 he returned to New Orleans to become an assistant professor in the LSU orthopaedic surgery department. He now practices general orthopedics with emphasis in sports medicine, adult reconstruction, and trauma.


Selected Publications
Balfour, G. W., and Marrero, C.E.: Fracture brace for the treatment of humerus shaft fractures caused by gunshot wounds. Orthpaedic Clinics of North American. 26:1:55-63, 1995.

Efficacy and safety of naproxcinod in patients with osteoarthritis of the knee: a 53-week prospective randomized multicenter study. Schnitzer TJ, Hochberg MC, Marrero CE, Duquesroix B, Frayssinet H, Beekman M. Semin Arthritis Rheum. 2011 Feb;40(4):285-97.