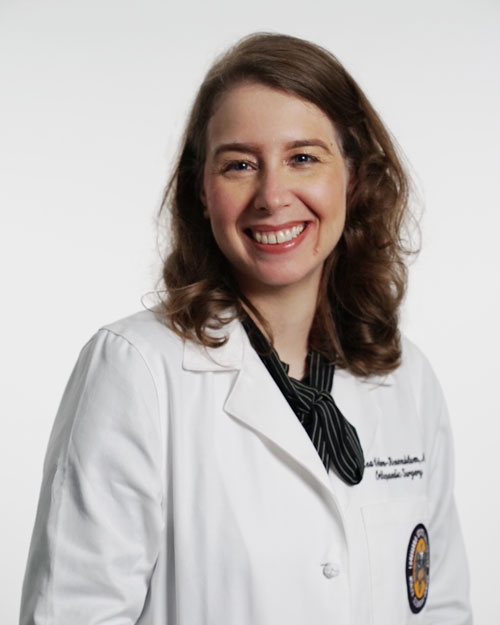 FACULTY
Anna Cohen-Rosenblum
ASSOCIATE PROFESSOR - CLINICAL
Orthopedics
Practice Location:
University Medical Center - New Orleans
2000 Tulane Avenue
New Orleans, LA 70112
(504) 702-5700, for appointments


Bio
Dr. Cohen-Rosenblum specializes in performing hip and knee replacements for arthritis and complex deformities, as well as revision hip and knee replacements. She believes it is an honor and a privilege to help provide patients with severe pain from hip and knee arthritis with a better quality of life through a hip or knee replacement.
She received her undergraduate degree in classical archaeology at Harvard College and furthered her pursuit of archaeology with a master's degree in skeletal and dental bio-archaeology at University College London. She then obtained her medical degree from Albany Medical College and completed residency in orthopaedic surgery at the University of Chicago, followed by a fellowship in hip and knee replacement at the University of Virginia.
She is active in the American Association of Hip and Knee Surgeons (AAHKS) Young Arthroplasty Group and Women in Arthroplasty Committees, as well as the Ruth Jackson Orthopaedic Society (RJOS).
Education
Fellowship:
University of Virginia
Adult Reconstruction Fellowship
Residency:
University of Chicago Medical Center
Orthopaedic Surgery Residency
Degrees:
Doctor of Medicine with Certificate in Biomedical Ethics
Albany Medical College
Master of Science
University College London (UCL) Institute of Archaeology
Bioarchaeology
London, UK
Artium Baccalaureus
Harvard College
Current Research
The effect of joint replacement education class on postoperative outcomes.
Adherence to multimodal postoperative pain control regimens in elective primary total joint arthroplasty.
Comparison between iPACK block and intraoperative administration of local anesthetic to the posterior capsule in primary total knee arthroplasty.
Biological predictors of poor surgical outcomes associated with total knee arthroplasty.
The accuracy of predicting total knee arthroplasty implant size using shoe size.
Peer-Reviewed Publications
Cohen-Rosenblum A, Cui Q. Osteonecrosis of the femoral head. Orthopedic Clinics of North America, 2019;50(2):139-51.
Rosenblum A, Landy D, Perrone M, Whyte N, Kang R. Higher prevalence of a psychiatric condition in patients treated with hip arthroscopy for femoracetabular impingement: a match-controlled study. Journal of Arthroplasty 2019;34(3):446-9.
Cohen-Rosenblum A, Kew ME, Johnson-Mann C, Browne JA. Roux-en-Why? What the orthopaedic surgeon needs to know about bariatric surgery. Journal of Bone and Joint Surgery Reviews, 2018;6(12):e3-e3.
Cohen-Rosenblum A, Volaric A, Browne JA. Retrieval analysis of a failed synthetic mesh extensor mechanism reconstruction after total knee arthroplasty. Arthroplasty Today 2018;4(4):447-51.
Cohen-Rosenblum A, Crutcher M, Gui J, Novicoff W, Nelson S, Browne J. Dual antibiotic therapy with vancomycin and cefazolin prophylaxis in total knee arthroplasty. Reconstructive Review 2018;8(2):13-17.
Aneja A, Jiang J, Cohen-Rosenblum A, Peabody T, Attar S, Haydon R. Thromboembolic Disease in Metastatic Femoral Lesions: A Comparison Between Prophylactic Fixation versus Fracture Fixation. Journal of Bone and Joint Surgery 2017;99(4):315-23.
Cohen-Rosenblum A, Bielski R. A 3 year-old girl with elbow pain after a fall. Nursemaid's elbow or fracture? Pediatr Ann 2016;45(6):e214-7.
Mullen M, Piponov H, Stewart R, Cohen-Rosenblum A, Shi L. Proprionibacterium acnes-mediated distal clavicular osteolysis: A case report. Journal of Shoulder and Elbow Surgery 2015;24(7):e185-e189.
Rosenblum, A. The Great Plague of Athens: Societal and Political Consequences of an Early Epidemic. Journal of the Harvard Hippocratic Society, Spring 2005, pp2-6.
Video