LSU Ortho Taking Concrete Measures to Close Diversity Gaps
by Elizabeth Hofheinz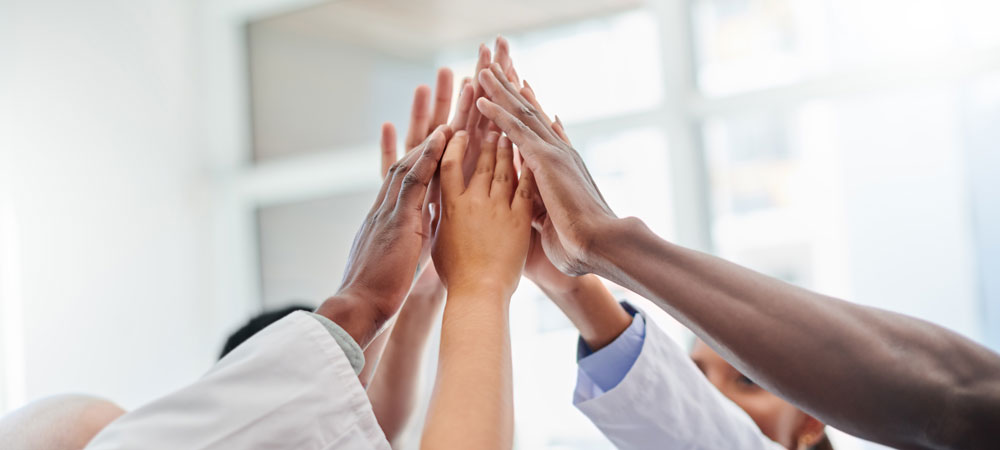 Things have changed in medicine, and as patients from diverse communities walk "the halls" of medicine they do indeed now see people who resemble them. Except for one specialty. Despite the once-closed doors of medicine opening to women and minorities, in orthopedics, those doors have remained seemingly closed.
According to the U.S. Census Bureau, underrepresented minority (URM) representation among practicing orthopaedic surgeons is extremely low: 1.7% Hispanic/Latino and 1.5% African American/Black, whereas Hispanics/Latinos make up 18.1% and African Americans/Blacks make up 13.4% of the US population.1
And a December 2021 article indicates that the number of U.S. orthopedics residency programs without any trainees from any URM group increased from 40 in 2002 to 60 in 2016.2
In the face of this ostensibly impregnable diversity gap, LSU Orthopaedics is taking the initiative to improve cultural inclusiveness within its program.
LSU Health's Office of Diversity and Inclusion (ODI) recently launched its inaugural Learning Lab Series, an impactful initiative offering learning opportunities that focus on increasing cultural competence among students. "The dialogue, activities, and resources shared throughout our learning labs allow for productive conversations that amplify our collective capacity for inclusive leadership," says Timothy Fair, Ph.D., LSU Health's Vice Chancellor for Diversity and Inclusion.
"Learning Labs are impactful micro-educational opportunities focused on diversity-related topics that support ODI's goal of increasing cultural competence among students, faculty, and staff. We have some exciting topics for 2022, and we remain open to diverse topics from our learning community."
Three years, three challenges
The ODI has also launched the Strategic Diversity Action Planning Process (SDAP), a localized diversity action planning process that provides a unique opportunity for academic and administrative units to assess past and current diversity efforts and identify three key challenges to focus on over the next three years.
"Through this process," says Dr. Fair, "we aim to embolden campus units to address their unique local needs and opportunities for a more inclusive climate. We piloted this process in the School of Public Health in November 2021, with plans to engage other schools early to mid-2022."
Strategic guidance
Knowing that mentoring can make all the difference in a young person's career, LSU Orthopaedics has developed and designed multiple mentoring programs and initiatives meant to expand institutional capacity to ensure diversity and inclusion.
Dr. Fair: "We have held several virtual workshops with the LSU Health Sciences Center Mentoring Program regarding mentoring competencies and in an effort to foster more productive mentoring relationships within the institution. In addition, we have Colleague Network Groups, forums for employees who share common interests and concerns to meet and support one another in creatively addressing those concerns."
"The Student Council for Equity-Focused Leaders is comprised of student leaders across campus who work to provide support in the creation of a more inclusive community. ODI is also implementing a centralized bias reporting tool and a Bias Education Response Team (BERT) to streamline sharing and reporting of bias incidents as well as to provide educational interventions that are tailored to institutional concerns of bias with the goal of mitigating these incidents in the future."
ODI has also launched the Strategic Diversity Action Planning Process (SDAP), which will give academic and administrative units the guidance to assess past and current diversity efforts. Working from these assessments, the SDAP will prompt these units to identify three key challenges to address over the next three years. "Through this process, we aim to embolden campus units to address their unique local needs and opportunities for a more inclusive climate," stated Dr. Fair.
And on the ortho level…
"We are striving to take a well-thought-out approach to our diversity and inclusion efforts," states Robert Zura, M.D., chair of the LSU Department of Orthopaedics. "Christopher Marrero, M.D. is the first-ever department level diversity officer at LSU. Also, we participate in a scholarship program where we bring in a fourth-year senior medical student, a 'rotator,' who plans a career in orthopaedics to experience a rotation with us in our academic medical center. Anna Cohen-Rosenblum, M.D. is actively working to train women and minorities, Vin Dasa, M.D. is conducting a high-level research effort focused on health disparities, and Jennifer Simkin, Ph.D., our Well-Being Officer, supports all students in support of their mental, emotional, and physical well-being."
What lies before us…
There is much work to do, says Christopher Marrero, M.D., Associate Professor and Diversity and Inclusion Officer at LSU Orthopaedics. "Dr. Zura saw the need for increased diversity in our program and appointed me to be the Diversity and Inclusion Officer for the LSU Department of Orthopaedic Surgery in February of 2020. This was prior to the murders of Ahmaud Arbery and George Floyd."
"I have now been in the Department for 12 years and out of the 68 residents that I have taught, only 10 were non-white and only 8 have been women. So we have work to do. However, I am happy to say that the latest intern class is the most diverse in the history of the program."
"Even before becoming The Diversity and Inclusion Officer I mentored multiple URM who were interested in orthopaedics or medicine in general on the high school, college, graduate and medical school levels. This would often involve having the students shadow me in the operating room and me being an advisor through different stages of their journey. I have worked with Nth dimensions—a highly successful pipeline program for URM medical students interested in orthopaedics—for several years as a lecturer and orthopaedic sawbone lab instructor."
"To date I have participated in the ACGME Diversity and Inclusion Officer Leadership Forum, the Student National Medical Association / National Medical Association / New Orleans Medical Association Mentoring Project, hosted Race Around the Table for the department in conjunction with the Campaign for Equity New Orleans and participated in the LSU URM Residency Showcase. I also have routinely sought out URM orthopaedic residency candidates and encouraged them to apply to LSU. Most recently I have started a premed club at a local high school that has predominately URM students. I believe in our department, and I hope to continue to try to inspire and attract URM to this wonderful field."
Summer matters
"I truly believe we are taking a forward-thinking, productive role in shaping the future of diversity in orthopedics," says Jennifer Simkin, Ph.D., the department's Well-Being Officer. "Our lab actively recruits undergraduate students from underrepresented populations for summer research internships. These internships facilitate research opportunities as well as allow for networking with researchers and surgeons, which furthers our overarching goal of inclusion."
"We also have several people from underrepresented populations currently active in the lab as student interns and research associates. Our goals are to reverse the historical exclusion of people of color, increase diversity of thought and increase representation of all populations in the sciences."
Highlighting women surgeons
Anna Cohen-Rosenblum, M.D., M.Sc., Assistant Professor in the LSU Department of Orthopaedics, says, "I have been the advisor for the LSU Association of Women Surgeons medical student chapter since 2018 and continue to work on mentorship opportunities and career guidance for women medical students interested in a surgical career. I also have worked with Tulane's Mary Mulcahey, M.D. to co-host the annual Perry Initiative medical student outreach program that teaches future physicians about orthopaedics and provides hands-on activities with sawbones and suturing; we have also partnered for a high school student outreach program to expose them to orthopaedics and engineering. We have had women LSU residents and attending surgeons be part of these events over the past few years."
The "rotators"
Linda Flot, Residency Coordinator notes, "As a joint venture between the Office of Diversity & Community Engagement, The Department of Orthopaedic Surgery sponsors a fourth-year senior medical student who plans a career in orthopaedics to experience a rotation with us in our academic medical center. The student(s) must self-identify as an underrepresented minority (URM) and display genuine interest in exploring issues of social determinants of health, population medicine, access to care, and social justice. The Department of Orthopaedics works with the student(s) to provide an educational framework as well as opportunities to impact teaching on issues of cultural competency and diversity to the next generation of learners and practitioners.
"Individuals selected for the program will receive: $500 in travel assistance (to New Orleans), housing in a student residential facility, and time with a resident and faculty mentor who will meet with the student during their rotation to provide career and professional guidance as well as a personal connection to the community."
Formulating the big picture
Vinod Dasa, M.D. the Irvin Cahen endowed chair for research at LSU Orthopaedics, states, "Our department is spearheading the ultimate personalized medicine effort to investigate and rectify disparities in orthopaedic diseases and their treatment. Known as the LSU Integrated Musculoskeletal Biobank (LIMB), this initiative is integrating clinical measures, social parameters, and medical history with blood and tissue samples collected from affected anatomical sites in patients afflicted with musculoskeletal disease."
"LIMB is a central repository of de-identified samples and data currently approved by the IRB for sample collection from patients with osteoarthritis undergoing total knee arthroplasty. We are interested in collaborating with industrial and academic institutions, and can supplying serum, synovial fluid, and/or tissue sample sets integrated with multiple clinical parameters and patient-reported surveys."
"Thanks to LIMB, we can now conduct more in-depth analyses integrating demographic, clinical, social, and biological variables that may account for disparities in osteoarthritis symptomology."
Disclosure: Since the writing of this article Timothy Fair has resigned from LSU Health and moved onto a new opportunity. His hard work as the Vice Chancellor for Diversity and Inclusion has a long-lasting and meaningful impact on LSU Health and their approach to doing their part to create a more diverse and inclusive school and workplace.
---
References: