Center of Facial Plastic and Reconstructive Surgery
The subspecialty of Facial Plastic and Reconstructive Surgery plays an incredibly important part in restoring normal appearance, natural function, and quality of life to patients whose faces have been affected by a wide variety of conditions, ranging from birth defects and traumatic injuries to cancer and a wide range of medical illnesses. Facial deformities, regardless of the cause, can result in social rejection, loss of opportunity in the workplace, and failures in school and in society. In some cases, e.g., when the eyelids and mouth are involved, or when there is paralysis of movement, deformities can lead to blindness, or difficulty with eating, chewing, speaking and breathing. In other words, many of the things that we take for granted in our everyday life, involving basic social interaction and communication, can be rendered impossible when there is facial deformity. FPRS surgeons help turn distorted features into presentable appearances, allowing patients to live fuller lives.
LSU Otolaryngology has a long history of providing reconstructive and restorative surgery, and in recent years, we have assembled an elite team of experts with a range of overlapping capabilities that can address virtually every kind of facial disorder. In complex cases, we also work with specialists in related fields other than ENT to find the optimal solution to a patient's needs. This Interdisciplinary Teamwork is a common theme in our approach to getting the best results for patients who have unusual or rare problems. In the LSU Otolaryngology Department, the following physicians have completed fellowship training, and board certification, in facial plastic and reconstructive surgery: Graham Boyce MD, Bradley Chastant MD, Laura Hetzler MD, and Jeffrey Joseph MD.
One area of special importance in this regard involves the management of patients who have facial paralysis. Whether a result of a common viral infection (known as Bell's Palsy) or a complication of cancer, surgery, injury, or something else, a paralyzed face is a major disability. At LSU, we are emerging as a regional authority on facial reanimation — the processof restoring movement to a paralyzed face. The high volume of patients seen in our Head and Neck Oncology, Skull Base and Neurotology practices, along with our relationships with colleagues in Neurosurgery and Neurology, has allowed us to develop reliable medical and surgical protocols for taking care of facial paralysis patients. Not all will require surgery, but we have implemented strategies for efficiently determining which patients can benefit from surgery, which ones will do best with medical management alone, and which patients need a combination of treatments. The LSU Facial Reanimation team includes Dr. Laura Hetzler, Dr. Moisés Arriaga, and Dr. Daniel Nuss. Options for surgical treatment range from simple facial nerve repair to nerve grafting, nerve transpositions, and in some cases, microvascular transplantation of nerves and muscles from other parts of the body – whatever is needed to re-create healthy facial movement.
Another area of major focus in our department is the care of babies and young children who have congenital or inherited facial deformities, such as cleft lip, cleft palate, facial clefts, and a variety of birth defects known as dysmorphic syndromes. Many of these children suffer from not only their deformities but also from associated problems with breathing, eating, speech, vision and hearing. Treatment of these patients requires careful diagnostic investigation that relies on everything from CT and MRI scans to panoramic dental scans, to hearing tests, to genetic testing.
In this highly specialized service, each family and patient with a newly diagnosed craniofacial defect is seen in a multidisciplinary clinic that is staffed by every specialist needed – Facial Plastic/Reconstructive Surgery, Plastic Surgery, Ophthalmology, Neurosurgery, Pediatrics, Otology, Audiology, Dentistry, Maxillofacial Surgery, Pedodontics, Orthodontics, Speech-Language Pathology, Genetics, Nutrition, and others. Each child sees each doctor in the same day, and after the patient's visit, the team meets to review all findings and to recommend an individualized plan of care, which is shared with the child's physician and family. In this way, each child receives the best possible care.
Our LSU ENT surgeons have been actively involved in Cleft & Craniofacial clinics for many years at Children's Hospital of New Orleans. More recently, because there were many children who were underserved in other parts of the region, a new Cleft program was initiated in Baton Rouge, at Our Lady of the Lake Regional Medical Center, under the leadership of Laura Hetzler, MD.
Contact Information
Address: 4950 Essen Lane
                Suites 400 and 402
                       Baton Rouge, LA 70809
Phone: (225) 765-1982
Fax:     (225) 765-1999
The Physicians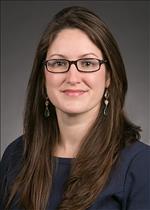 Laura T. Hetzler, MD
Associate Professor
Facial Reconstruction & Reanimation