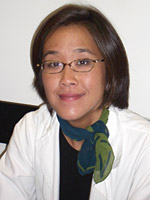 Professor of Clinical Medicine and Pediatrics

Director, Medicine/Pediatrics Residency Program
Department of Pediatrics
Children's Hospital
200 Henry Clay Ave.
New Orleans, LA 70118 
504.896.2723  Phone
504.896.2720  FAX

LSU Healthcare Network Clinic 
Kenner Location
200 West Esplanade, Suite 701
Kenner, LA  70065
Phone: (504) 412-1705
Fax: (504) 412-1702

Uptown Location
3700 St. Charles Ave., 2nd floor
New Orleans, LA 70115
Phone: (504) 412-1366
Fax: (504) 412-1367



E-mail: blo@lsuhsc.edu
MD - 1992
LSU School of Medicine, New Orleans, LA
After earning her MD from LSU School of Medicine, Dr. Lo-Blais completed her internship and residency in Medicine/Pediatrics from the same institution. She also served as chief resident in Pediatrics for the 1996-97 academic year. She joined the faculty of LSUHSC in 1997 as Assistant Professor of Clinical Pediatrics and Medicine.
During her years at LSU, Dr. Lo-Blais has won numerous teaching awards. In 1998 she became an assistant program director for LSU's Medicine/Pediatrics Residency Program, and she became program director the following year. In addition to her many educational and clinical activities, she volunteers at several community service clinics and activities.
Dr. Lo-Blais is board certified in Internal Medicine and in Pediatrics. She is also a member of the American Association of Pediatrics, the American College of Physicians, the American Society of Internal Medicine, the American College of Physician Executives, the Medicine/Pediatrics Program Director's Association (MPPDA), and the Association of Program Directors for Internal Medicine (APDIM).
Director, Annual IM Residency Clinical Procedures Skills Fair
Director, Biannual Simulator Fair for IM, Medi/Ped, and Medicine/Emergency Medicine residents
Director, Senior Special Topics for Graduating LSU Medical Students
Committees & Administrative Responsibilities
Institutional Graduate Medical Education Advocacy Committee
International Travel Committee
Women's Affair Committee
Institutional Graduate Medical Education Committee
Admissions Committee
Student-Faculty Council on Professional Conduct Committee
Pediatrics Competency Committee
Pediatrics Curriculum Committee
Internal Medicine Residency Evaluation Committee
Pediatrics Residency Evaluation Committee
Njoku, Tate, Zadeh, Hauck, Chaudhry, Lo-Blais, Nesbitt, Sanders, Lopez. A Middle-aged Man with Newly Diagnosed HIV Infection and Rash. Louisiana State Journal.

Lo-Blais B, Hescock G. Benign hypertrophic gastropathy in children. Pediatrics in Review 25(4), 2004.

Lo-Blais B, McClean H. The female athlete triad: No pain, no gain. Clin Pediatr 42(7), September 2003.