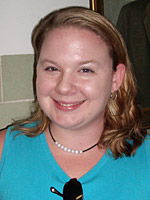 Catherine Spiller, MD
Assistant Professor of Clinical Medicine
Section of General Internal Medicine
1542 Tulane Avenue
Box T4M-2
New Orleans, LA 70112
504.568.5722  Phone
504.568.2127  FAX
cspill@lsuhsc.edu
MD - 2000
Louisiana State University School of Medicine
New Orleans, LA
Internship – 2000-2001
Internal Medicine and Pediatrics
LSU School of Medicine
New Orleans, LA
Residency – 2001-2004
Internal Medicine and Pediatrics
LSU School of Medicine
New Orleans, LA
Dr. Spiller joined the faculty of LSU Health Sciences Center in 2005 and was appointed Assistant Professor of Clinical Pediatrics in the Department of Pediatrics. In 2009 she began working in the Department of Internal Medicine's Section of Comprehensive Medicine.
During this time, Dr Spiller was also attending physician at UNO Health Sciences Center, LSU Medicine/ Pediatrics and LSU Pediatric Clinics.
She is certified by the American Board of Pediatrics and the American Board of Internal Medicine.