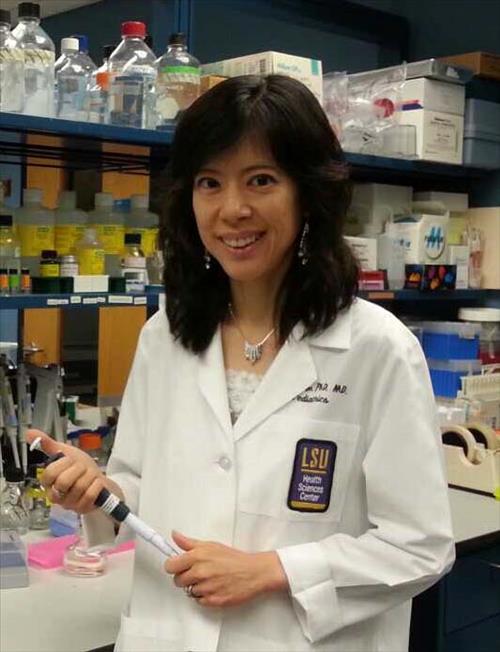 Associate Professor of Pediatrics, Microbiology, Immunology and Parasitology
LSUHSC
 

Room 6263
1901 Perdido Street, 6th Floor
New Orleans, LA 70112-1393
Phone: (504) 568-8121
Fax: (504) 568-4062

 
MD - 1996
Capital University of Medical Sciences, Beijing, P.R.China,
PhD - 2003
Biochemistry & Molecular Biology, LSU Health Sciences Center, New Orleans, LA
Dr. Xin graduated from Capital University of Medical Sciences in Beijing. She have a broad background in clinical medicine as an M.D., as well as received extensive training in Biochemistry during her Ph.D. program at LSUHSC.
Research interests of Dr. Xin's lab are focused on (i) Development of anti-Candida vaccine against disseminated candidiasis caused by all the Candida species of medical significance.  (ii) To develop combination therapy with monoclonal antibody (mAb) cocktails for disseminated candidiasis.  (iii) To determine the protective efficacy of vaccines and therapeutic mAb cocktails in neutropenic mouse model of disseminated candidiasis.   (iv) To investigate the protective mechanisms of the protective peptide-specific mAbs.
Hematogenously disseminated candidiasis in humans has become the third leading cause of hospital-acquired blood stream infections and despite antifungal therapy at least 40% of affected individuals will die of this disease. As there is no approved antifungal vaccine for use in humans and significant therapeutic challenges remain, our approach is disease prevention through active vaccination and/or passive immunization with protective antibodies.  We defined six T-cell peptides found in Candida albicans cell wall proteins and conjugated each peptide, originally intended to act as a carrier to the fungal cell wall β-1,2- trisaccharide [β-(Man)3] to create glycopeptide conjugate vaccines. Three of the peptide carriers also turned out to be excellent vaccines by themselves in that they induced protection against candidiasis. Then, another breakthrough is that the addition of tetanus toxoid to glycopeptide conjugate resulted in a glycopeptide-TT vaccine induced dual (double) antibody-dependent protective immunity without the need for adjuvant, which is feasible for human use. We continually demonstrated a novel double chimeric peptide vaccine that functions synergistically to improve the level of protection against disseminated candidiasis. Furthermore, a combination cocktail of monoclonal antibodies (mAbs) specific for the synthetic peptides of the double chimeric vaccine provided the most effective protection against disseminated candidiasis. Our research goal is to further develop the first "universal" multi-epitope vaccine protects against all the medically significant Candida species in addition to C. albicans, as well as address the fundamental question concerning vaccine induced immunity in high-risk immunocompromised populations.