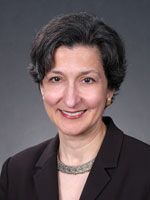 Emel Songu-Mize, PhD
LSU Health Sciences Center
1901 Perdido Street P7-1
New Orleans, LA 70112
Phone: (504) 568-4740
Fax: (504) 568-2361

emize@lsuhsc.edu
MS Pharmacognosy - 1975
Philadelphia College of Pharmacy and Science, Philadelphia, PA
PhD Pharmacology - 1979
University of Pennsylvania, Philadelphia, PA
Cardiovascular Pharmacology
Vascular biology
Regulation and Function of Na+,K+-ATPase
Effect of mechanical strain on various ion channels and pumps that affect vascular function
 
Lindsey SH, Songu-Mize E.Stretch-Induced TRPC4 downregulation is accompanied by reduced capacitative Ca2+ entry in WKY but not SHR mesenteric smooth muscle cells.Clin Exp Hypertens. 32(5):288-92, 2010.
Lindsey-Hoffmann SE, Tribe RM, and Songu-Mize E., Cyclic stretch modulates TRPC4 expression and function in rat aortic and mesenteris smooth muscle cells.Life Sciences: 83, 29-34, 2008.
Dalrymple, A, Mahn, K Poston, L Songu-Mize E, and Tribe, RM. Mechanical strech regulates TrpC proteins and calcium entry in human myometrial smooth muscle cells.Molecular Human Reproduction, 00:42-46, 2007.
Ark M, Kubat H, Beydağı H, Ergenoğlu T and Songu-Mize E., Involvement of rho kinase in the ouabain-induced contractions of the rat renal arteries, Biochem. Biophys Res Comm 340: 417-421, 2006.
Ark M, Ozveren E, Yazici G, Korkmaz B, Buyukafsar K, Arikan O, Kubat H, Songu-Mize E., Effect of HA-1077,and Y-27632, two rho-kinase inhibitors, in human umbilical artery, Cell Biochem. Biophys. 41:331-342, 2004.
Sevieux N, Ark M, Hornick C, Songu-Mize E, Short-term stretch translocates the alpha-1 subunit of the Na-pump to plasma membrane., Cell Biochemistry and Bio-physics 38: 23-32, 2003.
Songu-Mize E, Sevieux N, Liu X, Jacobs M, Effect of short-term cyclic stretch on sodium pump activity in aortic smooth muscle cells., Amer J Physiol (Heart and Circ. Physiol.) 281:H2072-H 2078, 2001.
Sevieux S, Alam J, Songu-Mize E, Effect of cyclic stretch on alpha subunit mRNA expression of Na+,K+-ATPase in aortic smooth muscle cells., Amer J Physiology (Cell Physiol) 280: C1555-C1560, 2001.