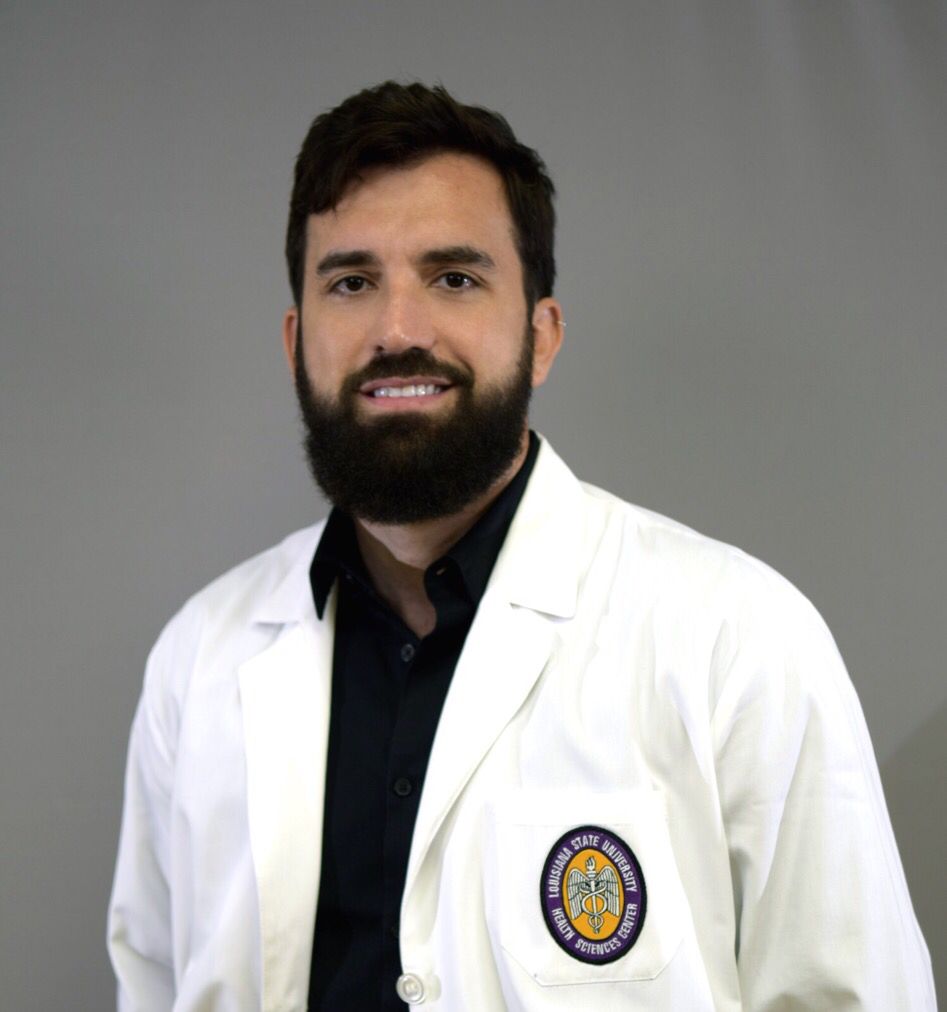 1901 Perdido Street, Room 7242
New Orleans, LA 70112
Phone: 504-568-6191
Fax:     504-568-6158
ldesou@lsuhsc.edu
B.S. in Biology, University of Sao Paulo, Brazil
B.S. in Biology Education, University of Sao Paulo, Brazil
M.S. in Psychobiology, University of Sao Paulo, Brazil
Ph.D. in Psychobiology, University of Sao Paulo, Brazil
Postdoctoral training in Neuropsychopharmacology, University of Sao Paulo, Brazil
Postdoctoral training in Psychopharmacology, Tufts University
Postdoctoral training in Neuropharmacology, LSUHSC-NO
My research has focused on investigating changes in brain mechanisms induced by traumatic stress in rodents, with emphasis in the involvement of CRF and endocannabinoids in discrete brain areas on stress-induced dysregulated behavior, including anxiety, avoidance and escalation of alcohol consumption.
Journal Club (co-director)
Program in Dental hygiene
Pathophysiology
Special Topics in Physiology: Physiological Basis of Behavior
Postbaccalaureate Research Education Program (PREP) in Biomedical Sciences
Tiger Scholars Undergraduate Summer Enrichment Program
Committees & Administrative Responsibilities
Member of the Multicultural and Diversity Affairs Committee, SoM-LSUHSC
Albrechet-Souza L, Schratz CL, Gilpin NW. Sex differences in traumatic stress reactivity in rats with and without a history of alcohol drinking. Biology of Sex Differences 11: 27, 2020.
Albrechet-Souza L, Gilpin NW. The predator odor avoidance model of post-traumatic stress disorder in rats. Behavioural Pharmacology 30: 105-14, 2019.
Vasconcelos M, Stein DJ, Albrechet-Souza L, Miczek KA, De Almeida RMM. Recovery of stress-impaired social behavior by an antagonist of the CRF binding protein, CRF6-33, in the bed nucleus of the stria terminalis of male rats. Behavioural Brain Research 357-358: 104-10, 2019.
Albrechet-Souza L, Viola TW, Grassi-Oliveira R, Miczek KA, De Almeida RMM. Corticotropin releasing factor in the bed nucleus of the stria terminalis in socially defeated and non-stressed mice with a history of chronic alcohol intake. Frontiers in Pharmacology 8: 762, 2017.
Albrechet-Souza L, Hwa LS, Han X, Zhang EY, DeBold JF, Miczek KA. Corticotropin releasing factor binding protein and CRF 2 receptors in the ventral tegmental area: Modulation of ethanol binge drinking in C57BL/6J mice. Alcoholism, Clinical and Experimental Research 39: 1609-18, 2015.