2019-2020 Pay Scale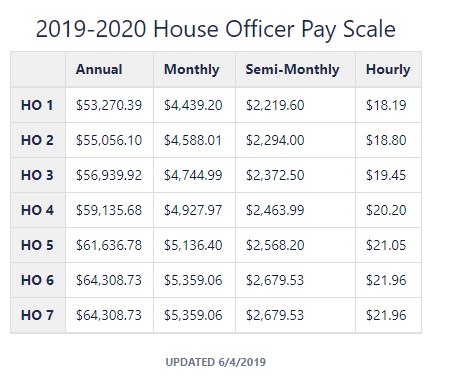 Vacation Allowance for Residents
PGY I is entitled to twenty-one (21) days (including weekends) of non-cumulative vacation per year.
PGY 2-5 is entitled to twenty eight (28) days (including weekends) of non-cumulative vacation per year.

 
Educational/Professional Incentives
Surgical Intern Boot Camp in July for incoming residents
ATLS Trainings (2 days; August)
FES Examination Voucher (PGY2)
FLS Examination Voucher (PGY3)
Financial Assistance with educational and conference meetings to present research
Complimentary admission to the annual Cohn-Rives Surgical Society conference and banquet
Complimentary admission to the annual Department of Surgery Graduation Ceremonies

 
Lagniappe
Meal cards (New Orleans): Residents receive meal cards per month while on services at University Medical Center, Touro and Children's Hospital

Call Rooms for breaks while in-service or on-call

Two (2) White coats are provided at orientation
 
Diversity and Inclusion
LSU General Surgery Department embraces diversity and recognizes our responsibility to foster an open environment where students and faculty of all backgrounds can collaboratively learn and work. We value the benefits that arise from diversity, and we are committed to inclusion. Our department values diversity, and we understand how it enriches our program.  We are committed to responding to the changing realities of our communities.  We will strive to work together to address the challenges by removing barriers to success through compassion and mutual respect. We will develop and cultivate relationships with undergraduate institutions to encourage students to consider a career in medicine.
 
Insurance
     Health
Health insurance, flexible spending accounts and supplemental benefits are available through LSUHSC.  Health plan options are available through the Office of Group Benefits (which includes several Blue Cross plans and Vantage Home HMO) and LSU First (the LSU System Health Plan).  Eligibility for benefits will go into effect after one full calendar month of employment, provided proper paperwork is submitted on time.
     Malpractice
Professional liability insurance is provided by the State of Louisiana and covers all activities approved by the departmental chairman.
     Disability
LSU Health Sciences Center provides disability insurance to all residents.
Retirement
All residents are eligible to participate in the Deferred Compensation program in lieu of Social Security.  If this option is chosen, 6.5% of the resident's gross monthly salary is deducted pre-tax for contribution to deferred compensation.  The balance may be withdrawn, without penalty, or transferred to another retirement account when the resident leaves state service.
Maternity Leave
Provisions will be made for maternity leave in accordance with the American Board of Pediatrics, which requires 33 months of training eligibility for Pediatric Board certification.  LSUHSC does not grant paid paternity leave beyond the normal vacation allotment, but unpaid leave may be taken.
 
Housestaff Association
All residents are invited to join the LSU New Orleans Housestaff Association whose mission is to be an advocate for all Housestaff.  The Housestaff association protects the rights of the Housestaff and ensures that they are represented in institutional and administrative decisions.