Welcome to the Cardiovascular Center!

          Heart disease is the leading killer in the United States. Unchecked, it is a silent, insidious disease that can begin in early youth and develop imperceptibly through early adult life, then manifest itself at the prime of life, sometimes striking with little warning with fatal or life-altering results. The disease process that leads to this outcome represents a complex interaction of multiple factors associated with lifestyle, environment, and genetics. Studies by LSUHSC physicians and scientists in the Department of Pathology over the last 40 years have identified some of these risk factors, illuminating the magnitude and extent to which they contribute to the disease and its outcome. As a result of the understanding brought about by these studies, it was clear that because of the multi-factorial pathology of the disease, the search for better methods of prevention and treatment would require the combined knowledge of clinical medicine and the basic sciences. This led to the effort to create a multidisciplinary center for the study and treatment of cardiovascular disease. Approval for the establishment of a Cardiovascular Center at LSUHSC was obtained from the Board of Regents in 1992.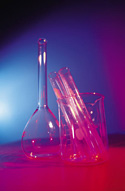 The goal of the Cardiovascular Center is to improve the understanding and management of cardiovascular diseases through an integrated multidisciplinary approach. To this end, cooperative agreements exist between several departments in order to facilitate and encourage the exchange of ideas and resources and to stimulate new areas of research that will benefit our understanding of heart disease and lead to better methods prevention and treatment. The departments of Pharmacology, Physiology, and Pathology in the Center have developed and supported a large variety of research efforts in cardiovascular disease and have been awarded numerous competitive research grants to support their investigations. The CoBRE Program from the National Institute of Health now just beginning its second five-year period of research support has greatly strengthened the Cardiovascular Center. The investigators in the CoBRE Program include faculty members from the departments of pharmacology, physiology, pathology, and biochemistry. This program has as its main objective the recruitment and mentoring of young investigators in cardiovascular diseases with the goal of preparing them for independent research careers in cardiovascular disease investigation. This program is described more fully in the section of the web site under CoBRE.
          In more recent years following the Katrina hurricane disruption, the Cardiovascular Center has been strengthened by a very talented group of clinicians and investigators in the Section of Vascular Surgery in the LSU Department of Surgery and in the Cardiology Section of the Department of Medicine.
          The Cardiovascular Center provides a mechanism for enhancing interdepartmental and interdisciplinary research on cardiovascular diseases as well as coordinated clinical studies of cardiovascular disease. You are invited to peruse our web pages for more information and to attend the seminars and activities posted on the calendar.
             **Please be patient with us. The web site is currently undergoing changes**