Current News:
A huge thank you goes out to the "Mikie Mahtook Foundation" for choosing LSU Health Science Center - New Orleans Cardiovascular Center of Excellence as the foundation's first grant recipient.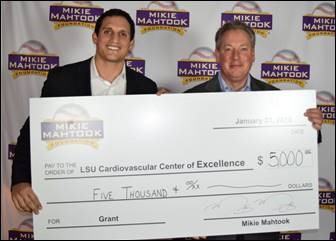 ---
Congratulations to our own, Mr. Craig Zibilich, for receiving the 2016 School of Medicine Alumni Excellence Award.
Mission Statement
To develop a nationally and internationally recognized center of excellence in cardiovascular research and medicine.
 
To facilitate the training of young scientists, including postdoctoral fellows, graduate students, medical students and residents in cardiovascular research and medicine.
 
To encourage the development of basic science, translational, and clinical research with funding from federal agencies and industry.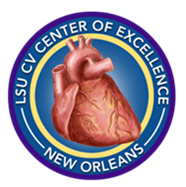 ---
Cardiovascular Center Faculty Published in Angewandte Chemie International

                The combined research efforts by the Cardiovascular Center faculty contributed to the manuscript, 'A Novel Esterase-sensitive Prodrug Approach for Controllable Delivery of Persulfide Species', being accepted in the Angewandte Chemie International 2017 Edition.
Center faculty David J. Lefer, PhD; Chelsea L. Organ, PhD; Rishi K. Trivedi, PhD; and Zhen Li all made contributions to the study. The manuscript was peer-reviewed and accepted on July 12, 2017.
The Abstract Summary
"A new strategy to deliver a well-defined persulfide species in a biological medium is described herein. Under near physiological conditions, the persulfide prodrug can be activated by an esterase to generate a "hydroxyl methyl persulfide" intermediate, which rapidly collapses to form a defined persulfide. Such persulfide prodrugs can be used either as chemical tools to study persulfide chemistry and biology or for future development as H2S-based therapeutic reagents. Using the persulfide prodrugs developed in this study, the reactivity between S-methyl methanethiosulfonate (MMTS) with persulfide was unambiguously demonstrated. In addition, a representative prodrug exhibited potent cardioprotective effects in a murine model of myocardial ischemia-reperfusion (MI/R) injury with a bell shape therapeutic profile."
Click to view the full publication
Source
Zheng, Y., Yu, B., Li, Z., Yuan, Z., Lefer, D. J., Wang, B., Wang, S., Organ, C. L. and Trivedi, R. K. (), A Novel Esterase-sensitive Prodrug Approach for Controllable Delivery of Persulfide Species. Angew. Chem. Int. Ed.. Accepted Author Manuscript. doi:10.1002/anie.201704117