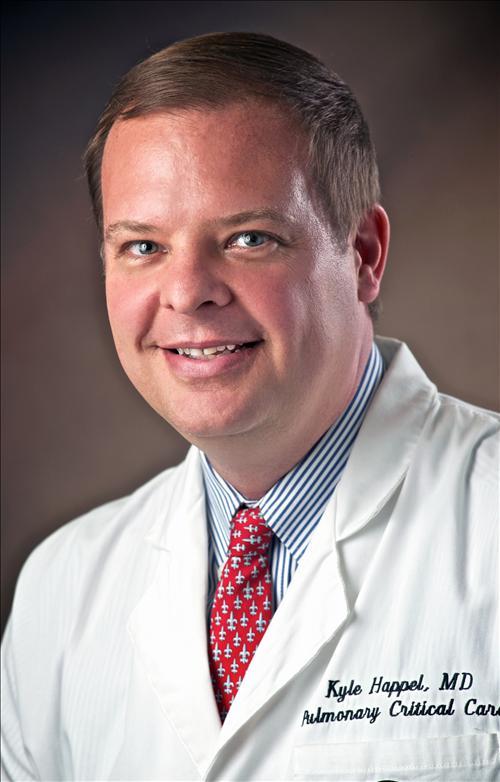 Kyle Happel, MD, FCCP
Associate Professor of Medicine
LSU Healthcare Network Clinic
3700 St. Charles Avenue, 4th Floor
New Orleans, LA 70115
Phone: (504) 412-1517
Fax: (504) 412-1518

 

Academic Office

Section of Pulmonary/Critical Care & Allergy/Immunology
1901 Perdido Street
Suite 3205
New Orleans, LA 70112
Phone: (504) 568-4634
Fax: (504) 568-4295
khappe@lsuhsc.edu
BS Biochemistry - 1993
Louisiana State University, Baton Rouge
MD - 1997
LSU School of Medicine - New Orleans
Dr. Happel joined the faculty at LSU in 2004. He is currently the Principal Investigator for the American Lung Association's Asthma Clinical Research Center (ACRC) at LSUHSC.  His clinical research focus is asthma and his bench research focuses on pulmonary host defense mechanisms.  He is an investigator in the LSUHSC Alcohol Research Center, which seeks to understand the effects of alcohol on SIV infections and its pulmonary complications. 

Internship and Residency:
Internal Medicine
Vanderbilt University Medical Center
Nashville, Tennessee

Fellowship:
Pulmonary and Critical Care Medicine
Louisiana State University Health Science Center
New Orleans, LA

Licensure and Certification:
Louisiana State Medical License (2000)
Board Certified, Internal Medicine (2000)
Board Certified, Pulmonary Disease (2002)
Board Certified, Critical Care Medicine (2003)
Asthma
 
Pneumonia (community and hospital acquired)
 
Bacterial host defenses in the lungs, particularly the adaptive immune response

Committees & Administrative Responsibilities
Chairman, Pharmaceutical and Therapeutics Committee
Medical Center of LA – New Orleans (University Hospital)
 
Porretta E, Happel KI, Teng XS, Ramsay A, Mason CM.The impact of alcohol on BCG-induced immunity against Mycobacterium tuberculosis. Alcohol Clin Exp Res. 2012 Feb;36(2):310-7.
Zhang P, Welsh DA, Siggins RW 2nd, Bagby GJ, Raasch CE, Happel KI, Nelson S. Acute alcohol intoxication inhibits the lineage- c-kit+ Sca-1+ cell response to Escherichia coli bacteremia. J Immunol 2009 Feb; 182(3): 1568-76.

Walker JE Jr, Odden AR, Jeyaseelan S, Zhang P, Bagby GJ, Nelson S, Happel KI. Ethanol exposure impairs LPS-induced pulmonary LIX expression: alveolar epithelial cell dysfunction as a consequence of acute intoxication. Alcohol Clin Exp Res 2009 Feb; 33(2): 357-65.

Gamble L, Bagby GJ, Quinton LJ, Happel KI, Mizgerd J, Zhang P, Nelson S. The Systemic and Pulmonary Lipopolysaccharide Binding Protein Response to Intratracheal Lipopolysaccharide. Shock 2009 Feb; 31(2): 212-7.

Zhang P, Bagby GJ, Happel KI, Raasch CE, and Neslon S. Alcohol Abuse, Immunosuppression, and Pulmonary Infection. Current Drug Abuse Reviews. 2008; 1: 56-67.

Happel KI, Rudner XL, Quinton LQ, Movassaghi JL, et al. Acute alcohol intoxication suppresses the pulmonary ELR-negative CXC chemokine response to lipopolysaccharide. Alcohol 2007 Oct; 41: 325-333.

Rudner XL, Happel KI, Young EA, Shellito JE. The IL-23/IL-17 Cytokine Axis in Murine Pneumocystis Infection. Infect Immun. 2007 Apr 2.

Happel KI, Odden AR, Zhang P, Shellito JE, Bagby GJ, Nelson S, Acute alcohol intoxication suppresses the IL-23 response to Klebsiella pneumoniae infection, Alcohol Clin Exp Res Jul;30(7), 2006.

Kelly MN, Kolls JK, Happel KI, Schwartzman JD, Schwarzenberger P, Combe C, Moretto M, Khan IA, Interleukin-17/interleukin-17 receptor-mediated signaling is important for generation of an optimal polymorphonuclear response against Toxoplasma gondii infection, Infection and Immunity Jan;73(1):617-21, 2005.

Happel KI, Nelson S, Alcohol, immunosuppression, and the lung., Proceedings of the American Thoracic Society 2(5):428-32, 2005.

Happel KI, Lockhart EA, Mason CM, Porretta E, Keoshkerian E, Odden AR, Nelson S, Ramsay AJ, Pulmonary interleukin-23 gene delivery increases local T-cell immunity and controls growth of Mycobacterium tuberculosis in the lungs, Infection and Immunity Sep;73(9):5782-8, 2005.

Thiele GM, Mandrekar P, Zakhari S, Hoek J, Cook RT, Ray NB, Happel KI, Kolls JK, Kovacs EJ, Szab G, RSA 2004: combined basic research satellite symposium-mechanisms of alcohol-mediated organ and tissue damage: inflammation and immunity and alcohol and mitochondrial metabolism: at the crossroads of life and death session one: alcohol, cellular and organ damage, Alcohol Clin Exp Res Sep;29(9):1735-43, 2005.

Happel KI, Dubin PJ, Zheng M, Ghilardi N, Lockhart C, Quinton LJ, Odden AR, Shellito JE, Bagby GJ, Nelson S, Kolls JK, Divergent roles of IL-23 and IL-12 in host defense against Klebsiella pneumoniae, J Exp Med Sep 19;202(6):761-9, 2005.