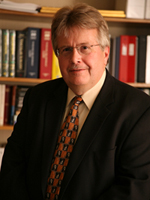 Steve Nelson, MD, CM, FCCP
Dean of LSUHSC School of Medicine
John H. Seabury Professor of Medicine
Professor of Physiology
Director and Principal Investigator, Alcohol Research Center
2020 Gravier Street
5th Floor
New Orleans, LA 70112
Phone: (504) 568-4007
Fax: (504) 568-2189

snelso1@lsuhsc.edu
MD - 1978
McGill University, Montreal, Canada
Dr. Nelson is Dean of LSUHSC School of Medicine, John H. Seabury Professor of Medicine, and Professor of Physiology. Dr. Nelson is on the editorial board of several prominent journals, and is a member of the Best Doctors in America.

Internship:
Medicine, John Hopkins Hospital, Baltimore, Maryland, 1978-1979

Residency:
Medicine, John Hopkins Hospital, Baltimore, Maryland, 1979-1981

Fellowships:
Clinical Fellowship in Pulmonary Medicine, John Hopkins Hospital, Baltimore, Maryland, 1981-1982
Research Fellowship in Pulmonary Medicine, John Hopkins Hospital, Baltimore, Maryland, 1982-1984
Fellowship in Environmental Health Sciences, School of Hygiene and Public Health, John Hopkins Hospital, Baltimore, Maryland, 1982-1984

Board Certifications:
Licentiate, Medical Council of Canada -l978
Diplomate, National Board of Medical Examiners - 1979
Diplomate, American Board of Internal Medicine - 1981
FLEX - 1984
Diplomate, American Board of Internal Medicine, Pulmonary Disease - 1986
Diplomate, American Board of Internal Medicine, Critical Care Medicine - 1987
Clinical: pulmonary infections; cystic fibrosis; sepsis
Research: host defense; sepsis; cytokines

Happel KI, Odden AR, Zhang P, Shellito JE, Bagby GJ and Nelson S, Acute alcohol intoxication suppresses the interleukin-23 response to Klebsiella pneumoniae infection, Alcohol Clin Exp Res 30:1200-1207, 2006.
Bagby GJ, Zhang P, Purcell J, Didier PJ and Nelson S, Chronic binge ethanol consumption accelerates progression of SIV disease, Alcohol Clin Exp Res 30:1781-1790, 2006.
Mason CM and Nelson S, Pulmonary host defenses and factors predisposing to lung infection, Clin Chest Med 26: 11-17, 2005.
Zhang P, Quinton LJ, Gamble L, Bagby GJ, Summer WR, and Nelson S, The granulopoietic cytokine response and enhancement of granulopoiesis in mice during endotoxemia, Shock 23:344-352, 2005.
Mason CM, Dobard E, Zhang P, Nelson S, Alcohol exacerbates murine pulmonary tuberculosis, Infect Immun 72:2556-2563, 2004.
Molina PE, Hoek JB, Nelson S, Guido DM, Lang CH, Wands JR, and Crawford JM, Mechanisms of alcohol-induced tissue injury, Alcohol Clin Exp Res 27:563-575, 2003.