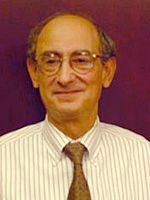 Warren Summer, MD, FCCP
1901 Perdido Street
New Orleans, LA 70112
Phone: (504) 568-4634
Fax: (504) 568-4295

wsumme@lsuhsc.edu
MD - 1965
Georgetown University School of Medicine, Washington, DC
Dr. Summer is currently Director of Clinical Pulmonary Research plus Co-Director of the G-CRC, a multi-institutional program that facilitates extramural clinical studies. His research interests include 1) disease interactions of host defense, cytokines and cellular trafficking, 2) the effects of lung injury on fluid flux and water export, and 3) asthma. Clinical interests include sepsis, hemodynamic monitoring, asthma, and chronic obstructive pulmonary disease. Recently he has worked to develop disease management projects in asthma plus pneumonia. Dr. Summer has been listed on the Best Doctors in America for 15 consecutive years.


Internship: Straight Medical
Long Island College Hospital, New York, 1965-1966

Residency: Internal Medicine
Maiomides Medical Center, Brooklyn, New York, 1966-1968

Fellowship: Pulmonary Medicine
Georgetown University School of Medicine, Washington, DC, 1968-1969

Board Certifications:
Board of Internal Medicine, 1972
Board of Pulmonary Disease, 1972
Board of Critical Care, 1986
Johnson JB, Summer W, et al., Alternate day calorie restriction improves clinical findings and reduces markers of oxidative stress and inflammation in overweight adults with moderate asthma, Free Radic Biol Med. 42 (5):665-74. Epub 2006 Dec 14, 2007 Mar 1.
Lima JJ, Zhang S, et al., Influence of leukotriene pathway polymorphisms on response to montelukast in asthma, Am J Repir Crit Care Med 173:379-385, 2006.
Dixon A, Shade D, et al., Effect of obesity on clinical presentation and response to treatment in asthma, J Asthma 43:553-558, 2006.
Irvin C, Kaminsky D, et al., Clinical trial of low-dose theophylline and montelukast in patients with poorly controlled asthma, AJRCCM , 2006.
Zhang P, Quinton LJ, Bagby GJ, Summer WR, Nelson S, Interferon-gamma enhances the pulmonary CXC chemokine response to intratracheal lipopolysaccharide challenge, J Infect Dis 187(1):62-9, 2003 Jan 1.