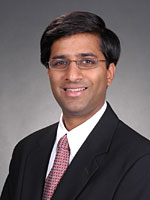 Associate Professor of Clinical Medicine
Director, Cardiology Fellowship
Associate Director, Internal Medicine Student Curriculum
Section of Cardiology
533 Bolivar Street
Room 360, Box CSRB 3-42
New Orleans, LA 70112
504.568.2718  Phone: (Cardiology)
504.568.7544  Phone: (Curriculum)
504.568.2127  FAX
njain@lsuhsc.edu

 

MD
Louisiana State University School of Medicine
Internal Medicine Residency, Birmingham, Alabama

Adult Cardiovascular Disease Fellowship, Cleveland, Ohio
Clinical Echocardiography

Aesculapian Society Excellence in Teaching Award,
April 2004
LSUHSC Department of Medicine Award for Teaching
Excellence, June 2004
 
Glancy DL, Jain N, Parker JM. ECG read as normal in a man with chest burning and an elevated serum troponin level. J La State Med Soc 2008 Jul-Aug;160(4):185-7.
Glancy DL, Wilklow FE, Jain N. EKG of the Month: Profound bradycardia during passage of a Swan-Ganz catheter. J La State Med Soc 2007; 159 (July/August):183-5.
Kelley GP, Dalati GA, Helmcke FR, Jain N, Al-Bataineh M, Glancy DL, Kerut EK. "Atrial stunning masquerading as restrictive Doppler flow pattern: A case of mitral inflow 'pseudorestriction'." Echocardiography: J CV Ultrasound and Allied Tech 23: 2006. 172-175.
Cochran GA, Lambert MC, Hollman JL, Jain N, Glancy DL. "Post-tachycardia inferior Q waves in an extremely obese 28-year-old man." J La State Med Soc 157: 2005. 125-126.